You have /5 articles left.
Sign up for a free account or log in.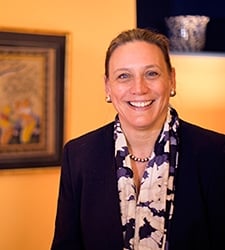 Prior to the attempt by Charles Murray to speak at Middlebury College on Thursday, college officials told students who were preparing to protest Murray that disrupting his speech would violate college policies and could result in punishments up to suspension. Many students present then proceeded to shout and chant in ways that made it impossible for Murray to talk.
And later on Thursday some protesters -- a group believed to be a mix of students and people unaffiliated with the college -- then attacked a professor who was to have moderated the question period, pulling her hair so strongly she needed a neck brace the next day. This group also stomped on a car trying to drive Murray and the professor away.
On Monday, Middlebury's president vowed that there would be "accountability" for those who violated college policies and engaged in violence.
Laurie Patton, the president, sent a message to students and faculty members that said in part, "Because of the complexity of the events and actions that took place, we have initiated an independent investigation to establish a baseline of information. Once that work is completed, the college will follow a process of determining a course of action for each individual understood to be involved in some way in the events of last Thursday. This will take some time. Our process must be fair and just. To be clear, I want to state that peaceful, nondisruptive protest is not only allowed at Middlebury, it is encouraged. We all have the right to make our voices heard, both in support of and in opposition to people and ideas. Our concern is acts of disruption and violence, where available means of peaceful protest were declined."
The shouting down of Murray was recorded and posted to YouTube and elsewhere, and many students who were shouting so that Murray couldn't speak appear to be clearly identifiable. But college officials have noted that some in the room were silent, and others shouted when Murray took the stage and then were silent. At the same time, many others shouted until the college said the public lecture wouldn't take place.
With regard to the attack on the professor and the car after the event, Patton wrote that the police of Middlebury (the Vermont town, not the college) would take the lead in that investigation and the college would cooperate.
Patton also vowed to push ahead on issues raised about the broader environment at Middlebury.
"Creating true community is hard work, and yet that work is essential and is our collective responsibility," she wrote. "This week, we will mark the beginning of opportunities for reflection and engagement. We have already heard from many community members on all sides of the issues, and that has been deeply encouraging. Existing groups on campus have written to help us understand what the community is feeling and might need going forward. We have much to discuss -- our differences on the question of free speech and on the role of protest being two of the most pressing examples."
College officials have said that while they expected protests, the size, intensity and disruptive nature of the demonstrations was well beyond what they expected, and made it impossible for them to simply clear the hall.
Middlebury's policies on disrupting college events are clear in banning much of the type of activity that was visible Thursday as Murray tried to speak.
The first of two relevant paragraphs in the policy states, "Middlebury College does not allow disruptive behavior at community events or on campus. Disruptions may include purposeful blocking the view of others at the event; banners or items that block the audience's view; noise or action that disrupts the ability of the audience to hear (e.g., shouting out or use of a bullhorn) or disrupting essential operations at the college."
The second paragraph states, "If an event or essential operation is disrupted by a group or individual, a representative of the college may request the action to stop or ask the person or group to leave the event or area and move to an approved location for protesting. Individuals or groups who disrupt an event or essential operation or fail to leave when asked are in violation of the college's policy of respect for persons and may also be in violation of the policy regarding disrespect for college officials. These violations of college policy may result in college discipline. Disruption may also result in arrest and criminal charges such as disorderly conduct or trespass."