You have /5 articles left.
Sign up for a free account or log in.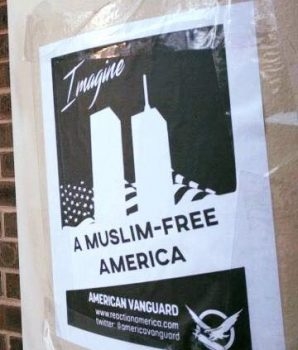 White supremacist activity is seeing an upsurge on college campuses, primarily by outside groups seeking to attract attention or support among students, according to a report released Monday by the Anti-Defamation League, which tracks anti-Semitism and other forms of bigotry.
As of Monday, there have been 107 incidents of white supremacist activity on campuses during the current academic year -- most commonly leaflets or posters from white nationalist groups, the report says. Of these incidents, 65 have taken place in 2017. The level of activity in the last year is "unprecedented," the report says, compared to far fewer incidents in the past such that the group added the study this year.
When Inside Higher Ed and others have reported on some of these incidents, various websites have said that these incidents are hoaxes or "fake news." The ADL said that the tally in the report is of verified incidents, sorted by location, and with photo documentation, campus reports and other evidence for each incident.
Groups like Identity Europa, American Renaissance and American Vanguard have claimed responsibility for most of the activity. But the report notes that, in some cases, more than offensive posters have shown up on campus.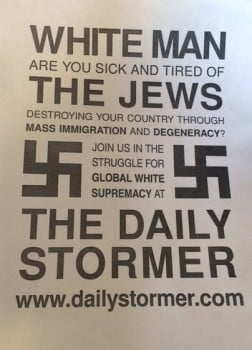 Last year, a white supremacist took responsibility for hacking printers at numerous campuses and making them print out pro-Nazi leaflets (right). Colleges and universities have continued to experience such hacking this year. These incidents upset many students in campus libraries, who initially believed that what they found on printers must have been printed by someone in the same room.
And in some cases, the activity involves live appearances. Richard B. Spencer, leader of a white supremacist group called the National Policy Institute, spoke at Texas A&M University in December. The university organized a large counterevent, and protesters appeared outside the venue where Spencer spoke and (holding signs) inside the room as well.
Many called on Texas A&M, which permitted the event but did not invite Spencer, to block his appearance. But the university said that, as a public institution, A&M was required by the First Amendment not to make decisions on potential events based on the views of those seeking to speak.
The report said that Spencer and others have specifically said college campuses are a target for their groups to stir controversy and (the groups hope) attract supporters. Spencer told The Washington Post that he planned a major focus on college campuses.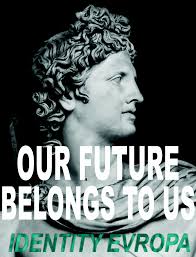 The posters that have been showing up on campus include phrases such as "Imagine a Muslim-Free America" and images such as classical sculptures with calls to embrace a European vision.
The report noted that on the website American Renaissance, a blog post explains the tactic of putting up these posters: "These posters can appeal to whites anywhere, but they are primarily intended for college campuses, which are especially promising because they are bastions of anti-white propaganda that gets more extreme every year. At the same time, students have easy access to alternate sources of news and information that refutes the nonsense they hear every day in class. Students are therefore perfectly primed for a push towards racial consciousness."
As to the question of why these groups are more active on more campuses, the report says that extremist white groups have viewed the results of the presidential election as a sign that they can act now, and includes quotes from white supremacists about how pleased they were with the election of Donald Trump. "White supremacists, emboldened by the rhetoric of the 2016 presidential campaign, are stepping out of the shadows and into the mainstream," the report says.