You have /5 articles left.
Sign up for a free account or log in.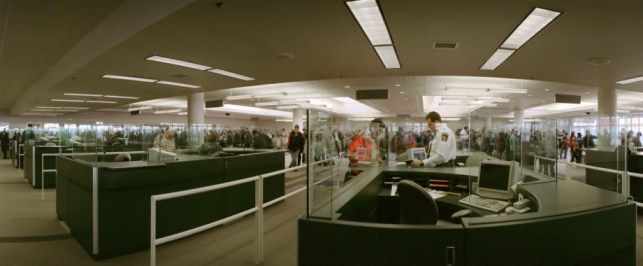 Nearly 40 percent of U.S. colleges are seeing declines in applications from international students, and international student recruitment professionals report "a great deal of concern" from students and their families about visas and perceptions of a less welcoming climate in the U.S., according to a survey conducted in February by multiple higher education groups.
More than 250 American colleges and universities responded to the survey, which was initiated in response to concerns among international educators "that the political discourse surrounding foreign nationals in the U.S. leading up to the November 2016 U.S. presidential election could be damaging to international student recruitment efforts," according to a press release about the initial, top-line findings (a full report on the results, with more detail, is scheduled to be released at the end of the month).
Thirty-eight percent of institutions responding to the survey reported a decline in their total number of international applications across both the undergraduate and graduate levels. Another 35 percent reported an increase, and 27 percent reported no change. This article has been corrected to reflect updated, slightly revised numbers provided by the higher education groups that conducted the survey. 
While a majority of institutions are not seeing decreases, steady increases in international applications and ensuing enrollments have become the norm for many colleges. And many institutions have based their financial plans in part on sustained increases in enrollments of full-paying international undergraduates.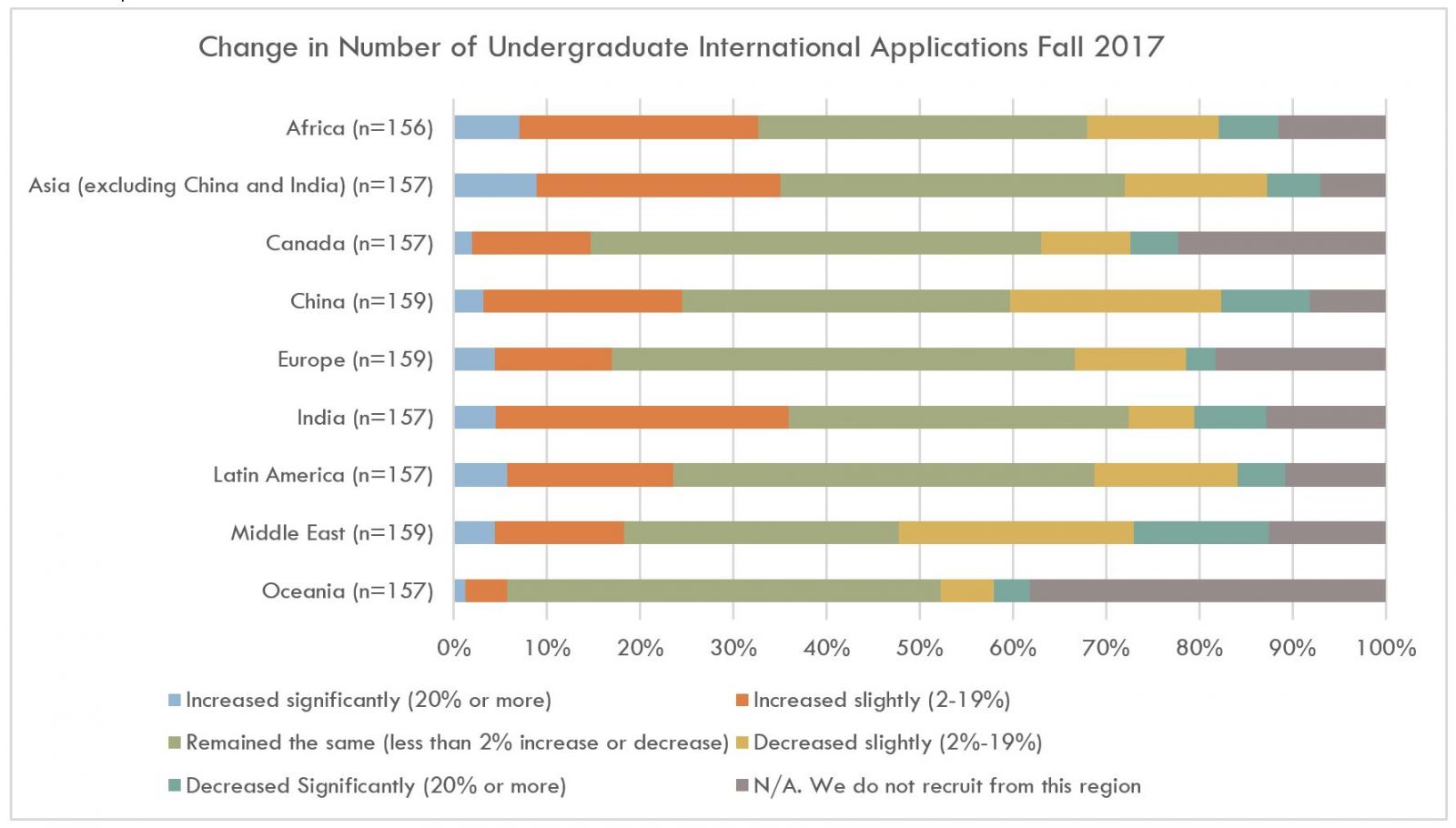 The highest reported declines involved applications from the Middle East. Thirty-nine percent of universities reported declines in undergraduate applications from the Middle East, while 31 percent reported declines in graduate applications. Fall enrollment numbers from the region will likely be hard hit by President Trump's executive order barring entry by nationals of six countries from the Middle East and Africa -- including Iran, the 11th-leading country of origin for international students in the U.S. But it's also worth noting that the number of students from Saudi Arabia, the third-leading country of origin, had already been dropping prior to the presidential election, a decline many colleges attributed to changes in the Saudi government's foreign scholarship program. The number of Saudi students in the U.S. fell by nearly 20 percent in fall 2016 compared to the fall before, according to student visa data.
Many universities responding to the survey also reported drops in applications from China and India, respectively the top two countries from which international students in the U.S. hail. The two countries, together, account for nearly half of all international students in the U.S.
A quarter of universities responding to the survey reported declines in undergraduate applications from China, and 32 percent reported declines in Chinese graduate applications. As for India, 26 percent reported declines in undergraduate applications from the country, and 15 percent reported declines in graduate applications.
At the same time, universities reported hearing concerns from students and families, particularly those from the Middle East, Asia and Latin America. The press release about the findings notes that the most frequently cited concerns are:
"Perception of a rise in student visa denials at U.S. embassies and consulates in China, India and Nepal."
"Perception that the climate in the U.S. is now less welcoming to individuals from other countries."
"Concerns that benefits and restrictions around visas could change, especially around the ability to travel, re-entry after travel and employment opportunities."
"Concerns that the executive order travel ban might expand to include additional countries."
The survey was conducted by the American Association of Collegiate Registrars and Admissions Officers, the Institute of International Education, NAFSA: Association of International Educators, the National Association for College Admission Counseling, and NACAC's internationally focused subgroup, International ACAC. More than three-quarters of institutions responding to the survey -- 77 percent -- are concerned about yield, that is, how many applicants accept an admissions offer and enroll.
In interviews with Inside Higher Ed, enrollment managers and senior international officers said yield is what they're watching. Many international students would have already submitted their applications to U.S. colleges prior to Trump's assumption of the presidency and the imposition of his ban on entry for nationals of six Muslim-majority countries: Iran, Libya, Somalia, Sudan, Syria and Yemen.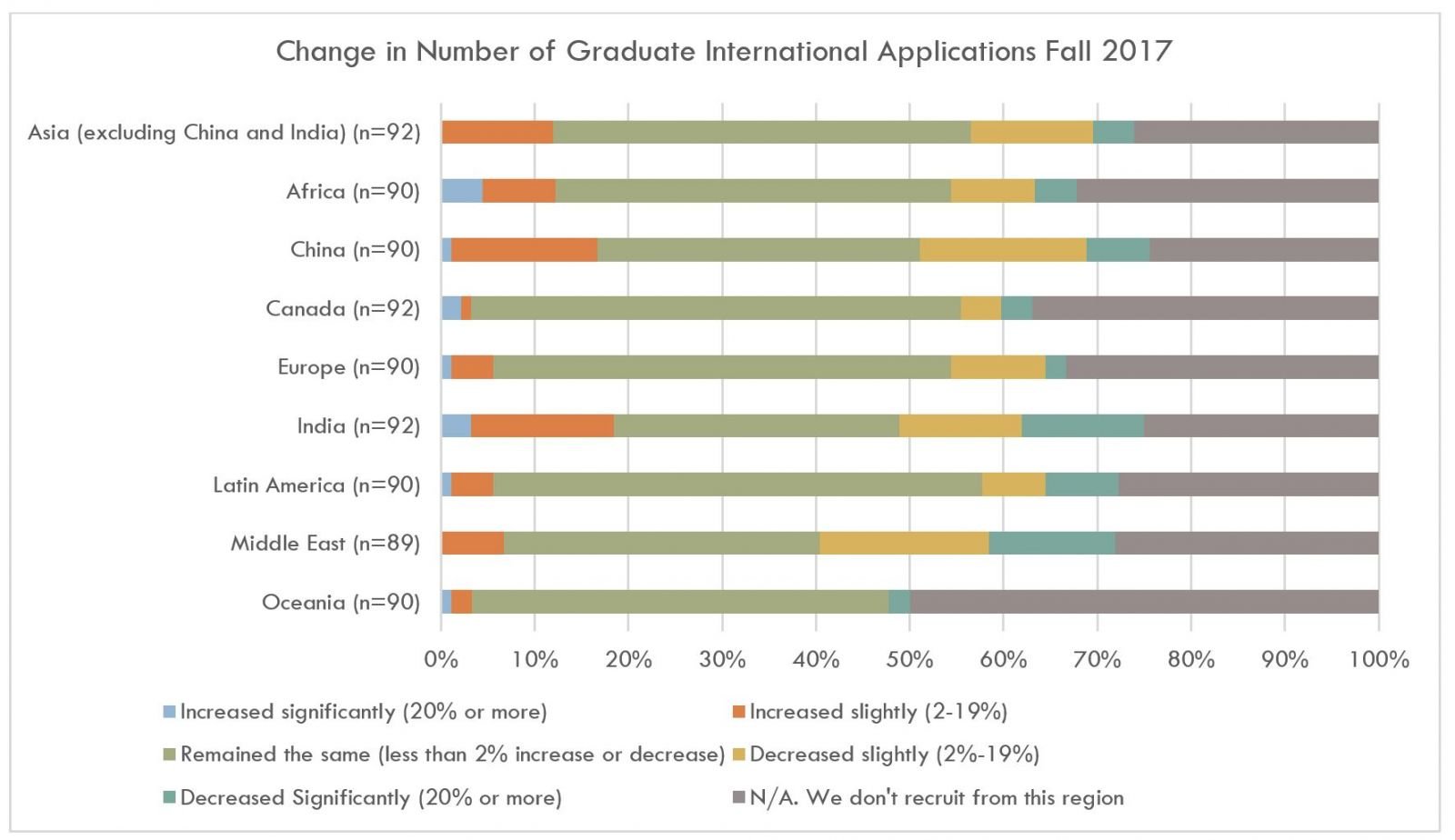 Walter Caffey, vice president for enrollment management at the University of New Haven, said the institution is seeing an increase in international undergraduate applications, specifically from Brazil, China, India and Vietnam, an increase he attributes to expanded recruitment efforts. "We are definitely seeing some positive signs in terms of international applications but at the same time we are certainly hearing from prospective students a little bit of concern," Caffey said. "We're certainly fielding more questions about safety and security and our campus community."
"From my perspective, what that says to me is although our applications are a positive, if once the fall comes and we're not able to enroll the students that we would expect to enroll based on our applications, some of these concerns might be taking hold. We just won't know until that happens," Caffey said.
At the graduate level, New Haven is seeing a decrease in applications from India, a decrease that Caffey said started a year ago "as we heard about more students having a difficult time obtaining visas to study here in the States."
Portland State University reports a 27 percent drop in the number of Indian students applying to its graduate programs for the fall. Most of the Indian applicants to the university are looking to attend computer science or engineering programs.
Wim Wiewel, Portland State's president, talked with prospective students during a previously scheduled trip to India this month. Throughout most of his meetings in Bangalore, Hyderabad and New Delhi, he didn't hear much about Trump's travel ban and the political climate in the U.S. more generally.
"But in a meeting in Hyderabad with about 10 students already admitted to our graduate engineering program it was different," Wiewel said over email. According to Wiewel, one student, a Muslim, said his father 'didn't want him to go now because of America's anti-Muslim attitude.' Several of the others said they had 'some concerns about the Trump effect.' Once we talked about how welcoming Portland and the U.S. are, and that surely India has its own history of issues, they seemed to feel better. I'm pretty sure they just wanted to be reassured and will in fact come."
"I'd say the rhetoric and actual executive orders are definitely having a chilling effect on decisions by current applicants/admitted students, and by extension are likely to affect future applicants as well," Wiewel said. "However, we were struck by how much U.S. higher education is still considered the holy grail, and that especially in the southern half of India almost every middle class family seems to have a relative in the U.S. … Thus, if nothing too bad happens in the future we will recover from this, but people are watching."
There are other factors that could be at play behind application drops from India: Wiewel noted India's demonetization policy and the weakness of the value of the rupee against the dollar. And the type of U.S. policy that could affect international student flows need not be as dramatic as a travel ban. During his travels through India, Wiewel heard concerns from students about possible changes to the H-1B skilled worker visa program, which international students see as one of the few pathways to permanent work and residency in the U.S. At the same time, Wiewel said, Trump's address to Congress in which he called for a "merit-based" immigration system got played up in the press as something that could help Indians.
John J. Wood, the senior associate vice provost for international education, at the State University of New York at Buffalo, said a lot of universities are concerned about declines in master's students from India. "A lot of the master's students coming from India are ultimately hoping to get on the job market here through OPT and eventually H-1B," Wood said, referring first to the optional practical training program, which allows international students to work for one to three years on their student visas after graduation. "There's a lot of fear and anxiety about potential changes to H-1B and/or OPT that would limit their opportunities. Making the decision to invest in a master's program when the uncertainty on the other end is there is an issue for a lot of students in India."
Wood added that the recent shooting of Indian nationals at a bar in Olathe, Kans., won't help. The Federal Bureau of Investigation is investigating the shooting -- which killed Srinivas Kuchibhotla, an Indian national, and wounded a second Indian man and an American -- as a hate crime. The gunman reportedly yelled "get out of my country" before opening fire, according to The Washington Post. A Sikh man originally from India who was wounded in a separate shooting in Kent, Wash., a little more than a week later similarly reported that he was told by the shooter to "go back to your own country," according to The Seattle Times.
"Those events affect us, whether we like it or not," said Ahmad Ezzeddine, the associate vice president for educational outreach and international programs, at Wayne State University, where international applications are down, with the steepest drops in engineering. "The impact is not just going to be on Indian nationals. It could impact other students from other countries who may now be concerned about coming."
"This is the season for us. Acceptance and admission season is underway now, and it'll be interesting to see what's going to happen when people start accepting their admissions and making plans. This is when I think we're going to see the decline, across the country. That's my fear," Ezzeddine said.
"From what I've been hearing, it's going to be more challenging after this fall cycle," said Nicole Tami, the executive director of global education initiatives at the University of New Mexico. "There are going to be preliminary drops for this fall," she said. But if what she described as "the tightening of immigration policies and the chilling of the overall attitudes towards international and professional students and immigrants" continues, Tami said, "the real hit is going to be next year."
"If that general kind of blanket attitude toward immigrants and international visitors continues, be they students or scholars, or professionals who come to work, I think people who have other opportunities -- and many do -- will go elsewhere, and there will be other countries that strategically benefit and profit from this current kind of climate," she said.