You have /5 articles left.
Sign up for a free account or log in.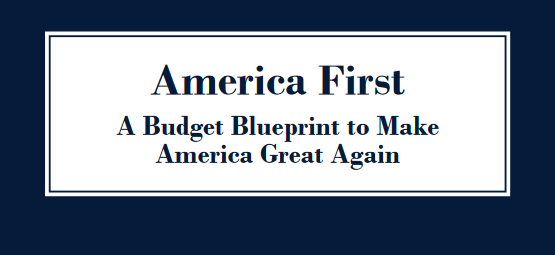 The Trump administration today unveiled its "America First" budget -- a plan that would make deep cuts to some student aid programs and science agencies on which colleges, their students and their researchers depend.
In the U.S. Department of Education, the budget pledges level funding for Pell Grants, the primary federal program to support low-income students. Funding for historically black colleges and other minority-serving institutions would remain at current levels under the budget. The Trump administration has pledged to provide help for historically black colleges, and some leaders of HBCUs have been hoping for increases.
But the budget plan says work-study would be cut "significantly." Further, the administration is calling for the elimination of the Federal Supplemental Educational Opportunity Grants, which go to low-income college students. Eliminating the program will "reduce complexity," the budget proposal says, and produce $732 million in savings. In addition, the administration wants to eliminate GEAR-UP and reduce funding for TRIO programs, which prepare disadvantaged students for college and help them succeed once enrolled.
Some programs are slated for complete elimination, including the National Endowment for the Humanities, the National Endowment for the Arts and the Corporation for Community and Public Service, which runs AmeriCorps.
Past Inside Higher Ed articles (on the NEH here and AmeriCorps here) note concerns in academe about these programs potentially being eliminated. William D. Adams, chairman of the NEH, has been silent amid reports of the planned elimination of the agency. But this morning, he issued a statement in which he said he was "greatly saddened" by the proposal and said the NEH would continue normal operations for now.
The budget plan would also kill the U.S. Institute of Peace and the Woodrow Wilson International Center, both of which support the work of scholars. Here is a background article from 2011, when Republicans in the U.S. House of Representatives tried to kill the peace institute.
In the State Department budget, the document says the Fulbright program will be protected, but other educational exchange programs will be slated for cuts. The international education programs run by the Department of Education -- which provide funding for foreign language and area studies -- are also included on a list of programs slated for reductions or elimination.
As expected, the science budget seeks cuts across a number of agencies that support research on climate change and the environment.
But the budget also proposes to cut funding for the National Institutes of Health by nearly 20 percent, to $25.9 billion. The budget plan states that savings will come in part from "consolidations and structural changes across NIH organizations and activities. The budget also reduces administrative costs and rebalance[s] federal contributions to research funding." The NIH is the largest federal supporter of research and development, and its grants support research at universities nationwide. (Most NIH research is done through grants, and not at the NIH.)
Rush Holt, CEO of the American Association for the Advancement of Science, issued a statement Thursday in which he said that the Trump budget plan "would cripple the science and technology enterprise through shortsighted cuts to discovery science programs and critical mission agencies alike."
The budget's targets include some programs, like the NIH, that have enjoyed broad bipartisan support in the U.S. Congress. But the current Republican congressional leadership and President Trump have vowed to push large increases in military spending, build a wall on the border with Mexico and resist tax increases. Such an agenda requires large cuts in many domestic programs.
Early Criticism of Impact on Low-Income Students
New America, a Washington think tank, released an analysis early this morning that suggests the cuts to work-study and SEOG may help protect Pell spending, although the analysis suggested that Pell may still be vulnerable down the road.
The analysis notes that the programs being proposed for cuts or elimination serve low-income students -- with evidence that work-study has a positive impact on graduation rates of the most needy students.
"SEOG recipients' income levels are comparable to Pell recipients. Seventy-one percent of dependent undergraduate recipients [are] from families making less than $30,000 per year, and 76 percent of independent recipients earn less than $20,000," the analysis says.
As to work-study, New America noted concerns it finds legitimate, such as more aid going to private than public institutions and two-thirds of aid going to those with family incomes over $30,000. (Of course plenty of those with family incomes over $30,000 would have great difficulty paying for college.)
The New America analysis differentiated between reforming work-study and other programs (as others have proposed before Trump) and making deep cuts in the program. "Studies of the work-study program have shown students receiving work-study are more likely to graduate and be employed after graduation. And these positive effects are larger for low-income students who attend public institutions. One-third of American undergraduates are working 35 hours per week and half are working at least part time. Finding ways to help these students balance their jobs with their studies is more needed than ever. Reallocating the work-study allocation makes sense; cutting it significantly does not."