You have /5 articles left.
Sign up for a free account or log in.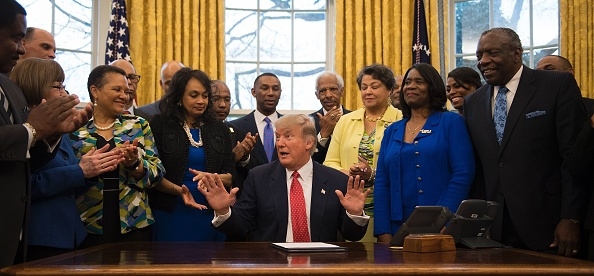 The Trump budget proposal released last week promised to maintain institutional support for historically black colleges. But it does so while dealing a blow to grant-based and work-study programs on which black colleges and their students depend.
And that's not the vision many leaders of black colleges had when they met (and posed for photos with) President Trump -- and heard him talk about how much of a priority black colleges would be in his administration.
More than 55,000 students at those institutions would be affected by the elimination of the Supplemental Educational Opportunity Grant, a federal program serving those with very low income levels, which was zeroed out in the Trump budget blueprint. And 26,000 with work-study jobs would be affected by slashing that program, said United Negro College Fund President and CEO Michael Lomax in a letter last week to Mick Mulvaney, Trump's budget director.
Students on HBCU campuses uses programs like the Pell Grant and SEOG, which benefit many of the same students, at higher rates than the national average. John Silvanus Wilson Jr., president of Morehouse College, said he and other leaders of historically black colleges didn't go to meetings with President Trump and congressional leaders in Washington last month intending to assure level funding for a program for minority-serving institutions.
"It's hard for me to say you value me because you didn't cut me," Wilson said. "The only way to value someone -- especially when using terms like 'historic' and 'outdoing' one's predecessors -- is to increase their support." (Trump said repeatedly in the build-up to his meetings with HBCU leaders that he would do more for them than the Obama administration did.)
Dillard University President Walter Kimbrough said the Trump proposal was the opening round of the budget process. HBCU leaders should be unified now in making the case that they need even more support, both in funding to institutions and in student financial aid programs, to serve the most vulnerable populations, he said.
"The case that we've been trying to make is that we already don't have enough resources to do the work that needs to be done," Kimbrough said.
Dillard students would lose about $180,000 from the proposed elimination of SEOG and another $368,000 from the work-study program, he said. Although Pell funding was kept flat, Kimbrough said the reality is that the value of the grant has declined as the maximum award has failed to keep pace with inflation. The so-called skinny budget offered by the administration doesn't specify if it will change the current $5,920 maximum award amount but promises "level funding" for the program.
"I'm not ready for the silver lining," he said. "We're still in really strong negotiation mode. So let's not look for wins already."
The UNCF is aiming to shape the approach of the administration and Congress to spending by providing more information on the value of those programs. Figures in the administration may not yet realize how much students at historically black colleges rely on programs like SEOG, said Cheryl Smith, senior vice president of public policy and government affairs at UNCF.
"They may not have fully realized how significant that is for our institutions," Smith said. "We are going through the data set and trying to paint a picture here so people understand the significance of these programs."
Johnny C. Taylor Jr., president and CEO of the Thurgood Marshall College Fund, said after the budget proposal was released last week that while much work remains, the initial outcome could have been worse for HBCUs in the context of a 13 percent overall cut for the Department of Education. Taylor said those institutions are in a better position now than they would be if they had to fight for a restoration of Pell funding.
Taylor said he is also looking beyond student aid dollars or institutional aid through the department to sources of funding for HBCU institutions in other federal agencies.
"We've had to dig out of holes every year," Taylor said. "We're holding the current president to a standard that we simply were not willing to hold the former president to."
Other grant award programs that fund nonprofits and community organizations working with low-income and first-generation college students would be slashed under the Trump budget -- TRIO would be cut by 10 percent and GEAR UP by about a third. Kimberly Jones, a spokeswoman for the Council for Opportunity in Education, which works on behalf of those programs, said TRIO serves about 36,000 students at HBCUs with a presence at almost every historically black college. The program serves 828,000 students overall this year. 
"This includes both undergraduates who are enrolled in these institutions along with youth and adults in their neighboring communities," she said. "Thus, any potential cuts to TRIO would most definitely inflict harm on our HBCUs. COE is committed to working with our supporters in Congress -- on both sides of the aisle and across both sides of the Capitol -- to make sure that this doesn't happen."
Smith and Taylor are both hoping that the spotlight focused on historically black colleges thanks to face-to-face time spent with Trump as well as GOP lawmakers will provide a boost to advocacy efforts.
It's clear the White House is concerned about the way the budget is perceived by HBCUs -- in part because of early missteps by the administration, said Clare McCann, a senior policy analyst with New America's education policy program.
"The fact that they explicitly protected that funding for the institutions at the expense of student aid dollars is, I think, a significant indication of where their priorities are," said McCann, who worked at the Department of Education during the Obama administration.
But she said cuts like eliminating SEOG would have a serious impact on access for students attending HBCUs.
"At the end of the day, these cuts are going to affect students at their schools and are going to have a significant impact on affordability at HBCUs, where many students have unmet need and rely on these dollars," she said.
(Note: This article originally misstated the number of students served overall by TRIO. The story has been updated.)