You have /5 articles left.
Sign up for a free account or log in.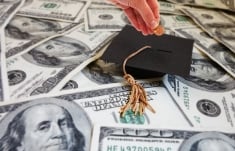 Every year, prospective students receive offers to attend their college or university of choice. And every year, some of them turn down those offers.
Common wisdom holds that cost is a major factor in those students' decisions. And new data from a private company provide insight into how much of a role costs play in turning students away from their top choice for college.
Almost one-fifth of students who were admitted to their top choice of college or university in 2016 but decided not to go there turned it down because of the cost of attendance, according to new data from Royall & Co., the enrollment-management and alumni fund-raising arm of EAB. Cost of attendance was cited on a survey by 18.6 percent of students who turned down their first choice. Nearly twice as many students pointed to cost of attendance as pointed to the next most commonly cited reason, the campus environment, which was cited by 9.4 percent of students.
Many other students who opted not to go to their college of first choice said they did so for other reasons that were still related to cost. Financial aid received from other colleges was cited by 9.1 percent of students. Non-need-based scholarships received were cited by 6.3 percent, and a college's value was cited by 5.9 percent.
Add up the four cost-related reasons, and 39.9 percent of students who turned down their college of first choice did so for a reason related to cost.
| Reason for Not Attending College of First Choice | Percentage of Students Citing |
| --- | --- |
| Cost of attendance | 18.6% |
| Campus environment | 9.4% |
| Location of the school | 9.3% |
| The financial aid I received | 9.1% |
| Academic reputation | 8.1% |
| Proximity to home | 7.6% |
| Offered the major I wanted | 6.6% |
| The merit-based scholarship I received | 6.3% |
| Best value | 5.9% |
| Reputation in my intended field of study | 4.9% |
| The size of the school/number of students | 3.8% |
| Athletic programs | 3.3% |
| Overall Reputation | 3.0% |
| Legacy/family member attended the school | 1.8% |
| Amount of contact after admission | 1.1% |
| Timing of my financial aid award | 1.0% |
| Amount of contact before application | 0.4% |
| The school is coeducational | 0.0% |
Those findings held relatively steady across groupings of students with different SAT scores and between minority and nonminority students. Students with SAT scores of 1,200 or more gave cost-related reasons for not attending their college of first choice about 42 percent of the time, compared to 39 percent for students with SAT scores below 1,200. Minority students did not attend their first-choice college because of cost-related reasons about 43 percent of the time, while nonminority students did so 39 percent of the time.
"I think that both enrollment leaders and the public in general have had a suspicion that cost factors were driving a lot of enrollment decisions," said Peter Farrell, Royall & Co. managing director. "This verifies it in an empirical way."
To reach its conclusions, Royall & Co. analyzed 54,810 students at 92 institutions it works with who were admitted to enter college in 2016. It found that more than 6,000 of those students -- 11 percent -- declined to attend their institution of first choice, further examining their reasons for doing so.
The data do not date back over several years, preventing comparisons over time. But the 2016 results support the idea that students are much more conscious of costs in the years since the Great Recession, Farrell said.
"If you look at a variety of data points, the recession is a turning point in how students made their selections," Farrell said. "Something has happened more recently that's accelerated things. It could be demographics. It could be what we're seeing on the macroeconomic scale about low socioeconomic [status] families being pinched. I don't know the actual causality of this change in sentiment, but the slope line of concern seems to be upticking."
The trends also held closely when splitting the 67 private institutions in the sample from the 25 public institutions. Admitted students who opted not to attend a private college or university that was their first choice gave cost-related factors as their reason approximately 41 percent of the time. Those declining to attend a public college or university that was their first choice said their decision was due to cost-related factors 38 percent of the time.
That difference was due largely to a slightly lower percentage of students at public institutions citing cost of attendance, financial aid and merit-based scholarships received. Students who decided not to attend private institutions cited cost of attendance 19.8 percent of the time, financial aid 9.7 percent of the time and merit-based scholarships 5.6 percent of the time. Those deciding not to attend public institutions pointed to cost of attendance 17.1 percent of the time, financial aid 8.5 percent of the time and merit-based scholarships 6.5 percent of the time.
The data offer some insight into how financial aid and non-need-based aid -- often called merit aid -- can be attractive ways for colleges and universities to attract students. Significant numbers of students who are sensitive to college costs mean significant numbers of students who can potentially be won over by an institution offering additional financial aid. That can be seen as a way to snag students who otherwise would attend a more prestigious institution.
The takeaway is not that colleges and universities need to increase their discount rates. But the data do illustrate the risks involved in changing financial aid practices, Farrell said.
"I think the most important message this holds is that there's a group of students who are really interested in your college that you have the potential to lose if you're not doing a great job with both your marketing strategy and your aid strategy," Farrell said. "Some students, they'll get over the application hurdle. But if somebody else gets their award out faster or their aid is significantly larger than yours, you can lose that student."
Experts cautioned against reading too much into the different cost factors in the data. The cost-of-attendance reason can become a catchall for students explaining their choice not to attend a college, said Donald Heller, provost and vice president of academic affairs at the University of San Francisco.
"When students read financial aid offer letters, they're not always understanding or careful of distinguishing different forms of financial aid," Heller said. "Sometimes they conflate grants with loans. I would be a little cautious about interpreting too much into this question."
Still, students are clearly interested in issues related to cost -- particularly the return on the investment of their tuition dollars, Heller said.
"More and more, we're getting questions from students and parents about the value proposition," he said, adding that students and parents often ask about job opportunities after graduation.
Royall & Co. didn't only look at why students decided not to attend their first choice of college or university. It also analyzed why they decided not to attend any institution to which they were admitted but did not enroll. Price-related considerations weren't as prevalent in that case but were still cited by 27 percent of students.
In addition, the company examined 6,631 students for which it had available financial information. Those students attended five colleges and universities -- one public, four private.
That analysis showed students who decided not to attend a college or university to which they were admitted were more likely to cite reasons related to cost as their expected financial contribution to college fell. Students from families with an expected contribution of $40,000 or more cited cost-related reasons slightly less than 25 percent of the time, compared to almost 41 percent for students from families with no expected contribution.
The analysis indicates students on the lower end of the income spectrum are more likely to be sensitive to costs. But it shows wealthy students can be sensitive as well. And anecdotal evidence shows even high-achieving students at some of the country's top high schools consider cost.
Jon Reider is the director of college counseling at the prestigious San Francisco University High School. The school's students as a whole are likely shielded from college cost concerns more than are students at other high schools. Many are wealthy, and the school's low-income students are typically seen as talented, meaning they're likely to receive attractive financial aid offers.
Even so, the high school has one or two students a year who choose a University of California institution over a private college because of cost, Reider said. He also remembered a student from a few years ago who had to change her plans after her father lost his job.
"Both parents had jobs, and Dad lost his job," Reider said. "She got into Amherst, and they gave her a nice award, but NYU gave her a big merit award. She wanted to go to Amherst, and her parents were lovely people, but they said, 'Your brother is coming. You've got to go to NYU.'"
That story taps into an underlying debate about merit aid, or non-need-based aid. While it can benefit individual high-achieving students and help colleges build strong classes, some criticize its impact at scale over time. Colleges and universities eventually draw resources from low-income students who need financial aid in order to pursue high-achieving and wealthy students, the argument goes.
"College counselors and high school counselors are conflicted," Reider said. "I'm happy for that kid, that she got good money and her parents are under less stress. But I see kids at big public schools or lower-income inner-city Catholic schools who do a good, honorable job. Those families don't have a lot to fall back on."