You have /5 articles left.
Sign up for a free account or log in.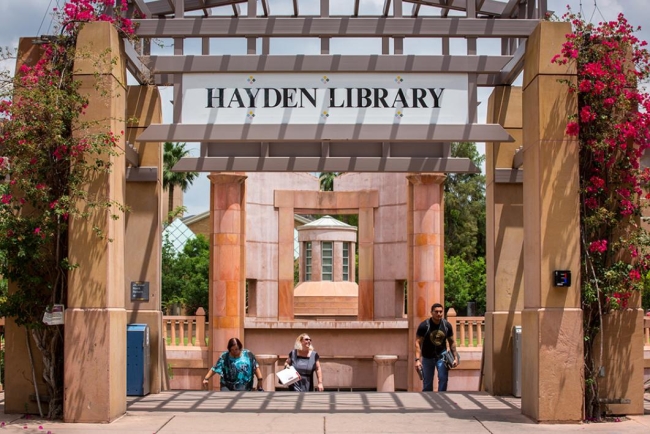 Arizona State University will spend "well more than $100 million" over the next few years to renovate and rethink its libraries, the clearest indication yet of how the library fits into the institution's plan for the public research university of the future.
The university later this year plans to close the Hayden Library on its Tempe campus for a two-year renovation. At the same time, the university will continue to work on expanding the library resources and services available to its roughly 26,000 degree-seeking online students and the hundreds of thousands more taking at least one class online from the university.
"The library has never been more important," President Michael M. Crow said in an interview. "The library turns out to be absolutely central to our logic of building our educational enterprise -- central in the sense that it is the tool which connects our students wherever they are."
Plans for renovations have been in the works for years, but now, Crow said, "We have the green light. We're moving ahead. And we don't move slowly."
Many other universities are reorganizing their libraries as they see an increase in the use of electronic resources and demand for cafes, multimedia classrooms, maker spaces, writing centers and other spaces devoted to teaching, learning and research. ASU, which under Crow's leadership has relentlessly pursued an innovation agenda, joins their ranks to argue for the benefits of libraries at a time when federal funding is on the cutting block.
The university in October 2014 hired James J. O'Donnell, a classical scholar who previously served as provost at Georgetown University, to lead the university library through the reorganization process. In an interview, he said one of his priorities since taking the job has been to figure out what to do with the 4.5 million physical items in the library's collections.
"It's time to realize that all of our users are primarily online users of our collections," O'Donnell said. Reorganizing a university library around that concept "means changing your service model, your staffing structure and organization, and bringing in a bunch of new people," he said.
Some of those new people might be embedded at EdPlus, ASU's innovation unit, or might work with instructional designers to embed library resources into course syllabi. O'Donnell said he hopes to hire around 25 people, bringing the library staff up to about 200 people.
The university last year received a $50,000 grant from the Andrew W. Mellon Foundation to support that work. O'Donnell said he plans for the renovated library to highlight a "carefully chosen print collection." Its special collections feature prominently in those plans, as they will be moved from their current location "hidden away on the fourth floor" to the main floor, he said.
"We want it to be a place that says libraries are important because libraries have the good stuff," O'Donnell said. "Libraries have and manage access to the best-quality learning and research resources, and we have the wizards to help you find what you need. We can take you to lots and lots of places that the open internet just can't plain take you, and we can show you how to get there."
O'Donnell also said the library is considering a future in which it will feature smaller "thematic exhibits" with accompanying events on a rotating basis. One semester might be devoted to Italy; the next, sustainability.
The library is taking some cues from the retail world on how to design the rotating exhibits to invite visitors to attend and explore, O'Donnell said. The retail angle extends to how the library is talking about its operations. The library will store the rest of its collections in off-site shelving on its Polytechnic campus, some 20 miles away from the Hayden Library. But librarians don't refer to the off-site shelving as "storage," he said. Instead, they are being encouraged by Crow to see it as a "fulfillment center," similar to those used by online retailers.
An informational website that the university set up to raise awareness about the library renovation completes the comparison to Amazon. It explains that books "will remain accessible to the ASU community through expedited delivery options similar to the Amazon Prime service."
"I'm hoping even that we can get to the point where we can have all the books on same-day delivery," Crow said, adding that the university is open to testing technologies such as delivery by drone in the future to make it possible.
Off-site storage has become a popular solution for university libraries looking to free up some space by removing stacks. The Georgia Institute of Technology, for example, is engaged in its own library renovation project that involves moving virtually all of its physical books to a facility it shares with nearby Emory University (but keeping some as a "visual cue," administrators said last year).
Irene M. H. Herold, president of the Association of College & Research Libraries, said in an interview that the trend of using off-site storage is one example of how the university library profession is changing.
"Our focus is where it has been all along," said Herold, university librarian at the University of Hawaii at Manoa. "We're not just knowledge preservers and information-literacy, critical-thinking instructors. We're also engaged in knowledge creation. It's just that the knowledge that's being created is able to be accessed and shaped and shared in such different ways than in the past."
When it reopens in 2019, the Hayden Library will be a "comfortable, homey and welcoming" place that encourages and helps students succeed academically, O'Donnell said. The renovated building will ditch the traditional single entrance in favor of multiple points of access and egress and feature some food options to take advantage of its central location on campus.
O'Donnell expanded on his vision for the renovated building in an email. "I want a building that is a showplace (a sign of ASU's academic and achievement) and a showcase (a place to make people aware of library treasures and resources and of the achievements of student and faculty partners) and a showroom (a place for users to go to find out about and road test and learn how to use information resources for best contribution to academic work and ambition)."