You have /5 articles left.
Sign up for a free account or log in.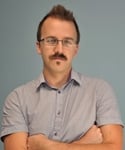 A tweet from George Ciccariello-Maher, a Drexel University faculty member, is outraging many people. That has happened before.
This time, the Drexel Faculty Senate is reviewing the situation. Although the faculty body's president did not respond to requests to discuss the matter, Ciccariello-Maher said that the inquiries raise concerns about his academic freedom. The inquiries, he said (and other faculty sources confirmed), focus on whether his public comments have played a role in Drexel losing potential donations and prospective students.
Ciccariello-Maher, associate professor of politics and global studies at Drexel, was much in the news when many academics were on vacation over a Christmas Eve tweet in which he said, "All I want for Christmas is white genocide." Drexel condemned the tweet on Christmas Day, prompting some advocates for academic freedom to criticize the university's reaction. In January Drexel issued a longer statement recognizing the tweet as "protected speech." Ciccariello-Maher said the tweet should not have been taken literally since he is on record as saying that there is no such thing as white genocide.
This time around, Ciccariello-Maher is being criticized for a tweet (not visible to most, as he has made his account private) about his reaction when he was on a flight and saw a passenger in first class give up his seat. "Some guy in first class gave up his seat for a uniformed soldier. People are thanking him. I'm trying not to vomit or yell about Mosul." The reference to Mosul was to a March air strike by U.S. forces that The Washington Post reported "could potentially rank among one of the most devastating attacks on civilians by American forces in more than two decades."
In subsequent comments, Ciccariello-Maher said he wasn't trying to attack that particular solider, but to question the way many Americans make symbolic gestures of support for the military without examining military actions, or demanding that the United States provide sufficient health care and support for other needs of veterans and active duty military.
Drexel issued the following statement as many on social media condemned Ciccariello-Maher and called for him to be fired. "The recent social media comments by George Ciccariello-Maher … were made outside the classroom, are his own opinion and do not represent the university's views. Drexel is committed to and vigorously supports our ROTC students, students on active duty and reserve, and students, faculty, staff and alumni who have served in the military. Our support for military-affiliated members of our community has helped us create an inclusive campus culture that honors service and Drexel's deep connection to American military history."
But while the university's statement fits the standard approach of an institution disassociating itself from a faculty member's controversial statement, the Faculty Senate -- led by one or two members -- has opened an inquiry into the impact Ciccariello-Maher has had on the university.
Ciccariello-Maher, via email, confirmed reports that he recently received a letter from the Faculty Senate asking questions about his activities and their impact.
He said senate leaders have been unclear whether a committee will review his circumstances or not, and that any investigation "clearly violates my academic freedom since there is no suggestion that my teaching or research is unsatisfactory."
Further, he said, "The university is seeing prospective students withdraw their acceptance to attend, and financial donors freeze forthcoming gifts -- and they are laying these at my feet as proof that I have done something wrong, without connecting the two in any way." He said that these were "troubling" developments.
The American Association of University Professors declined to comment on the situation. But AAUP policy generally says that colleges should not take any action against faculty members on the basis of comments outside their work capacities. And the limited circumstances in which the AAUP would authorize reviews that might punish a faculty member do not make mention of an impact on enrollment or fund-raising.
AAUP policy states, "The controlling principle is that a faculty member's expression of opinion as a citizen cannot constitute grounds for dismissal unless it clearly demonstrates the faculty member's unfitness for his or her position. Extramural utterances rarely bear upon the faculty member's fitness for the position. Moreover, a final decision should take into account the faculty member's entire record as a teacher and scholar."
Drexel declined to comment on the inquiries into the tweets and their impact.
More from Academic Freedom