You have /5 articles left.
Sign up for a free account or log in.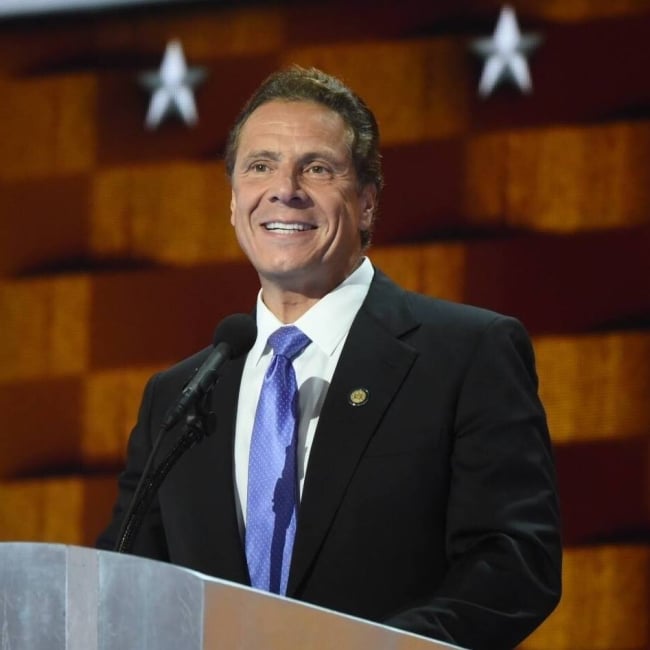 In what proponents are calling a historic move, New York Governor Andrew Cuomo and state legislative leaders announced a deal Saturday that will make tuition free at the City University of New York and State University of New York Systems -- for both community colleges and four-year colleges and universities -- for families with annual incomes up to $125,000. The plan will be phased in over three years, starting this fall with new enrollees from families with incomes up to $100,000.
The governor's office estimates that nearly 940,000 families in New York State will be eligible for free public college tuition when the plan is fully phased in.
The announcement from the governor also noted a "generous maintenance of effort" provision to protect SUNY and CUNY budgets. The provision is designed to address the fear of some educators that free tuition could reduce the pressure to provide adequate budgets to public higher education.
At the same time, a last-minute addition to the bill is alarming some student aid experts, including advocates for free public college tuition. The agreement requires those who receive free tuition to live and work in the state for the same number of years that they receive the awards. If they do not, the scholarships would convert to student loans. The requirement may be deferred if recipients leave the state to complete their undergraduate education, to enroll in graduate school or because of "extreme hardship."
The budget deal also contains two other measures related to college affordability:
$8 million will be provided for promoting and distributing open educational resources (free online education materials) for SUNY and CUNY students. The systems have been urged to focus on high-enrollment courses, with the goal of minimizing or eliminating textbook costs for those courses.
A new grant program will be created for students who attend private colleges in the state, with a maximum award of $3,000. However, private colleges would be required to match the grants, and to freeze tuition for the duration of a student's grant.
Revival of Free Tuition and the Public-Private Split
The action in New York represents a revival of the free tuition concept -- which featured prominently in the presidential campaigns of Bernie Sanders and Hillary Clinton last year and then was widely seen as dead after Donald Trump defeated Clinton in November. But Cuomo -- with Sanders at his side -- proposed a version of the plan in January and fought hard for it in negotiations with legislative leaders. Sanders, meanwhile, has also introduced a new version of his free-tuition plan in the U.S. Senate.
Cuomo also battled against private colleges in New York State, most of which opposed the plan. Many New York private colleges largely enroll state residents, and some of these colleges' leaders have feared a loss of enrollment to the SUNY and CUNY systems. Generally, the plan was a tougher sell for Cuomo in the Senate than in the Assembly. But major legislative initiatives in New York tend to be adopted or rejected as part of the overall state budget -- and in this case the Cuomo proposal made it into the final deal.
Many private college leaders opposed the Clinton and Sanders free-tuition plans, and a similar split played out in New York.
On Saturday, as college leaders studied the legislative language, reactions split between public and private institutions.
Gail Mellow, president of LaGuardia Community College of the City University of New York, said she thought the new policy was "extraordinary" and would lead to dramatic shifts in college attendance in the state. She said too many in New York and elsewhere "have blown through their aid attending for-profit schools and leaving without skills." The free-tuition model will "change the discussion" in the state and attract many more students to community college, she believes. "This is going to change the college-going culture," she said, "by taking tuition off the table."
Nancy Zimpher, chancellor of the State University of New York, said she too expects the greatest impact at community colleges, which the vast majority of students attend without room and board costs. But she said that New York State had also changed the free-tuition discussion by including four-year public institutions.
"We may be on the precipice" of a new era, of promoting the idea that many more people need a four-year education than have earned bachelor's degrees in the past, and this would be a historic shift, she said.
Zimpher also noted that the bill includes requirements that students enroll full time and maintain minimum grade point averages. This will "move the completion dial," she said.
But for Mary Beth Labate, president of the Commission on Independent Colleges and Universities in New York, the news was "dispiriting."
"There is a clear divide in the way students will be treated, depending on whether they go to a public or private institution," she said, adding that the Cuomo plan is poor public policy, given the excellent outcomes for those who attend private colleges.
As to the new funds for private college students, Labate said she wasn't sure that many institutions would find the program viable. She said the requirement that colleges freeze tuition for students when they first receive the aid would appear to mean colleges would end up with different tuition rates for students in different classes, and would have to track the students.
"This would be bureaucratically difficult," she said. "Colleges would have to ask if it was worth it."
The Requirement to Stay in the State
As news of the budget deal spread, one provision drew criticism from advocates for free public higher education. That is the provision that would require recipients to work or live in the state after graduation for the same number of years that they receive support (which presumably would be up to four years, given the requirements that students enroll full time).
Sara Goldrick-Rab, one such advocate and a professor of higher education policy and sociology at Temple University, posted a series of highly critical tweets on the provision, calling it "extortion," "bad public policy" and a "trick." Other aid experts agreed.
Indeed, historically, many scholars of aid policy have said that trying to "tether" students to states won't work, and that graduates will follow jobs elsewhere. But many of those debates have been about states such as Maine that have been losing recent college graduates to other states with more jobs.
SUNY and CUNY, unlike many public systems in other states, have not heavily pushed out-of-state recruitment. As a result, both systems overwhelmingly enroll New York State residents and report that 80-plus percent (higher for CUNY and high for most community colleges) stay in the state after graduation.
Marc Cohen, president of the SUNY Student Assembly, said that his group believes public higher education should be free "without strings," and that he would not want a recent SUNY or CUNY graduate to pay a financial cost "for taking a great job out of the state."
At the same time, he said that he didn't see the provision having an impact on most students. "New York State is the greatest state in the union, and there are great opportunities here," said Cohen, a master's student at (and undergraduate alumnus of) SUNY's Albany campus.
Cohen said the big story was really about the opportunities free tuition would provide. "An affordable and accessible higher education will now be available to many more people," he said. Cohen said he saw the program "propelling New York State to being the leader in public higher education."
What Wasn't in the Bill
The free tuition plan is now part of the New York State budget. As lobbying over Cuomo's proposal intensified, debate was most fraught over two proposals that were not in the final deal.
One was proposed by Cuomo. That was to impose limits on how much private colleges could increase tuition if they wanted in-state students to remain eligible for grants under the Tuition Assistance Program, which is one of the most generous student aid programs in the country. Private college officials said that the tuition limits were inappropriate to impose on colleges, whose independence should include the right to set their own tuition rates. While New York State's private colleges include some relatively well-endowed institutions that attract national student bodies, most of the colleges depend on tuition for their budgets and enroll almost entirely students from within the state.
The other was an idea -- rumored in the last two weeks -- that the state would pay for free tuition in part with a 10 percent tax on unrestricted gifts to SUNY campuses. This idea (which Cuomo said he opposed) worried many SUNY leaders. But this, too, was not in the final deal.
An Old Idea/A New Idea
Free tuition for public higher education is not a new idea. Many public colleges -- including City College of CUNY -- were founded that way. For a time, all of CUNY was tuition-free, but that ended in 1976, with New York City facing a fiscal crisis.
The idea was always on the wish list of various activist groups but was largely dismissed by political leaders as unrealistic.
Then in 2014, Tennessee Governor Bill Haslam, a Republican, proposed and quickly won approval for making community college free in his state. It was the Tennessee plan that led President Obama to propose in 2015 a state-federal partnership that would have made community college free in participating states.
Congress never acted on the Obama proposal, but many individual community college districts -- in particular in California -- have embraced the idea with a variety of approaches to free community college.