You have /5 articles left.
Sign up for a free account or log in.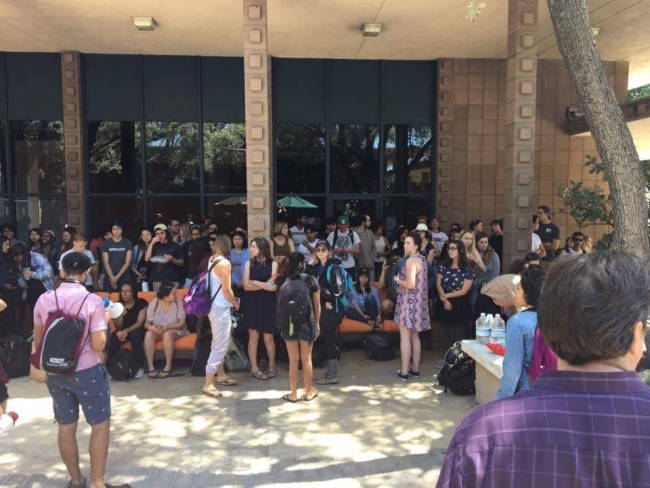 The circumstances that led to protests and a two-day shutdown of classes at Harvey Mudd College have been brewing for years -- long bottled-up tensions about workload, race issues and a new and painful student mistrust of the faculty.
Monday and Tuesday this week, the California college will not hold classes, the cancellation following a student sit-in last week at the campus, where minority students issued demands to administration -- among them to funnel more money into counseling services, specifically geared toward students of color, and to prioritize minority student groups with funding and other perks.
Students didn't ask for a cancellation, but rather the college did so to allow students and faculty members time either to consider some of the persisting issues on campus or to recuperate after a tense few weeks, Maria Klawe, the college's president, said in a phone interview.
The move is highly unusual. Even as many campuses face tensions on race and other issues, it is rare to shut down for even a day as a result.
The elite science and engineering-centric institution has suffered a string of misfortunes with the deaths of three students since last July, prompting fresh grief among the campus community every time, Klawe said. The latest, a beloved campus leader with a sunny disposition, was found dead in his room from undetermined causes. The other two students died in separate car accidents. Harvey Mudd enrolls about 800 students, and such deaths affect the tight-knit community deeply, Klawe said.
Last month, too, a controversial report regarding student workload and faculty opinion of students leaked to the student newspaper, The Student Life. A committee examining the college's classroom environment commissioned a study from the Center of Inquiry at Wabash College in Indiana. Two representatives from the center visited campus and conducted focus groups with students and faculty members.
Their findings: students expressed distress over their assignments, some reporting they fretted their showers were too lengthy because they needed more time to work, or they dreaded the prospect of getting sick, because they'd fall behind.
Harvey Mudd eight years ago revised its core curriculum, cutting it back from four semesters of courses to three and allowing for more elective classes. It was a measure that faculty and administrators believed would reduce student workload and stresses, and they were frustrated to learn it was not successful after many months of planning, Klawe said.
Some faculty members, meanwhile, told the interviewers that students were not prepared for their classes, and that they'd observed deterioration in the quality of students accepted to Harvey Mudd over the years. They described students as wed to their phones and not committed to the sciences.
Klawe said that the center didn't capture a proper sample of either students or faculty members. The report focused on people with complaints to assure they wouldn't be missed, but the final report lacked balance and presented it as representative of all faculty members' opinions -- which was not the case, she said.
Faculty viewed the report, but it was withheld from the students to avoid the hurt feelings that would come from the faculty's comments -- all were anonymous, Klawe said.
Still, someone provided it to the student newspaper, and a story on the so-called Wabash report was published two weeks ago, the same day that a memorial service for one of the students was being held on campus.
Students read the story, and later some of them printed out jumbo-size versions of the more stinging remarks from professors included in the report and plastered them to the president's house and faculty members' offices.
Later that week, students organized a march around campus and presented administrators with their demands. They want five new counselors for the coming academic year, with three of them being people of color, "to reflect the increasing need of health and wellness initiatives at Mudd to reflect and serve its diversifying student body," the students wrote on a website detailing their requests.
Funding for mental health services should be boosted every year by 25 percent, they wrote, until the 2021-22 academic year. They called for a release of the student affairs office's budget, and additional money -- $3,000 each -- for six student groups that represent minority interests on campus.
The administration also should carve out dedicated spaces in the college's new academic building for each of these six groups, they wrote.
When administrators didn't respond to the demands, Klawe said, the students staged the sit-in April 12.
Students who staged the sit-in did not respond to interview requests. FEMUnion at Harvey Mudd, a student group that advocates for women in science, technology, mathematics and engineering fields, wrote in a Facebook message to Inside Higher Ed that the student organizers "were tired" and did not wish to be interviewed.
Klawe compromised on some of the student requests at the sit-in.
She will provide $1,500 to each of the six minority student groups, a one-time allocation, with the administrators willing to consider it in future years depending on how the money is used. This comes in addition to the money student groups affiliated with the college already receive.
The student affairs budget will be sent to students by the end of the week, once the college figures out how to shield the salaries of the employees of the division.
The college will also formulate a proposal for increasing mental health services this week, and establishing a space for the student groups elsewhere on campus, though not necessarily a separate place for each one, Klawe said.
Klawe described the significant shifts that have occurred on campus in the past decade -- white men have historically dominated at the college -- until it attempted to diversify the campus, a campaign that has seen relative success.
While leadership there has recruited more women -- to the point where they comprise nearly 50 percent of the student body -- gains in the numbers of Hispanic and black students were sluggish until recent years, Klawe said. As a college recognized for its sciences, Harvey Mudd competes with institutions like Stanford University and the Massachusetts Institute of Technology, both with higher profiles.
With this diversity comes growing pains, and practices that benefited what was the traditional Harvey Mudd student still linger, but are being identified.
Students pointed out a couple years ago that all lecturers in a campus speaker series were white men, Klawe said. In a required, basic course for engineering majors, women performed poorly until the college tweaked how it was taught, bringing in a hands-on component in which students built mini robots that could function underwater. The same mathematics concepts were being taught, but in a way that would appeal and allow women to thrive, Klawe said.
Like with many institutions nationwide, the results of the presidential election upset the campus population, according to Klawe, and so, in a largely positive step, conversations on campus have become more "radicalized" and have centered more than ever on social justice reforms.
Some faculty spent Monday afternoon in a training learning more about sensitivity toward minority groups and women.
"We're trying very hard to listen," Klawe said.