You have /5 articles left.
Sign up for a free account or log in.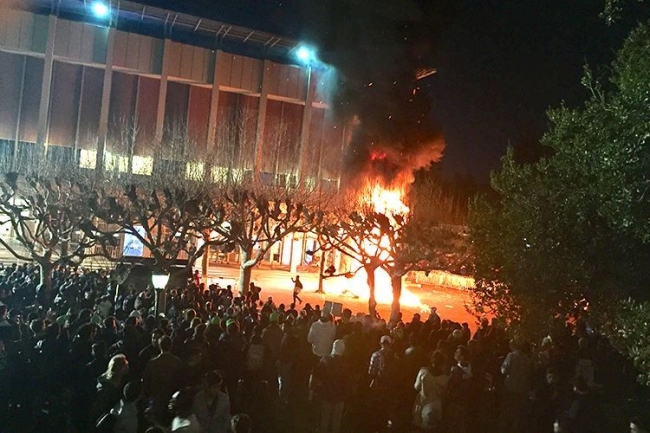 Citing safety concerns, two universities this week attempted to block planned appearances at their campuses -- one from white nationalist Richard Spencer at Auburn University, the other from conservative political commentator Ann Coulter at University of California, Berkeley.
Both right-wing figures defied the universities, boasting they would show up regardless, and the institutions, both public, eventually said that they would allow the events, in Auburn's case because a federal judge backed Spencer's right to speak.
Spencer addressed Auburn's campus Tuesday. Coulter has been invited to appear May 2, not April 27 as originally scheduled. Berkeley on Thursday reversed its initial announcement that Coulter couldn't come until the fall. Late Thursday, Coulter was tweeting that she was going to come on the original date, with or without the university's approval.
The decisions to cancel had been panned as a violation of free speech protections considered paramount on college campuses and protected, at public institutions, by the First Amendment.
Legal experts and academics say that public colleges and universities need to prove a real threat and meet a high standard of proof before invoking student and attendee welfare as a reason to curtail expression protected by the First Amendment.
"We have always been clear that colleges and universities bear the obligation to ensure conditions of peaceful discussion, which at times can be quite onerous. Only in the most extraordinary circumstances can strong evidence of imminent danger justify rescinding an invitation to an outside speaker," the policy of the American Association of University Professors reads.
Recently, though, security issues have grown more complex at colleges as campus protests in some cases have devolved into preventing people from speaking and, in few cases, to violence. Last month, with the visit of controversial scholar Charles Murray to Middlebury College, the audience consistently interrupted Murray's lecture with catcalls, eventually forcing him to live-stream it from a private room. Afterward, a group donning bandannas cornered Murray and a Middlebury political science professor, pulling her hair and injuring her neck. When Murray was in a car, they climbed, jumped and stomped on it. The university said later the aggressors did not appear to be students.
At Berkeley in February -- explaining part of its concern with hosting Coulter -- a riot erupted ahead of a planned talk by divisive Breitbart editor Milo Yiannopoulos, with protesters lighting fires and hurling rocks at police. Those protesters were also  not affiliated with the university.
Demonstrating evidence of a true threat to the campus falls to the university, said Michael A. Olivas, the William B. Bates Distinguished Chair in Law at the University of Houston Law Center, and an expert in higher education law. Suing Alma Mater: Higher Education and the Courts (Johns Hopkins University Press) is among the books Olivas has written on higher education law.
Using safety or the cost of security as an excuse to bar a speaker, when the real reason concerns what the person might say, must be guarded against, Olivas said.
Contentious speakers like Spencer, a leader of the "alt-right," a radical movement characterized by its white supremacist views, can exploit systems like Auburn's to appear on campus, Olivas said. Auburn allows those not connected to the university to use its facilities, and indeed, the man who rented the auditorium for Spencer, Cameron Padgett, said he was a student from Georgia. He did not explain why he booked Spencer other than he wanted to create discourse. Student groups at Berkeley invited Coulter.
"It invites mischief … and certainly provides a much easier mechanism to give them a platform," Olivas said of Auburn's rules for using campus buildings. A public college could limit use of its facilities to an individual or organization with a connection to the institution, provided that the rule is applied equitably.
Judge W. Keith Watkins ruled in favor of Spencer's right to appear on campus, writing in his decision that Auburn didn't present evidence that suggested Spencer advocated violence.
"The court finds that Auburn University canceled the speech based on its belief that listeners and protest groups opposed to Mr. Spencer's ideology would react to the content of his speech by engaging in protests that could cause violence or property damage," Watkins wrote. "However, discrimination on the basis of message content 'cannot be tolerated under the First Amendment," and "listeners' reaction to speech is not a content-neutral basis for regulation."
Berkeley was slammed by many for restricting Coulter from campus. Greg Lukianoff, president and chief executive officer of the Foundation for Individual Rights in Education, released a statement before the university backpedaled, and said it would set a "chilling and dangerous precedent."
"The Berkeley administration is incentivizing anyone who doesn't want a particular speaker to be heard to threaten (or even engage in) acts of violence. This all but guarantees that controversial speakers on a particular campus will be silenced, and teaches a generation of students that resorting to violence will be rewarded. Students are learning deeply illiberal lessons. I can think of few things that are more corrosive to higher education or a pluralistic democracy," Lukianoff said in his statement.
Criticism of Berkeley came from a range of sources.
Robert Reich, a prominent liberal thinker and Berkeley professor who was U.S. secretary of labor under Bill Clinton, wrote in a Facebook post the university had made a "grave" mistake.
"Coulter should be allowed to speak. How can students understand the vapidity of Coulter's arguments without being allowed to hear her make them, and question her about them?" he wrote.
In addition to widespread social media scorn, the satirical publication The Onion published a faux article Thursday mocking Berkeley for going on lockdown after littered pages from a Wall Street Journal were found on bench. "At press time, a black-clad group of 50 students were throwing bottles at the bench while chanting, 'No Nazis, No KKK, No Fascist USA!'" the article reads.
Right now, college administrators face an extremely challenging balance in these types of scenarios, said Kevin Kruger, president of NASPA: Student Affairs Administrators in Higher Education. They will collect intelligence from law enforcement that suggests a danger, but must weigh this with free speech rights, which are at "the core" of universities' missions, Kruger said.
"It's just a hard thing to balance," Kruger said. "I don't have any inside information, but the last time at Berkeley [in February] there were a lot of people from off campus and not affiliated with the university that might have a different agenda for the event than members of your own community. If you have intelligence around that, you may not feel like you're prepared. I'm not saying this is the case for Berkeley, but in the higher education community, we should not use security and or the cost around security as a way to indirectly inhibit free speech."
Controversial speakers have visited campuses for decades, but recently, demonstrations against them have "amped" up, which Kruger attributed to the most recent political cycle that invited people to spout "horrible" rhetoric on race and gender, he said.
In conjunction with this rise in activism, protesters can now access information via social media about other incidents in an unprecedented way, Kruger said. During the 1960s, it took months to figure out the details of such demonstrations. Now video clips of protests are passed around the internet for anyone to observe and mimic, he said. If a demonstration shuts down a campus and is subject to media attention, that would interest some protesters, who could copy those tactics, Kruger said.
Protecting campuses, which in some cases sprawl and function as their own cities, has proved quite daunting with these protests, said Sue Riseling, executive director of the International Association of Campus Law Enforcement Administrators (IACLEA).
At least nine states have green-lit "campus carry" laws that in some form allow guns on campus, Riseling said, and when someone arrives at a protest with an intimidatingly large firearm slung across their back, if makes police alert. Law enforcement can't know whether this individual intends to use the gun or not, she said.
Vandalism or problems won't necessarily be confined to the site of a speaker, either, Riseling said. Reports of protesters instead targeting buildings or other areas of campus have become more common, forcing law enforcement to strategize.
IACLEA has trained campus law enforcement heads recently on protests, and advised new approaches on meting out officers -- instead of placing all resources in one place where nothing might happen, adjusting and planning to tackle possible scenarios, Riseling said.
Dynamics of protests on college campuses differ from those outside, said Riseling, who was charged with security for the Wisconsin capitol in 2011 when more than 125,000 union representatives converged and shut it down in a show of force against Republican Governor Scott Walker. Walker had enacted anti-union measures, including limiting the collective bargaining rights of most state employees.
Traditionally, such uprisings represent constituent dissatisfaction with some aspect of government, like the war in Vietnam or the bitterness against Walker, Riseling said.
These college protests represent a move to stifle free speech, essentially pitting citizen against citizen, she said.
Few times have colleges successfully limited a speaker appearance. In 2008, however, then University of Nebraska Lincoln Chancellor Harvey Perlman, citing threats of violence, successfully rescinded an invitation to Bill Ayers, a former leader of the Weather Underground.
Robert M. O'Neil, a law professor at the University of Virginia, and its former president, said he knew Perlman, who had cataloged enough threatening messages that proved "an ominous situation" could arise, according to O'Neil.
"I find it difficult to accept that the actions of a few individuals can deprive this university of its right to select speakers who can contribute to the education of our students. Nonetheless I take seriously the responsibility I have for the safety of members of this community, particularly the students. It seemed cancellation was the most responsible action," Perlman wrote in an email to the campus in 2008.
Kruger, the NASPA president, doesn't believe colleges have acted recklessly in banning campus speakers. Instead, sometimes they sponsor alternative activities, he said. Spencer spoke at Texas A&M University in December, but administrators set up another talk coinciding with his.
Such conflicts on college campuses will continue, Riseling said. Unlike prominent political protests, these sorts of demonstrations don't appear to have an end, a resolution.
"This is an emerging issue," Riseling said. "We've got to secure these things so they can occur. The highest law of the land is the Constitution. It pre-empts a lot of things, short of life safety. How do we do hold these events and ensure they can go on and everyone participating can be safe?"