You have /5 articles left.
Sign up for a free account or log in.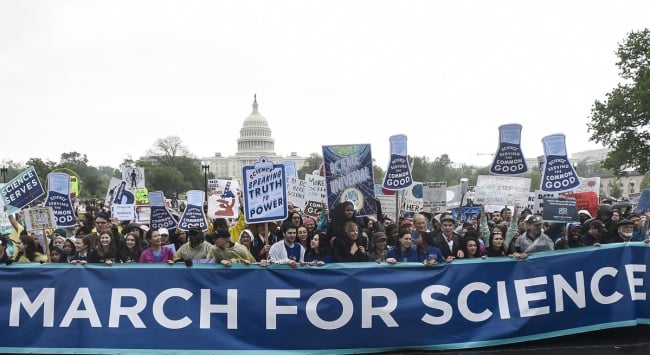 Organizers of the March for Science said that the event in Washington, D.C., and the satellite marches across the country this weekend were just the beginning of a movement to champion science.
Those statements would seem to caution against early assessments of the march's success or failure. Key supporters of the event and participants who trekked to the march in D.C. said the goals of the event went far beyond any immediate effects on policy and included communicating with the public about the state of federally funded research and energizing scientists about advocating for their field.
Others were concerned with pushing understanding by the public and Congress of the importance of science in shaping federal policy.
Scenes From the March
Researchers, students and others
explain why they participated.
Read more.
About 15,000 came out for pre-march events including teach-ins and speeches on the Washington Mall, Reuters reported -- firm estimates for the full march crowd had not yet been released -- while crowds attended hundreds of satellite marches elsewhere in the country. About 40,000 walked Columbus Drive in the Chicago event, according to The Chicago Tribune. The Los Angeles Times reported that thousands showed up for the march that went from Pershing Square to City Hall in L.A.
Fred Lawrence, secretary of the academic honor society Phi Beta Kappa, said the March for Science was "a watershed moment in American cultural and social history." He said the participation of so many scientists in the demonstrations has helped make clear to members of the public that they themselves have a stake in policy decisions like funding of the National Institutes of Health and National Science Foundation.
"It takes the issue from being abstract and makes it very present, very concrete and very urgent," Lawrence said.
Rush Holt, CEO of the American Association for the Advancement of Science, said that the march has already been a success, citing the conversations it has created about science and its role in policy making.
"Scientists -- who have been often reticent to go public -- showed up for the march and used stories to talk about the importance of their work. We were encouraged to see so many scientists speaking up and expect it will continue in the days ahead," he said.
AAAS, one of the country's largest nonpartisan science and research organizations, was a major backer of the event. Holt emphasized in comments ahead of the event that it would not be a protest of the White House but would make a positive case for science.
Although march events were sprinkled with the occasional anti-Trump message, they were spared the wrath of the president on Twitter over the weekend. In a statement Saturday, Trump said his administration was focused on both reducing regulations and protecting the environment.
"Rigorous science is critical to my administration's efforts to achieve the twin goals of economic growth and environmental protection," he said. "My administration is committed to advancing scientific research that leads to a better understanding of our environment and of environmental risks. As we do so, we should remember that rigorous science depends not on ideology, but on a spirit of honest inquiry and robust debate."
Those claims, many scientists would say, run counter to the facts of Trump's own budget proposal, which called for major cuts to National Institutes of Health and National Science Foundation research spending -- and to his Environmental Protection Agency chief's open disregard for climate science.
But even though the White House likely helped the spur the marchers into action, many attendees spoke to issues of federal policy that long predated the current administration.
Justin Steinfeld, a fifth year M.D./Ph.D. student at Columbia University, said that since the Clinton administration, NIH funding has failed to keep pace with inflation. An increasingly competitive environment to win grant funding has pushed scientists to constantly publish, leading to sloppier work and a "bad culture" within research, he said.
Trump's budget proposals would accelerate those years-long negative trends, scientists said this weekend.
"It shows a disrespect for what science is and what it can provide," said Steinfeld, who is also a member of the Graduate Workers of Columbia-UAW Local.
He said that communicating about the importance of science was part of the march, but that the real promise of the event was spurring people in his generation to action.
"It's about motivating the people who came to push themselves a little more, to get more involved," he said.
Sarah Joseph, a Columbia doctoral student studying genetics and the president of the graduate student advisory council, said one measure of the march's success would be seeing people without connections to the profession asking scientists like her about their research.
"Now they're seeking knowledge they didn't seek openly before," she said. "It's small, but it's going to be really important."
Organizations such as AAAS hosted workshops last week to train newly active scientists in how to communicate about their work. Advocacy organizations like the Union of Concerned Scientists saw the event as an opportunity to sign up more members for ongoing activism. Academics at the Washington event conveyed a hope that it would highlight the ongoing challenges funding university-based research -- and the threat posed by more cuts.
Steven Hanes, a professor at the State University of New York Upstate Medical University, also said researchers struggled in an increasingly difficult funding environment for years before Trump. With the exception of a spike driven by the stimulus package, NIH funding has essentially been flat since 2008, he said.
That's affected both the graduate-level education at his university -- Hanes hasn't been able to train new graduate students for several years -- and faculty hiring decisions.
"We don't even hire faculty who don't already have their own funding," he said.
Hanes said he hopes the public and Congress will get the message about how important it is to maintain scientific funding to continue making progress in every area of research. His lab studies how genes are switched on and off, or gene regulation. The most common disruption of gene regulation is in cancer, he said.
But having steady sources of federal funding turned on and off is incredibly inefficient for research, Hanes said. Layoffs forced by funding cuts mean he has to train a whole new set of researchers later.
"I lose institutional memory," he said. "It sets you back years."
Hanes said that increasing NIH funding by just a few percentage points would have a huge positive impact, while cuts would mean no new grants into important areas of inquiry and no further progress on projects due for grant renewal.
Researchers marched not just to highlight issues of funding but also to bring attention to the role that science should play in shaping policy. Melanie Killen, a professor of developmental science at the University of Maryland and a representative of the Society for Research in Child Development, said she hasn't heard research and evidence talked about so dismissively in more than three decades in the profession.
"I'm very concerned about the rhetoric we have heard in the last six months," she said. "It's not possible to have democracy if you don't believe in facts and in scientific evidence."
Matthew Walhout, a physics professor and dean for research and scholarship at Calvin College, said he joined the march to speak up for the importance of science in the social discourse and as part of the decision making that shapes policy.
He said the message of the march transcended party politics and that the turnout would demonstrate that there is a huge number of people supporting scientific research and the role it plays in society.
"I would say that over all it was generally uplifting to see a lot people gathered around an issue and treating each other well," Walhout said. "Even though the weather was bad, the spirits were high."