You have /5 articles left.
Sign up for a free account or log in.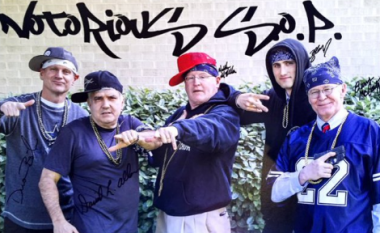 Every Halloween and plenty of weekends during the year, undergraduates at many campuses anger black students and faculty members by dressing up or posing as black people (the stereotypical variety), either wearing blackface or pretending to be gang members. Campus leaders criticize the actions -- frequently discovered when the students themselves post photos on social media -- as insensitive, racist and more.
This week's example of white people behaving badly through dressing up as black people -- gang members, this time -- comes from Southwest Baptist Theological Seminary, and from its faculty, not students.
David L. Allen, a professor of preaching, posted to Twitter a photograph of himself and four other professors (the image is above) with the line "Why you should come study at the School of Preaching @swbts! Rap the word. Reach the world." Scrawled above is "Notorious S.O.P.," a play on a rapper's name with "S.O.P." for "School of Preaching."
As the image spread on social media, it was criticized by many black people and also by many Christian people, stunned that seminary professors would be unaware of the offense caused by such images. Adding to the concern is that the Southern Baptist Convention, with which the seminary is affiliated, was created in part to support slavery, and has acknowledged being quite slow, after the end of slavery, to embrace the equality of black people.
While the photo was reportedly taken in part to honor a faculty member who raps, Allen removed the image and apologized on Twitter.
Some have posted to social media that they accept his apology.
But many others have questioned whether he would have removed the photo or apologized if people hadn't seen and been outraged by the image.
The seminary posted to Twitter as well, calling the original tweet "offensive" and noting that it had asked for its removal.
The president of the seminary posted an apology on the institution's website Wednesday. The president, Paige Patterson, put this headline on the apology: "Racism is a Tragic Sin."
"A gracious young Native American preacher on our staff does rap as a hobby. He preached a sermon recently in chapel in which he included a section of rap. I thought that it was great, and the students seemed responsive to it. He has since accepted a pastorate, and, as part of his departure, his fellow professors wanted to awaken memories and in so doing to tease him. That is par for the course around here. The president encourages our people to laugh at each other rather than to risk taking ourselves too seriously," Patterson wrote.
He added, "But, as all members of the preaching faculty have acknowledged, this was a mistake, and one for which we deeply apologize. Sometimes, Anglo Americans do not recognize the degree that racism has crept into our lives. Such incidents are tragic but helpful to me in refocusing on the attempt to flush from my own system any remaining nuances of the racist past of our own country. Just as important, my own sensitivity to the corporate and individual hurts of a people group abused by generations of oppressors needs to be constantly challenged."