You have /5 articles left.
Sign up for a free account or log in.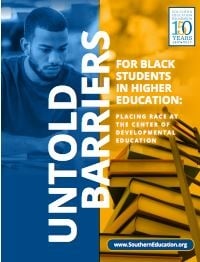 Historically black colleges have had some success merging developmental education reforms with culturally sensitive teaching practices, which a new report said should cause community colleges and four-year universities to take note.
The report from the Southern Education Foundation examined barriers that low-income black students face when they enter developmental or remedial courses. Researchers at the foundation examined experimental developmental education courses at two HBCUs -- Claflin University in South Carolina and Morgan State University in Maryland -- which are "already engaging in culturally relevant teaching" to improve black student achievement.
"Oftentimes when dealing with developmental education on a national level in the policy world, there is a lack of mention or lack of special attention to students of color or low-income students, and that tends to highlight that this is a problem," said DeShawn Preston, a higher education research fellow at SEF and the report's author.
"HBCUs and minority-serving institutions are in a unique position where they have to provide developmental education. These are institutions that have a high population of black and brown students, a high population of Pell-eligible students, and research has shown they have been successful in educating and graduating these students."
A high number of minority students nationwide are placed into developmental courses. Fifty-six percent of black students and 45 percent of Latinos are deemed "unprepared" for college-level courses and are expected to take developmental education, according to Complete College America, a nonprofit organization that promotes developmental education reforms. At two-year institutions, more than 70 percent of black students are enrolled in at least one remedial course, while 51 percent at four-year institutions take at least one.
The foundation argues that the solution to getting more students through developmental courses, which can be costly and lead to students dropping out, is designing a curriculum and supporting instructors who are culturally sensitive and will understand there isn't a one-size-fits-all answer to improving outcomes.
Morgan State, for instance, used an integrated curriculum that combined developmental reading with world history and a focus on the African diaspora. Students in the integrated developmental course outperformed their classmates in the traditional developmental course, with average test scores in one course improving from 75 percent on the pretest to 83 percent on the final exam. Students in the control group averaged 80 percent on the pretest and 75 percent on the final exam.
Claflin used a more traditional corequisite model, which combines college-level math and English courses with additional study or tutoring labs. Developmental students in Claflin's corequisite math courses had a passage rate of 74.9 percent, compared to 40.7 percent for students in the college-level course who did not receive additional supports.
Community colleges and universities that are struggling to improve developmental course pass rates for minority students should attempt to replicate the culture that exists at minority-serving institutions, Preston said.
Promising approaches include "meeting students where they are, trying to form relationships and understand backgrounds and interests, and using tools to ensure students can learn," he said, adding that faculty members and institutions should change their mind-sets from the view that students begin at a deficit and don't want to learn.
Training Faculty Members
Many colleges are evaluating their teaching practices to be more culturally responsive to students, but typically those changes happen after a reform or changes to a curriculum or a program takes place, said Nikki Edgecombe, a senior research scientist on developmental education reform at the Community College Research Center at Columbia University's Teachers College.
"People are much more likely to mess with structure, and pedagogy is the last element to change because you're operating at an individual level and there are tensions around academic freedom and asking instructors to teach in different ways," Edgecombe said. "Although now there is a more robust conversation happening … as it relates to the potential benefits of cultural responsiveness, and it's a broad space fundamentally about meeting students where they are and understanding students have different lives and cultural backgrounds."
Preston said much of the positive impact of culturally responsive teaching relies on the amount of investment by instructors to attempt to change their classroom practices.
The SEF study found, for example, that even at minority-serving institutions, students didn't perform as well in cases where an instructor didn't buy into the idea of merging the developmental course with culturally responsive teaching.
Some predominantly white institutions also are working to bring more of this approach to the classroom.
At the Community College of Baltimore County, for instance, the two-year institution has trained more than 500 faculty members, both full-time and adjunct, to use culturally responsive teaching.
"This is really a mind-set for faculty, and it asks them to do some of their own work around race, class and culture and to recognize that culture is always present in every interaction we have," said Dallas Dolan, assistant dean of faculty training and development at CCBC, adding that all full-time faculty in developmental courses are trained in using culturally responsive teaching.
For instance, the training encourages faculty members to confront their prejudices about students who use slang or more colloquial English. Faculty members also learn how to be more aware of microaggressions they may commit against students.
Meanwhile, the Community College of Aurora, which is located in Colorado, began using culturally responsive teaching a few years ago as administrators were introducing corequisite remediation. The college, in partnership with the Center for Urban Education, noticed that students who placed into entry-level versions of traditional developmental courses included a disproportionate number of black students.
The college did an analysis of faculty members who teach those courses by using classroom observations and reviewing syllabi to better understand what was happening.
"We found some faculty, to be honest, were afraid of our students of color, particularly our male students of color, and a lot of our faculty became aware of how communication is cultural," said James Gray, chair of Aurora's math department, adding that some instructors used language that diminished the importance of the work instead of setting expectations for minority students.
Gray said the race of the faculty member didn't play a role in whether or not they saw equitable outcomes in students. Some white faculty members were more culturally responsive to students than some faculty of color, he said.
This past fall, Aurora went to a full corequisite math model. That approach, combined with culturally responsive teaching, led to increases in pass rates among minority students.
"The lesson we learned was students are capable," Gray said. "But it's the way they're tested and evaluated. Students are believed to be lacking in fundamental preparation, and the corequisite remediation shows us they always have been capable."