You have /5 articles left.
Sign up for a free account or log in.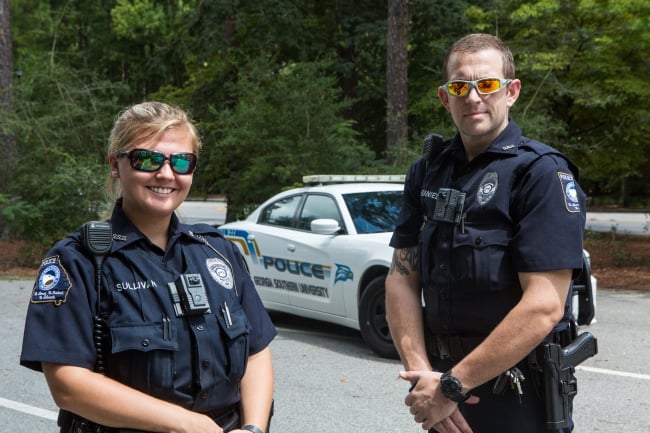 Georgia Southern University
When Ray Tensing, a University of Cincinnati police officer, pulled his gun during a traffic stop and fatally shot Samuel DuBose, an unarmed black man, the moment was captured on camera.
Fewer than 15 days later, in July 2015, Tensing was indicted on murder and manslaughter charges -- in part because of footage from the camera slung on his chest, technology that campus police forces nationwide have rapidly embraced. The university agreed to pay DuBose's family nearly $5 million, and Tensing awaits a retrial this month after a jury deadlocked last year.
College and university police and safety heads gave similar answers for wanting their forces to adopt body-worn cameras. They promote a sense of accountability and transparency that appeals to members of the public, especially to people of color, some of whom distrust law enforcement. And as in the DuBose case, such documentation can prove invaluable in court proceedings.
Filming police interactions comes with complex considerations -- including the new financial burden on institutions and the tricky and sometimes unknowable legal and privacy questions that vary depending on each state's laws and access to those records.
Generally, institutions Inside Higher Ed interviewed say they purchase enough body cams for every sworn officer on their campus' police departments.
Cameras are most commonly fastened to the chest, but can also sometimes be attached to the head to provide a record from the officer's vantage point.
The body cams are retrieved at the beginning of every shift, and a cop must manually turn them on and off. Newer versions of the cameras can sync with other proximate body cameras, or cameras mounted in police vehicles. In some cases, if an officer removes a weapon from its holster, or turns the car sirens and lights on, the cameras can activate automatically.
After the cameras are returned, they are placed in a dock where the footage automatically uploads to either a secured server located on the campus or a cloud service that the institution can purchase through a vendor.
Police chiefs have directed their officers to record any "official" contact on duty, though the definition of this varies at different institutions. David Carter, police chief at the University of Texas at Austin, expects his officers to document any "enforcement actions," such as arrests or issuing citations, but the police department there wanted to stress that it wouldn't continually surveil the campus, so not every interaction is recorded, Carter said in an interview.
"We want our officers to be approachable and interact with our community all the time, and have casual conversations," Carter said. "That's important. You don't want to people to be apprehensive to a police officer."
Only a handful of states legally require an officer to inform a subject they are on camera -- though officers, as a courtesy, will often tell someone the camera is active.
In a joint report, Police Executive Research Forum, a research nonprofit, and the U.S. Department of Justice's Community Oriented Policing Services recommended limiting which encounters are recorded, writing that constant observation would undermine police relationships with the community.
This differs from the approach advocated by the American Civil Liberties Union in 2013, which recommended even casual conversations be recorded.
"If a police department is to place its cameras under officer control, then it must put in place tightly effective means of limiting officers' ability to choose which encounters to record. That can only take the form of a departmentwide policy that mandates that police turn on recording during every interaction with the public," the ACLU said.
Institution police leaders agreed universally that the body cams shouldn't be triggered for an officer's entire shift -- that would only show a lot of "dead air" during lulls. Colleges also couldn't afford the digital space to store entire 10- or 12-hour shifts -- though each camera does cost hundreds of dollars, a huge expense comes with the server or cloud storage.
UT Austin signed a five-year contract for a little less than $500,000 with Axon, the company best known for producing the Taser, Carter said. The university purchased about 80 cameras, which have been in operation for about a month or two. Every patrol officer, plus other support staff like detectives, is equipped with one. At least two other institutions in the University of Texas System have bought cameras, too, Carter said.
Adjusting to flicking the camera on has been challenging for the officers, he said. "We don't necessarily have that muscle memory yet."
Officers quickly learn to switch on the camera, said James Whalen, director of public safety at the University of Cincinnati. (Whalen in his interview declined to discuss the DuBose case.)
Whalen's university paid close to $90,000 for all the costs associated with the body cams, including cameras for each of the university's 70 sworn officers, he said.
The police department will coach an officer who forgets to activate a camera, with "progressive discipline" for those who do so habitually, Whalen said. Often the cameras can be helpful in resolving citizen complaints against police officers, and as evidence in criminal cases, he said.
"An interaction can be perceived as too aggressive if you couldn't listen to the tone," Whalen said. "There's a way to say, 'yes, sir,' to you that will make you take a step back and be afraid. And you can say later, 'I called him "sir,"' and you can have the context and tone. It's helpful for that."
Cameras can't accurately depict everything, said Lieutenant Doug Wing of Eastern Michigan University. He recalled a scenario in which officers stopped an individual, who resisted arrest. From the perspective of the officer, and the camera, it appeared to be a massive struggle, because the camera was being jolted about, Wing said. But observing it from another angle showed that the takedown was "textbook" and gentle, he said.
"You don't smell, sometimes you don't hear, don't see the context just looking at video. It's just another tool," said Wing, who added footage can corroborate an officer's account -- which used to be golden in court, though not so much anymore.
Few requests come in to view or obtain the footage from either the institution or the public via the state's open-records law, Wing said.
He said redacting video with sensitive information can be time-consuming and perhaps costly.
Personal information, like students' addresses or Social Security numbers, which they might recount to an officer, would be taken out regardless of the state, but because police records are separate from those maintained by an institution -- which are generally protected by the federal Family Educational Rights and Privacy Act -- students' faces likely wouldn't be blurred or removed from footage.
Exceptions are made. Even in states like Florida, with expansive open-records laws, video featuring a victim of sexual assault or domestic violence wouldn't be made public, said Ed Book, the police chief at Santa Fe College.
Police can also withhold video tied to an ongoing court cases. Footage is generally only retained between 30 and 90 days, unless flagged as part of court proceedings.
Book said the college is in the midst of implementing a body-camera program to the tune of about $58,000, part of that funding coming from a federal Department of Justice grant.
The move to body cams was "inevitable," Book said, and so the college wanted to be on the front end of a new technological wave.
Jacob Young, an associate professor of criminology and criminal justice at Arizona State University, who has studied body cams, believes that the prevalence of body cameras among college police forces is rooted in their tendency to copy other agencies.
"It just means that organizations, in seeking to bolster legitimacy, adopt the technology and practices of others, since a failure to do so casts doubt on the organization. For example, what does it say about a department that doesn't adopt cameras, regardless of whether they have pragmatic value to the department?" Young said via email.
His research indicates that officers are influenced by cameras -- they tend to behave better.
Laura McCullough, chief of police at Georgia Southern University, said body cameras have easily remedied complaints against police officers.
People might come to the department to complain an officer was rude, but in a matter of minutes, this can be disproven with footage, McCullough said. Georgia Southern has bought a total of 45 body cameras, she said.
"Officers get a lot of complaint due to their nature of their job -- nobody likes getting stopped for a ticket," she said.
In one case, a complainant said an officer mishandled and injured her -- which turned out not to be true. The video did reveal that the officer had used inappropriate language, which was addressed, McCullough said.
Campus police forces need to determine their priorities and figure out if body cameras are right for them, said Sue Riseling, executive director for the International Association of Campus Law Enforcement Administrators. Some agencies may lack money, and other items take precedent, like an early-warning system, she said. But such tools can improve relations between the campus communities and their police.
But even if five people watch the same video, they'll all notice and interpret it differently, she said.
"It helps, but it's more a piece of the puzzle, not the be-all and end-all," Riseling said of body cameras. "They can get covered up if they're worn on a particular part of the police officer's body. People want the TV angle, but people don't realize how much editing is in a minute [of television] -- it can be six different camera angles."