You have /5 articles left.
Sign up for a free account or log in.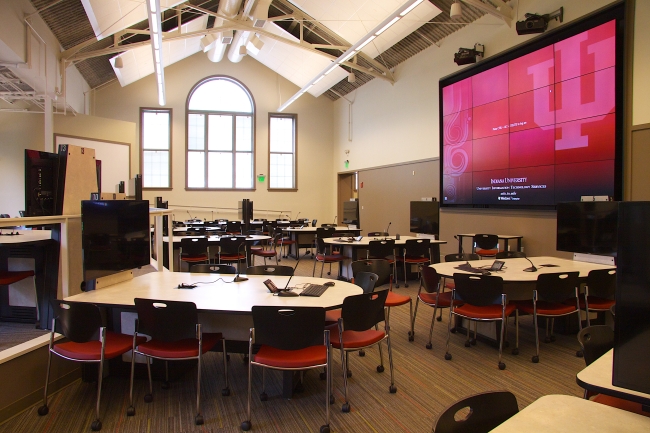 Indiana University's "active-learning" initiative is growing faster than expected, partly because of an approach that embraces different campus types, class sizes and classroom layouts. That approach is reflected in the initiative's name: Mosaic.
Many colleges offer development programs or incentives for faculty members to redesign lecture courses to feature more active learning, for example by having the instructor serve in a facilitating role as students work together on solving problems. Some institutions are even betting on active learning as the teaching method of the future. The College of Medicine at the University of Vermont, for example, last year said it would do away with lecture courses completely.
IU is experimenting with active learning to boost student engagement in class. So far, the university has exceeded expectations, said Anastasia Morrone, associate vice president of learning technologies.
"We know that students who are engaged are having a better experience," Morrone said. "They're engaging with the materials in a deeper way. It's just more motivating for the students."
Mosaic launched in January 2016 at IU's Bloomington campus and expanded to the Indianapolis campus that fall. Last week, the university announced it would bring the initiative to five of its six regional campuses. After starting with 15 faculty fellows, the initiative now has more than 50, and the university plans to add about 50 more a year.
Morrone said Mosaic differs from active-learning projects at other universities because it is less strict when it comes to what an active-learning classroom should look like. The most high-tech rooms may include document cameras, microphones and video walls, but others may simply feature whiteboards and wireless internet, she said.
All spaces designated as active-learning classrooms at IU still have three elements in common: they feature seating arrangements that allow students to work in smaller groups, encourage collaboration on whiteboards or monitors, and allow faculty members to move around the room.
Those requirements could make it easier for IU's regional campuses to adapt Mosaic to fit their needs, Morrone said. Indiana University East, where many students are enrolled in online degree-completion programs, will likely need fewer active-learning classrooms than the more residential Southeast campus, for example.
"Depending on the mission of the regional campuses, it's going to look a little different," she said, adding that IU chose to bring Mosaic to its regional campuses last fall in order to give the campuses more time to redesign classrooms.
The Bloomington and Indianapolis campuses each have about 30 spaces designated as Mosaic active-learning or "tech-enhanced" classrooms, according to a university database.
In addition to the efforts to redesign classrooms, Mosaic also includes a fellowship program open to all full-time faculty members. Those selected to participate are required to teach a course in one of the classrooms, attend an intensive one-day workshop and work with researchers and other fellows to test the spaces and improve active-learning techniques. They also receive a small stipend -- about $1,000.
"We can create these amazing new classrooms that don't look like anything the traditional classrooms that you and I may have had when we were undergraduates, but we can't just put faculty into those rooms and expect they know how to use them well," Morrone said.
Jill Robinson, a senior lecturer in the department of chemistry at the Bloomington campus, participated in the inaugural Mosaic cohort last spring. She taught a bioanalytical laboratory course in the campus' collaborative-learning studio (seen above), a high-ceilinged former swimming pool that Morrone described as "one of our most ambitious classroom renovation projects." The classroom now seats 96 people.
In an interview, Robinson said she has taught using active-learning techniques ever since receiving some "not too kind" midterm evaluations during her first semester of teaching 18 years ago. Since then, Robinson said she often splits up class sessions by introducing a concept during the first 10 to 20 minutes before letting groups of students apply that knowledge to a problem.
Robinson said that, while it has taken her four semesters, she now feels that she is using the classroom "in the right way," changing up the class sessions depending on the needs of the students and the technology at her disposal.
"One of my main improvements has been a larger use of collaborative activities and more variety in those activities," Robinson said. "I lecture a lot less. One day I'll use whiteboards. One day might be more focused on computer search. One day … I'll project students' screens to the video wall."
To participate in the program, faculty members also agree to "allow data collection as part of larger research studies," according to the application form. That data collection is fueling several research projects looking at the efficacy of active learning. Robinson, for example, is collaborating with two other faculty members at the Bloomington campus to study the use of teaching assistants in active-learning classrooms.
Since the first fellows began teaching courses in the active-learning classroom last year, those studies are still ongoing, Morrone said.
"We fully expect that those students [taught in active-learning classrooms] will learn more than students who have been taught in a more traditional model," Morrone said. She stressed that it is important for the university to provide support to faculty members to investigate that hypothesis. "If we invest money and time, and faculty change their teaching practices to teach in these new manners, does it matter?"