You have /5 articles left.
Sign up for a free account or log in.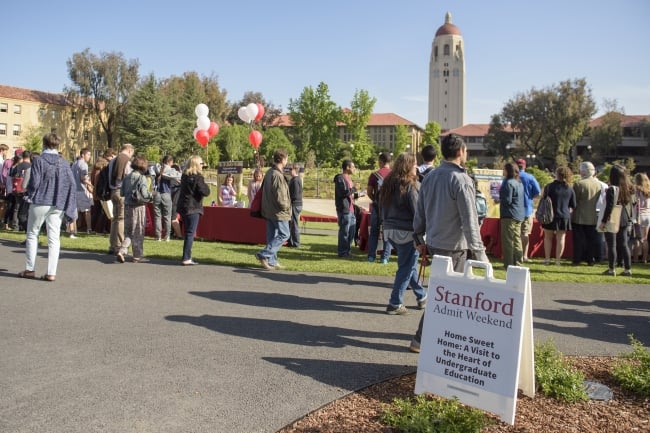 Stanford University is among the world's wealthiest educational institutions, with an endowment north of $22 billion. Which made it all the more disturbing to Adam Behrendt that the university appeared to be shortchanging undergraduate veterans like him out of the majority of their federal education benefits -- in ways that he and some supporters believed violated congressional intent.
Behrendt, a former U.S. Navy corpsman who enrolled as a transfer student at Stanford in 2015, has waged a relentless personal campaign to persuade Stanford of the error of its ways, advocating for individual veterans and prodding the university to make recruitment of military service members a higher priority. In bringing pressure to bear on Stanford officials, he has sought help from everyone from the U.S. attorney's office to congressional aides, veterans' groups and financial aid experts.
In recent months the university has altered some of those policies to make them more supportive of veterans, crediting some of the changes to Behrendt's persistent pressure, and added veteran status to its nondiscrimination policy. Yet Stanford officials continue to defend their earlier practices and stop short of institutionalizing some of the changes that Behrendt thinks would make Stanford more veteran-friendly, as it was in the years after World War II.
"Over the years, we've allowed this leadership to slip away, to the detriment of students, veterans, and the civilian-military relationship in America," Behrendt wrote in a recent proposal for Stanford's long-range planning process. "Stanford could easily lead again. The opportunity exists to repair and reinvent this relationship, by making veteran reintegration a priority, by opening a pathway by which undergraduate veterans can access the university and by working as hard to identify, recruit, retain and advance veterans as we do for leaders in other underserved communities."
An Accidental Advocate
Behrendt did not set out to be an advocate. The Wisconsin native enlisted in the Navy in 2007, after several years at the University of Wisconsin at Madison, was medically retired from the Navy in March 2015, and applied to Stanford with the goal of attending medical school.
The process of applying for financial aid exasperated him. The way Stanford applied the education benefits available through the Post 9/11 GI Bill did not make it financially feasible for Behrendt's wife to give up her job in Wisconsin and move with him to California, and he struggled with the transition for much of that year.
During the application process, he connected with Service to School, a nonprofit that helps military veterans apply to and succeed in college. He began mentoring other veterans as a result, and when some of them ran into even more trouble than he did with Stanford's financial aid policies, he fought on their behalf.
"I didn't really do anything significant in the military, but here's a guy who did, and Stanford admits him, then makes it almost financially impossible for him to go there," Behrendt said of a fellow student veteran. "It just doesn't make any sense."
He and others were negatively affected, they believed, by various aspects of the university's policies, including those covering students with disabilities and others that apply to older and married students. But the policy with which Behrendt took issue most strongly was Stanford's approach to applying educational benefits under the Post-9/11 GI Bill.
Under the program, the Veterans Affairs Department provides both tuition assistance and a housing and living allowance to former service members to pursue postsecondary education. As recently as the 2016-17 academic year, Stanford charged roughly $72,000 for an undergraduate -- $47,000 in tuition, $18,000 in room and board, and about $7,000 for books and fees.
Under VA policy at the time, the typical undergraduate veteran at Stanford would be eligible for more than $50,000 -- roughly $25,000 in tuition and fees support and another $28,000 toward housing and living expenses.
For veterans who also earned need-based funds from Stanford, the university would apply the entire $53,000 from the VA, and reduce its own financial contributions as a result.
In Behrendt's view it made no sense for the university to take $28,000 in VA funds to cover $18,000 in room and board, and he points to better policies at Stanford Law School, which mirror his perspective by not counting the allowance. The living allowance the government sought to provide was designed to help cover a veteran's family's expenses, in exchange for the veteran's service to the country.
"These funds were legislated for veterans' benefit -- to ensure veterans education success -- not for subsidizing Stanford's budget," he said. But the university was counting the housing allowance as a resource that the student veteran was bringing to the table in calculating financial aid.
In addition to tirelessly hounding Stanford to change its policies, Behrendt reached out to an enormous array of government officials, lawyers, policy analysts and, yes, journalists to try to draw their attention to the situation. Some of those people and organizations, like the Justice Department's civil rights division and the advocacy group Veterans Education Success, imposed pressure of their own on the institution.
Among those who offered their thoughts was David Bergeron, a fellow at the Center for American Progress who spent 15 years at the U.S. Department of Education, where he served as a liaison with the VA and the Pentagon on educational benefits for service members.
In an email last fall, Bergeron said that Stanford "appears to be excluding reasonable costs and effectively denying veterans the full benefit of the institutional resources and veterans' benefits that should be available to them, particularly when the veteran brings with him or her outside support. Such outside support should not be reduced, nor should it result in the institutional resources being reduced."
In an interview at the time, Bergeron said he was distressed but not surprised by Stanford's approach. "One of the problems we have with the financial aid system [is that] institutions have a lot of independence in the way they choose to implement federal programs, and they have essentially rigged the game so that their money goes into the game last," he said. "Stanford is basically saying, 'We're going to do this so as little of our money is exposed as possible.'"
Throughout much of last fall, Stanford continued to insist, to Behrendt and to anyone who asked, including Inside Higher Ed, that "we are following correct processes …. We double-checked with the VA and were advised that our position is correct," as Lisa Lapin, associate vice president for university communications, said in an email to this reporter in early October.
Days later, though, Stanford's general counsel noted in a letter to Behrendt that the university would no longer take more than the amount of the housing costs out of the VA's living allowance.
The letter also stated that the university would not use an outside donor's funds to meet a federal requirement that institutions match VA contributions under the Yellow Ribbon program, another practice to which Behrendt (and the outside donor) had objected.
Instead, the university agreed to use the donor's funds to ensure that all of its current undergraduate veterans were able to attend at no cost, essentially covering the $5,000 of their net costs that the university typically requires need-based aid recipients to meet, usually through performing some kind of work.
In an interview in February about the changes, which the university detailed in a news release, Stanford officials said the policy shifts reflected the university's goal to "always try to be open to hearing recommendations about how we can do better," said Lauren K. Schoenthaler, the university's senior associate vice provost for institutional equity and access.
Karen Cooper, director of financial aid at Stanford, said the university's policies had "gotten out of sync" with those of the Post-9/11 GI Bill, as the size of the housing allowance available through the program had "increased pretty dramatically." "When it was first created, it was a pretty good match for our housing expenses, but then last year we realized it had really gotten out of alignment."
So going forward, she said, Stanford would "ignore the portion of the monthly housing benefit that's greater than our housing costs," and let the veteran keep those funds.
In the interview, Schoenthaler was asked whether external pressure prompted the changes. "It is absolutely the case that students' experiences have motivated change," she said. "That's something we look for, celebrate." She noted that student advocacy had led Stanford to adopt its "transformational sexual assault prevention program."
"The Stanford position is always 'what else?'" said Schoenthaler. "And what else can we do? What else can we do? We're never satisfied with where we are. That's one of the reasons we've continued to try to get better."
Progress, Not Perfection
Better, yes, but not good enough, as Behrendt sees it.
He continues to argue, for instance, that Stanford should reimburse veterans who enrolled from 2008 to 2016 for the amount they lost in institutional scholarship money because the university replaced it with the VA living allowance.
More fundamentally, he argued in a memo to Stanford administrators last month that the university has abandoned the commitment it showed decades ago to being a "national leader in veteran reintegration," when the author Wallace Stegner founded the Stanford Creative Writing Program to help military service members returning from World War II.
The university compares poorly to many of its elite university peers in the number of veterans it enrolls, Behrendt said, with just 21 (0.3 percent of undergraduates) enrolled in the 2016-17 academic year. Columbia University, he notes, enrolls well over 400.
He would like to see Stanford make the sort of commitment that Cornell University did this month, when the New York university said it would more than quadruple (to 100) the number of undergraduate veterans it enrolls.
There, too, advocacy from student veterans brought about the changes.