You have /5 articles left.
Sign up for a free account or log in.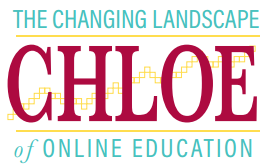 Is the community college sector the canary in the coal mine for the online education market?
A new survey of online education administrators at 104 colleges and universities released today shows -- as other studies have suggested -- that public and private four-year institutions saw healthy enrollment growth in their fully online programs in spring 2016 compared to the year before, and that they are showing few signs of slowing their investments in the space.
The situation is not the same at two-year colleges. Online programs at all institutions grew on average by 9 percent year over year, but at community colleges, growth typically registered 1 to 2 percent. And while only a handful of the public or private four-year institutions surveyed said their online enrollments shrank from 2015 to 2016, findings at community colleges were mixed: 33 percent saw growth, 27 percent decline and 40 percent stability.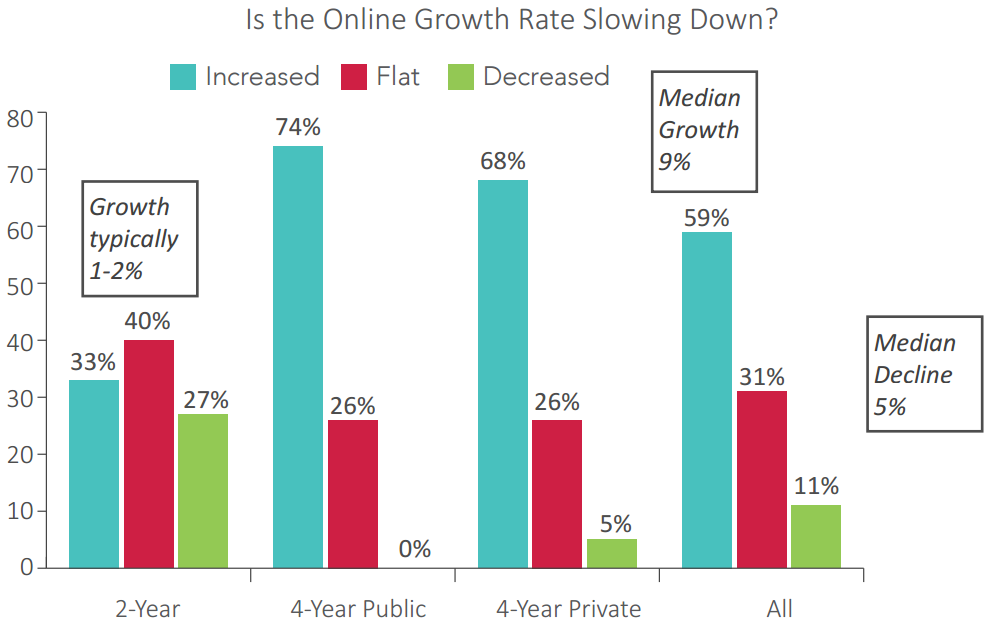 Ron Legon is executive director emeritus of Quality Matters, one of the organizations behind the report. He said in an interview that he believes the slowdown in the community college sector could be a sign of what is to come for four-year institutions.
"This can't go on indefinitely," Legon said about online enrollment growth, which has continued even as overall higher education enrollment has fallen. "Although there's still some growth to be had in online enrollment, it's not infinite in scope. In the longer run, there will have to be winners and losers if this competition continues."
Based on the findings in the report, competition is about to get even more cutthroat.
A majority of respondents (56 percent) said the online education market has become "much more competitive" over the past five years. Those administrators appear set on intensifying that competition. Virtually all of them -- 95 percent -- said their institutions plan to launch more online programs in the next three years.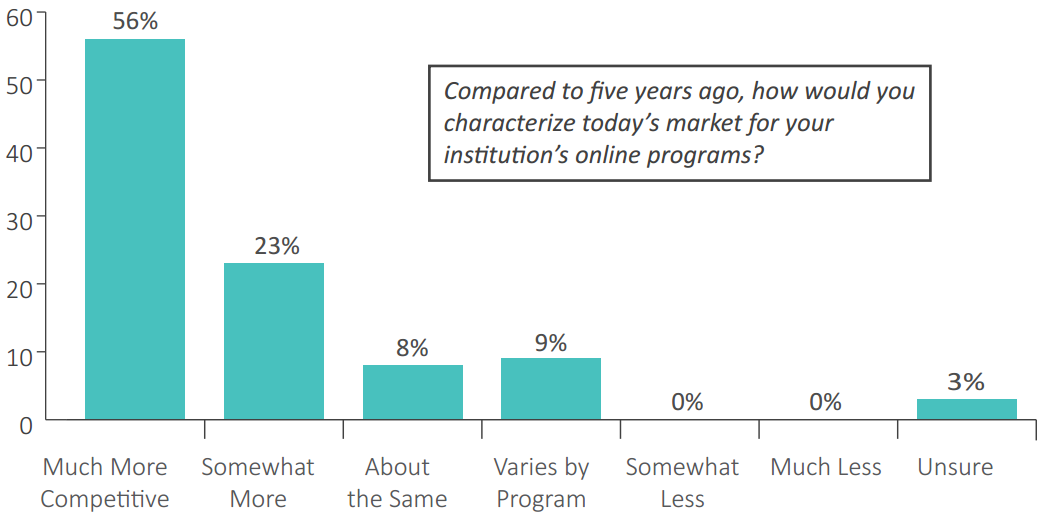 "It is interesting that no one seems to be backing off and saying, 'This is not for us,'" Legon said. "Many institutions may be making unwise investments [where] they will wind up with insufficient enrollment to justify the diversity of programs that they're offering. They might be better off specializing in areas where they have a particular expertise or reputation rather than attempting to cover the market."
Quality Matters, which offers quality assurance programs for online courses, partnered with the consulting and research group Eduventures for the CHLOE (short for Changing Landscape of Online Education) report.
Richard Garrett, chief research officer at Eduventures, said it is a "distinct possibility" that the online education market could soon become saturated with programs. He said he was less worried that the community college numbers could be a leading indicator and more about the fact that many four-year institutions are treating online education as a way to offer essentially the same product they offer in the physical classroom.
"If that's all that they have to offer in a crowded market where there are hundreds and hundreds of schools offering the same thing … it means supply may overtake demand," Garrett said. "My thesis is that the nature [and] value proposition of online learning haven't evolved as fast as enrollment and as fast as schools getting into the market."
The federal government will release enrollment data covering fall 2016 early next year, which will provide more insight into whether the online education market has continued to grow.
A New Report on Online Ed
Eduventures and Quality Matters said they are launching the CHLOE report to provide an in-depth look at how colleges are developing and supporting online education. Before the federal government began tracking online enrollment data, such studies were hamstrung by the fact that researchers had to rely on estimates of the size of the online education market.
"It was our belief that there were a number of issues that no one seemed to be looking at," Legon said.
The two organizations said they plan to release the CHLOE report on an annual basis. Legon said he hopes the report will over the next several years identify institutional strategies that lead to success in the online education market.
"One of our basic premises is that online education is a business, and it is establishing itself at the majority of two- and four-year institutions," Legon said. "As it joins the mainstream, one would want to ask how this fits into the organizational structure of these institutions, the budgeting, agenda, priorities for investments and development, and how it affects the role that faculty and staff play -- just a variety of issues that come together to make online learning a viable, long-term aspect of higher education."