You have /5 articles left.
Sign up for a free account or log in.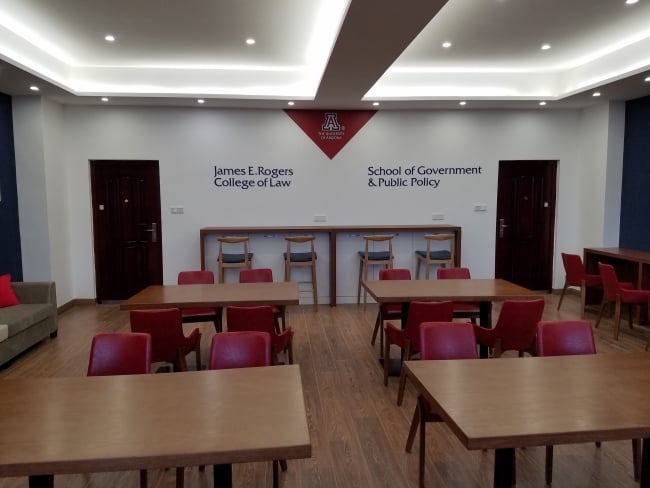 Rather than build its own brick-and-mortar branch campuses, the University of Arizona is embarking on a plan to open more than 25 "microcampuses" at international partner universities over the next three years, creating a network that it hopes will be capable of educating more than 25,000 students around the globe. Arizona's plan is for each of the microcampuses to offer at least one, and in most cases several, dual-degree programs in which degrees are conferred by both Arizona and a partner university. Each microcampus will be housed at the partner university, which agrees to provide classrooms and a UA-branded space.
"The idea of a microcampus, it's in part in response to the failures of traditional models of international education, a lot of which have focused on mobility and others on international branch campuses," said Brent White, Arizona's vice provost for international education and a professor of law.
"This is essentially a dual degree offered on the campus of a partner university, and so it incorporates elements of a dual-degree program, elements of what a campus would be, and elements of what a research center might be at a global location," White continued.
Arizona's first microcampus, at Ocean University of China, in Qingdao, is two years into offering a dual undergraduate degree program in law. (Arizona started a bachelor of arts degree in law -- which it says is the first such program in the country -- on its main campus in Tucson in 2014.)
A second UA microcampus location, at the American University of Phnom Penh, in Cambodia, opens this month and will offer dual-degree programs in business administration, civil engineering and law.
And today the university is announcing its next 11 planned microcampuses, where it hopes to begin offering dual-degree programs with its partner universities in 2018. Those partner universities are:
De La Salle University, in the Philippines
Harbin Institute of Technology, in China
Lebanese International University
Princess Sumaya University for Technology, in Jordan
Shanghai University of Political Science and Law, in China
Soochow University, in Taiwan
Telkom University, in Indonesia
Tzu Chi University of Science and Technology, in Taiwan
Universidad Popular Autónoma del Estado de Puebla, in Mexico
University of Sharjah, in the United Arab Emirates
Vietnam National University
The announced microcampuses are predominantly located in Asia and the Middle East, but White said the university will aim to develop microcampuses in other parts of the world, including Africa and Latin America, going forward.
White said that for each of the newly announced locations Arizona has identified degree programs it is likely to offer. The microcampuses are pending approval by Arizona's accrediting agency, the Higher Learning Commission, as well as any needed local regulatory approvals. Arizona's first two microcampus locations at Ocean University of China and at AUPP already are approved by HLC as "additional locations."
Motivations for the Model
Dual-degree programs are a common model in international higher education, but Arizona's approach is unusual in seeking to leverage these programs to create branded hubs -- what it's calling microcampuses -- around the world.
"This is not a one-off," said White. "This is not somewhere in the world where we offer a dual-degree program, but the idea is to have a network of microcampuses, and that's important because we want to enable global mobility for our students. So if you're in a law program in China, we want you to be able to continue that program in multiple locations."
"They also become platforms for other types of internationalization," White said. "The microcampus itself becomes a platform for lots of things we care about for comprehensive internationalization, including faculty training, providing opportunities for students to study abroad on short-term experiences, for internships and other forms of engaged learning."
Arizona also expects the microcampuses to make money. "We expect it to be a revenue-positive model for our partners and for the U of A and to provide good value to students," White said.
For the first two microcampuses, tuition, to be shared half and half with the partner universities, is $9,000 per year at AUPP and $10,000 per year at Ocean. This is substantially less than tuition for international students who come to Arizona, which this year was $32,900, and, of course, much less than the total annual estimated costs for international students, which Arizona estimates to be about $50,000. The programs may still be out of reach for many students -- $9,000 is still a lot of money in Cambodia, where the minimum wage for a textiles worker is $153 per month -- but White argues it's a good value for an international education and a UA degree.
"We put tuition at a price that makes sense to the local market in the sense that it's at least accessible to the middle class that wouldn't be able to come to the United States to study, but the tuition also has to cover our expenses," White said. "I think we've done our best to balance increasing greatly the accessibility of a U.S. degree and making sure that the model is financially sound."
"For students, study abroad costs a lot," said Ming Yu, the executive director of UA's collaborative program with Ocean University of China and an associate professor in Ocean's School of Law and Political Science. "Having a U of A campus here will make it easier for students to get some foreign education with less expense."
"There's a need in China for lawyers that can do international law work," said Yu. "They need the students to have good English and also understand the different legal cultures, like the U.S., so they can serve their customers well."
Other goals of the partnership from Ocean's perspective, Yu said, include teaching and research cooperation. White hopes that the microcampuses will help stimulate joint research between UA and partner university faculty.
Teaching Model
White said the microcampuses will operate using a co-teaching model, in which professors at Arizona will work collaboratively with co-professors on the ground, who will either be faculty at the partner university or professors whom Arizona hires to teach locally. The law school, for example, is hiring faculty locally to teach courses at Ocean University in Qingdao, while the American University of Phnom Penh is relying on AUPP faculty to deliver its classes, a model that's possible because AUPP has U.S. law-trained professors on its faculty. Arizona's law school has also committed to send faculty to Qingdao to give lectures at Ocean during the summer.
Though it will vary by program, the expectation is that many of the UA programs offered at the microcampuses will make use of digital course materials created in Arizona and a "flipped classroom" model, in which students watch lectures outside of class and spend class time working with the professor and other students applying what they've learned.
"For us, the digital technology answers the question of how do you make sure the quality is high and your assessments are consistent," said Marc L. Miller, the dean of Arizona's law school.
"I'm having my colleagues who are the experts in their areas and very successful and effective teachers build the classes and materials [from the] ground up," Miller said. "Faculty are asked to build a set of lectures, materials, problems. So the quality control in the first instance comes from making sure that the foundational materials and problems and assessments are designed and developed and reviewed and updated by people who are the leaders in the field and who we put in the classroom here. The second problem and challenge and we think opportunity is to find people who are especially effective teachers and interested in working in different cultural and legal settings" to teach on-site at the microcampuses. Arizona's faculty hires at the microcampus in Qingdao are full-time, hired on year-to-year contracts. They are not on a tenure track.
Quality Control and Other Questions
White said the decision to establish a program at a microcampus is made at the departmental or college level. "As for faculty votes, no program may be offered at any microcampus without the faculty support of the college or department offering the program and -- critically - no individual microcampus can be launched until at least one college or department wishes to offer a program with a particular partner," White said.
Kevin Lansey, a professor and head of the department of civil engineering and engineering mechanics, said the civil engineering faculty discussed the plan to offer a program in Cambodia and approved it by consent, with no one objecting. "We are going to gain financially," Lansey said of the program at AUPP, "but we also have an opportunity to help a country" that's in need of highly trained civil engineers.
All that's not to say, however, that engineering faculty didn't have any concerns, both about the sustainability of the program and its quality. "Certainly, there are concerns about are we going to be able to deliver the type of program that we want to, ensuring that the quality of the program is there," Lansey said. "We are going to be looking for engineering accreditation for the program, like the accreditation we have here."
Arizona's Center for the Study of Higher Education will be leading an evaluation effort of the microcampuses, looking at a series of research questions including the experiences and outcomes for participating students and their reasons for selecting microcampus programs, and the experiences and outcomes for participating faculty, including as they relate to teaching collaboration and research production. "Quality control is the exact reason the UA microcampus will involve ongoing research," Jenny Lee, a professor at the center who is leading the evaluation effort, said via email. "We will be surveying and interviewing participating students and faculty throughout the year and [in] years to come on a range of experiences and outcomes."
Lee said she saw several advantages of the microcampus model. "I don't foresee ongoing increases of international students studying in the U.S. in the years to come given the recent political climate," she said. "The UA microcampus model provides students outside the U.S. with a U.S. education while studying at home or at one of the microcampus partner universities. I believe the microcampus exemplifies what 'international' education should be, education based on more than one country … Another advantage is its intention to serve as a synergistic hub, beyond student enrollment and towards broader social goals and impact, which the Center for the Study of Higher Education at the UA will be examining."
"The risks," she said, "are minimal in that there is little financial investment in infrastructure, unlike branch campuses."
Gary Rhoades, the director of the Center for the Study of Higher Education and head of the educational policy studies and practice department, in which it's housed, said he's optimistic about the microcampus initiative, even as he cautioned that it's "early days."
"One of the questions is who's being served in these microcampuses," Rhoades said. "Are we reinforcing or reproducing a local elite or are we making it more possible for middle-class and even lower-middle-class people in the host country to pursue higher education with a U.S. university?"
"At its best, reflecting the best ideals of a land-grant university, it could be a very cool initiative," said Rhoades, who's a former general secretary of the American Association of University Professors and co-author of the book Academic Capitalism and the New Economy. "In the current context where institutions are concerned about revenue and bottom line and market share and prestige, there's the pressure to turn the microcampus into an export commodity, and that's part of why instead of just standing on the sidelines and being a critic I'm excited about having the opportunity to play a role in giving feedback to the university."
Because UA is to date offering existing degree programs at the microcampuses, rather than creating new programs, Lynn Nadel, the chair of the Faculty Senate and Regents' Professor of Psychology and Cognitive Science, said the senate's involvement has been limited. But he said the senate had been briefed on the general concept, and that the Strategic Planning and Budget Advisory Committee, on which he sits, had a robust discussion about it.
"People thought it was a pretty innovative idea and sounded like a good thing. The main concern was can we be certain we'll be able to maintain the kind of quality level of the UA brand, so to speak, within this context," Nadel said. "The general sense among the faculty is that anything that gives more reach to a global community, more connection to places in other countries, that's all to the good, as long as it doesn't degrade the brand and doesn't stretch our resources."
"Similar to online, there are certainly opportunities here for things to not go well, shall we say," Nadel said. "There's opportunity for bad stuff to happen, but in the end you depend upon the people you trust, and I think people felt that the leadership on this within the U of A was strong."
"I'm pretty positive about it based on what I know and what I've seen so far. I think it's innovative, and I respect and I trust the people who are doing it. I think it remains to be seen how well it plays out."