You have /5 articles left.
Sign up for a free account or log in.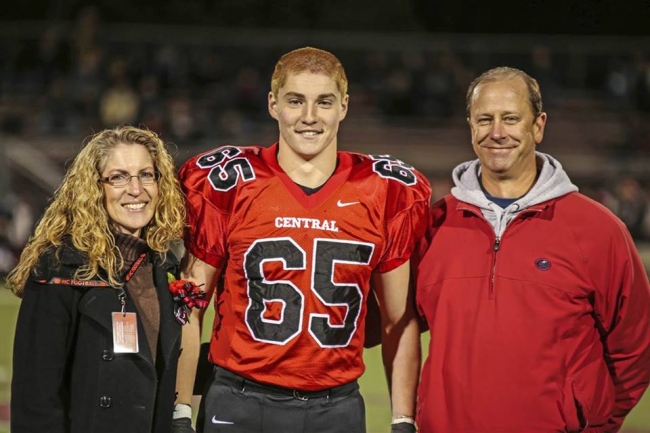 The death of Pennsylvania State University student Timothy Piazza contained all the elements to fuel national outrage.
He was a young, affable Beta Theta Pi pledge, a former high school football player who taught the game to students with special needs. At a fraternity party in February, after rounds of heavy drinking, Piazza tumbled 15 feet down a flight of stairs. Though Piazza was clearly injured, shaking violently, other Beta Theta Pi members ignored his need for medical care, instead trying to wake him by splashing liquid on his face and striking him. He fell multiple times that night, striking his head on a hardwood floor and an iron railing, and bled internally for hours before he died two days later.
The fraternity members did not call 911 until the next morning.
An aggressive and wide response came in the months following, with the university president forever banning the fraternity from campus, postponing rush and introducing hard restrictions on Greek events. The Centre County district attorney jumped on the case, levying charges against 18 people.
Piazza's story bears some similarities to that of Chuck Stenzel, almost 40 years ago. Stenzel, 20, a fraternity prospect at Alfred University, died in 1978 after being locked in a trunk and forced to drink multiple bottles of alcohol.
The difference: a striking, lukewarm response from Alfred officials, who at the time classified Stenzel's death in public statements as an unfortunate alcohol overdose. No one faced criminal charges.
Experts say that public patience for hazing has run thin, and as perception changes, so too will state laws that enable prosecutors to more aggressively pursue charges -- an easy win for them.
Of the 18 prosecuted in Piazza's death, eight were charged with involuntary manslaughter, an unusual number of federal counts in one of the biggest prosecutions of hazing in history.
Recently, too, four men initially charged with murder in the 2013 hazing death of a student at Baruch College struck a deal with prosecutors and pleaded guilty to lesser charges.
"I don't see a reduction yet. What's going to bring a reduction is what's happening here, and that's a public outcry. I haven't seen a public outcry quite like this," Hank Nuwer, a journalism professor at Franklin College who has written broadly about hazing, said of Piazza's case.
Decades ago, hazing was practiced "in the open" on campuses, Nuwer said, but has since retreated "behind closed doors." Particularly after Piazza's death, fewer videos, which could be used as evidence in court proceedings, might emerge of some of these cruel tactics, he said. This takeaway by the public differs from the lesson some fraternities have learned, which is hide the evidence rather than halt hazing, Nuwer said.
With the ubiquity of mobile social media platforms, like Snapchat, comes the likelihood that such episodes will be documented, Nuwer said.
A lawyer for Piazza's family has said surveillance footage serves as a blessing for prosecutors, who can easily disprove some of the fraternity brothers' initial recount of events and show they did not assist Piazza for hours.
After details of the state's grand jury investigation began to surface earlier this month, Penn State President Eric Barron released a statement calling the other students' treatment of Piazza "inhumane."
In the statement, he highlighted measures the university has enacted limiting alcohol at Greek events, among them downsizing the number of socials at which the chapters could serve alcohol from 45 to 10 per semester. Alcohol had already been barred from all Greek gatherings for the remainder of the academic year.
Fraternity and sorority and recruitment in the coming academic year has also been postponed from the fall to the spring.
"While some have criticized our measures as excessive, they are not. It is essential that all constituents, including these private Greek-letter organizations, alumni, parents, national organizations and all other partners involved are committed in order to ensure immediate, vital and sustainable changes," Barron's statement reads.
Barron's statement references Beta Theta Pi as a "model fraternity" on the surface.
"It is clear, however, this was no 'model' fraternity," the statement reads.
College and university administrators should not fall for the aura of respectability, the award-winning, philanthropic, coat-and-tie wearing facade, said Nuwer, who went on to stress that he's not anti-Greek, but simply would like to see the bad apples removed.
Though some may call for Penn's Greek system to be dismantled, this almost never happens, Nuwer said -- at Alfred, where Stenzel was killed, Greek life was only dissolved in 2002, the same year another fraternity pledge, Benjamin Klein, was found dead after an apparent hazing.
"It's like a disease that keeps popping up," said Peter Lake, director of the Center for Excellence in Higher Education Law and Policy at Stetson University. "But it appears one of the things has happened [is] that it seems more likely for prosecutors … to get involved in the incidents."
When previously hazing might have resulted in a slap-on-the-wrist alcohol citation, prosecutors have now taken notice that these sorts of incidents can result in real jail time. As more cases crop up in the court system, they become a road map for other prosecutors, Lake said.
In the Baruch College case, 37 people were charged in the death of Chun Hsien Deng, 18, who was tackled by fraternity brothers during a hazing ritual in the Pocono Mountains. Bags of sand were tied to Deng, who fell unconscious but did not receive the necessary medical treatment in time. The brothers waited more than an hour to drive him to a hospital.
Five of the men, and the national fraternity chapter of Pi Delta Psi, were charged with murder by Monroe County, Penn., prosecutors.
District attorneys will eagerly attach to a case that has the public clamoring for punishment, said Lake. For Stacy Parks Miller, the district attorney of Centre County, prosecuting Piazza's high-profile case serves as a blessing during her contentious re-election year.
"You've got the magic combination of the body politic that put you in office pushing for you to intervene and a case you can prosecute and win," Lake said.
Though often outwardly supportive of punitive measures, national fraternities and sororities, with their deep pockets, have been criticized for shielding their chapters and members from controversy.
Bloomberg reported extensively in 2013 about the Fraternity and Sorority Political Action Committee, the FratPac, which had stymied multiple legislative attempts to defund Greek-letter organizations that participated in hazing.
In an email, Heather Kirk, spokeswoman for the North-American Interfraternity Conference, which represents more than 65 fraternities, wrote that hazing must be treated as a serious crime.
"When a student is physically harmed by another student or group of students, we want law enforcement involved and the responsible parties charged under criminal state statutes," Kirk wrote.
Many Greek chapters rely on educational initiatives to combat hazing, some of which Kirk cited in her email -- she said the "key to successful change is a strong system of peer governance, in which students embrace meaningful rites of passage -- not unsafe ones."
A consortium of fraternities uses the Fraternal Health and Safety Initiative, a curriculum developed by a risk management consultant, James R. Favor & Company. On its website, the program emphasizes consistent resources and training for fraternity chapters.
Kirk pointed out that some fraternities have also simply eliminated the traditional rush, in which hazing acts are more common.
Hazing-related deaths have also forced universities to examine their practices.
Utah State University in 2011 agreed to review its hazing training as a part of a legal settlement with the Stark family, whose son, Michael, died in 2008 after being tied up and forced to chug vodka.
Lake recognized that colleges lean toward education to prevent hazing, but recommended studying the proclivity for certain age groups to engage in hazing, which is typically the undergraduate population, he said. Though bullying remains at every age, not so with hazing, he said, and the answer likely lies with the development of the brain.
"As we get more desperate to find solutions, I'm not entirely sure that more punishment is the answer," Lake said. "Justice, yes, but ultimately what we're looking for [is] to find a way to reduce the phenomenon. And so far we really haven't done that."