You have /5 articles left.
Sign up for a free account or log in.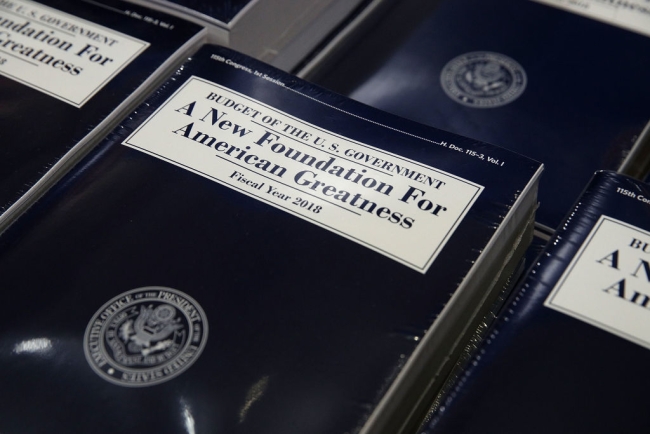 The Trump administration released a 2018 budget proposal Tuesday that delivered on expectations for drastic cuts to student aid programs and university-based research while substantially reshaping federal student loan programs.
Higher education groups as well as many policy analysts said those cuts would make college less affordable and impede the production of new scientists and innovations in health and technology. Cutting deeply into most federal nondefense discretionary spending, the documents call for a 13.6 percent reduction in the Department of Education's current funding levels and 22 percent for the National Institutes of Health, the largest federal supporter of biomedical research.
The White House estimates that $143 billion would be saved over a decade by allowing the Perkins Loan program to expire and phasing out subsidized federal student loans and Public Service Loan Forgiveness after next year. It promises another $76 billion in savings from streamlining income-based repayment programs for student loans.
The elimination of Public Service Loan Forgiveness as well as changes to the income-based repayment program would hit graduate students particularly hard. And while the administration is touting a new approach that would shorten the time frame to loan forgiveness for undergraduates, aid advocates say that plan comes with higher monthly payments. Many undergrads, meanwhile, would lose support for programs that helped them get to college in the first place, including grant funding and college prep.
Higher ed advocates say the education budget essentially takes billions out of support for students without reinvesting in even the programs backed by Republicans.
"This budget is a recipe for more student debt, more inequality and less affordability," said Lauren Asher, president of the Institute for College Access and Success.
Language in the "skinny budget" released in March said those massive cuts across government were needed to dramatically increase military and defense spending. Summary documents released ahead of the full budget this week argued that streamlining government would lead to "an economic boom" and raise incomes and job opportunities.
White House Budget Director Mick Mulvaney said in a briefing with reporters that the budget numbers represented President Trump's policies put to paper.
"We're not going to measure compassion by the amount of money that we spend but by the number of people that we help," Mulvaney said.
But critics and nonpartisan observers said the budget runs up spending on defense while eliminating or underfunding programs that many ordinary people rely on. And they say the administration relies on overly optimistic projections of 3 percent growth to balance the budget.
Among the changes to higher education-related spending called for in the budget (see a table at the bottom of the article):
Multiple income-based repayment programs for student loans would be consolidated into one single plan that shortens the schedule for loan forgiveness from 20 years to 15 for undergraduate borrowers. But monthly payments would also jump from 10 percent to 12.5 percent of a borrower's discretionary income. Graduate students would pay 12.5 percent of their monthly income but with a loan forgiveness schedule of 30 years.
The $700 million Perkins Loan program, which is due for an extension by Congress, would be allowed to expire (Congress, however, hasn't put new money in the program for years). The administration would also end Public Service Loan Forgiveness and subsidized Stafford Loans after July 2018, meaning current borrowers would be grandfathered in to those programs. The PSLF program forgives the remaining debt of a borrower working for qualifying government or nonprofit employers after 120 payments, while the subsidized loan program allows students to save thousands in accrued interest as undergrads. Grandfathered borrowers could potentially lose eligibility, however, based on a change in enrollment under the proposal.
The White House endorsed reinstating year-round Pell Grants -- a policy change already enacted by Congress this month in a funding deal for the current 2017 fiscal year -- but otherwise doesn't strengthen the program. The maximum size of the grant would remain unchanged and wouldn't be indexed to inflation. The administration would also take nearly $4 billion from the Pell surplus.
The budget eliminates the Supplemental Educational Opportunity Grant program, a $733 million program whose recipients are typically Pell-eligible college students. It also cuts the Federal Work-Study program by nearly half, to $500 million.
As outlined in the March "skinny budget," the administration would cut college access programs TRIO and GEAR UP by 10 percent and 30 percent, respectively. The budget documents specifically call for eliminating the McNair Postbaccalaureate Achievement Program and Educational Opportunity Centers.
The proposed budget includes large cuts to science agencies: 11 percent for the National Science Foundation, 22 percent for the National Institutes of Health, and 17 percent for the Department of Energy Office of Science. The administration has promised that savings could be found without eliminating grant awards by cutting overhead payments, which reimburse institutions for the indirect costs related to campus-based research.
The budget plan would eliminate the AmeriCorps national service program, and slash funds for the National Endowment for the Humanities and State Department international exchange programs.
There's almost no chance that Congress passes a budget in a form even resembling what the White House has proposed. Congressional appropriators must pass their own budget resolution, and even some key Republicans reacted with shock to cuts unveiled in the skinny budget in March -- especially those targeting research agencies like the National Institutes of Health. Patty Murray, the top Democrat on the Senate education committee, said the budget would be "devastating for students trying to climb the ladder of opportunity and join the middle class" and promised she would keep fighting for "high-quality, affordable education."
The proposal is basically a messaging document, and in higher ed some policy preferences did emerge. Jason Delisle, a higher ed policy analyst and resident fellow at the American Enterprise Institute, said two clear themes of the budget proposal were simplification of financial aid and cuts to support for graduate students. But he said he was surprised to see the budget left funding untouched for both Graduate PLUS and Parent PLUS loans. Conservatives, including Delisle, have argued for eliminating the PLUS program.
There's no hiding the fact that the budget is on net a reduction in support for student aid, Delisle said.
"That shouldn't be a surprise to anyone," he said. "That has been the top-line goal of the administration, to reduce the size of the federal budget."
Most of the key provisions of the proposal had been revealed ahead of time -- either in the skinny budget or in leaks reported last week by The Washington Post. But the documents released Tuesday showed exactly how much the administration expects to find in savings from cuts to specific programs. By eliminating Public Service Loan Forgiveness, for example, the White House expects to save nearly $3 billion annually. That figure was much higher than previous cost estimates for the program.
Clare McCann, a senior policy analyst with New America's education policy program, said it's not surprising that the White House found savings in the programs it did -- both Republicans and Democrats have supported modifying or eliminating the loan-forgiveness program or subsidized student loans in the past.
"The problem is they don't have any vision to reinvest that money in ways to make higher education more accessible," she said of the Trump administration. "So at the end of the day all they've done is make college less affordable."
McCann said legislative language in the documents removing a ban on randomized control trials for TRIO programs was a positive step, if one that would make the White House few friends among TRIO supporters. But Mulvaney, in arguing that the administration sought to make budget decisions based on program effectiveness, referenced a dated statistic. An evaluation of the McNair program, he claimed, showed that only 6 percent of scholars went on to earn doctoral degrees. But that evaluation is 10 years old and researchers have raised other questions about whether that figure adequately represents the success of the program.
Former Education Secretary John B. King Jr. said the Obama administration sought to add incentives for TRIO programs based on evidence of success.
"If there's an argument for investing more in evidence-based practices, I would certainly support that," King said. "It sounds like his argument is a smoke screen."
Although the Trump budget might be dead on arrival in Congress, King said it moves the discussion on education in the wrong direction.
"Even if Congress -- as they should -- rejects this budget entirely, we will have spent several months talking about cuts when we should be talking about increasing investment," he said.
The White House has pushed job-training programs that don't result in a four-year degree. But the proposed budget includes a $2.5 billion, or 21 percent, decrease in funding for the U.S. Department of Labor, as well as cuts to job-training programs housed at the Education Department. The budget document called for shifting some of the funding responsibility for job training to states and employers, while also cutting "ineffective, duplicative and peripheral job-training grants."
For example, it seeks a roughly 40 percent cut to the Workforce Innovation and Opportunity Act (WIOA), which has a $3.4 billion annual budget. And while the administration is calling for another $90 million in funding for apprenticeships, building on a similar allocation for this year, it would cut career and technical education grants for states by $168 million.
"While the Trump administration talks about supporting work force and skills development, this dramatic cut is nothing short of an attack on CTE and the students and employers who benefit from it," Advance CTE and the Association for Career and Technical Education said in a written statement.
Representatives of leading research and science-oriented groups also attacked the budget for the devastating effects they said it would have on the country's research and science enterprise.
In the 2017 omnibus funding deal reached this month, Congress provided a funding boost for the National Institutes of Health by $2 billion for the second year in a row. Science advocates called for Congress to break with the White House again to support research on a bipartisan basis.
"For decades, the United States has maintained its position as global innovation leader," said Peter McPherson, president of the Association of Public and Land-grant Universities. "But this budget proposal would be a retreat from that role and cede the development of new technological breakthroughs to other countries."
And McPherson strongly rejected that the government could cut overhead payments to universities without compromising the work of lifesaving research into illnesses and disease.
"You cannot conduct cancer research in a parking lot!" he said.
The Trump Administration's Budget and Programs Important to Colleges
| | | | | |
| --- | --- | --- | --- | --- |
|   | 2016 Appropriation (millions) | 2017 Appropriation (millions) | 2018 Proposed | % Change, 2017 to 2018 |
| EDUCATION DEPARTMENT |   |   |   |   |
| Financial Aid Programs |   |   |   |   |
| Maximum Pell Grant (not in millions) | $5,815 | $5,920 | $5,920 | 0.0% |
| Supplemental Educational Opportunity Grants | 733.1 | 733.7 | 0.0 | -100.0% |
| Federal Work-Study | 989.7 | 989.8 | 500.0 | -49.5% |
| Iraq and Afghanistan Service Grants | 384.0 | 442.0 | 499.0 | 12.9% |
| Institutional Aid |   |   |   |   |
| Strengthening Institutions | 86.4 | 86.5 | 0.0 | -100.0% |
| Strengthening Tribal Colleges | 27.6 | 27.5 | 27.5 | 0.0% |
| Strengthening Alaska Native and Native Hawaiian-serving Institutions | 13.8 | 13.8 | 13.8 | 0.0% |
| Strengthening Historically Black Colleges and Universities (HBCUs) | 244.7 | 244.2 | 244.2 | 0.0% |
| Strengthening Historically Black Graduate Institutions | 63.3 | 63.2 | 63.2 | 0.0% |
| Strengthening Predominantly Black Institutions | 9.9 | 9.9 | 9.9 | 0.0% |
| Strengthening Asian-American and Native American/Pacific Islander-Serving Institutions | 3.3 | 3.3 | 3.3 | 0.0% |
| Strengthening Native American-Serving Nontribal Institutions | 3.3 | 3.3 | 3.3 | 0.0% |
| Minority Science and Engineering Improvement | 9.6 | 9.6 | 9.6 | 0.0% |
| Aid for Hispanic-Serving Institutions | 107.8 | 107.6 | 107.6 | 0.0% |
| Promoting Postbaccalaureate Opportunities for Hispanic Americans | 9.7 | 9.6 | 9.6 | 0.0% |
| Tribally Controlled Postsecondary Career and Technical Institutions | 8.3 | 8.3 | 8.3 | 0.0% |
| National Technical Institute for the Deaf | 70.0 | 69.9 | 69.9 | 0.0% |
| Gallaudet University | 121.3 | 120.3 | 120.3 | 0.0% |
| Howard U | 221.8 | 221.8 | 221.8 | 0.0% |
| Student Assistance |   |   |   |   |
| TRIO Programs | 900.0 | 898.3 | 808.3 | -10.0% |
| GEAR UP | 322.8 | 322.1 | 219.0 | -32.0% |
| Special Programs for Migrant Students | 44.6 | 44.5 | 44.5 | 0.0% |
| Child Care Access | 15.1 | 15.1 | 0.0 | -100.0% |
| Program for Students With Intellectual Disabilities | 11.8 | 11.8 | 11.8 | 0.0% |
| HBCU Capital Financing | 20.5 | 20.4 | 20.4 | 0.0% |
| Career-Technical/Adult Education |   |   |   |   |
| Perkins State Grants | 1,117.6 | 1,115.5 | 949.5 | -14.9% |
| Adult Education | 582.0 | 580.8 | 485.8 | -16.4% |
| Graduate Education |   |   |   |   |
| Graduate Assistance in Areas of National Need | 29.3 | 29.2 | 5.8 | -80.1% |
| Other Areas |   |   |   |   |
| International Education and Foreign Language Studies | 72.1 | 72.0 | 0.0 | -100.0% |
| Teacher Quality Partnerships | 40.6 | 43.1 | 0.0 | -100.0% |
| Office for Civil Rights | 107.0 | 106.8 | 106.8 | 0.0% |
| Inspector General | 59.3 | 59.1 | 61.1 | 3.4% |
| Institute of Education Sciences |   |   |   |   |
| Research, Development and Dissemination | 195.0 | 194.6 | 194.6 | 0.0% |
| Statistics | 112.0 | 111.8 | 111.8 | 0.0% |
| Statewide Data Systems | 34.5 | 34.5 | 34.5 | 0.0% |
| LABOR DEPARTMENT |   |   |   |   |
| Adult Employment and Training | 814.2 | 815.4 | 490.4 | -39.9% |
| Dislocated Workers Training | 1,239.7 | 1,241.3 | 732.5 | -41.0% |
| Apprenticeship Grants | 90.0 | 89.8 | 89.8 | 0.0% |
| STATE DEPARTMENT |   |   |   |   |
| Educational and Cultural Exchanges | 599.2 | 589.8 | 285.0 | -51.7% |
| OTHER AGENCIES |   |   |   |   |
| National Endowment for the Humanities | 147.9 | 149.8 | 42.3 | -71.8% |
| Institute for Museum and Library Sciences | 230.0 | 231.0 | 23.0 | -90.0% |
| AmeriCorps | 386.0 | 386.0 | 2.3 | -99.4% |
| Department of Defense Basic Research | 2,166.0 | 2,077.0 | 2,240.0 | 7.8% |
| National Institutes of Health | 31,381.0 | 31,674.0 | 25,833.0 | -18.4% |
| Health Professions Training | 808.0 | 803.0 | 401.0 | -50.1% |
| National Aeronautics and Space Administration Science | 5,600.0 | 5,765.0 | 5,712.0 | -0.9% |
| Department of Energy Science | 5,347.0 | 5,337.0 | 4,473.0 | -16.2% |
| National Science Foundation | 7,494.0 | 7,472.0 | 6,653.0 | -11.0% |
| --Research | 5,998.0 | 6,034.0 | 5,362.0 | -11.1% |
| Education | 884.0 | 880.0 | 761.0 | -13.5% |
| Facilities | 242.0 | 209.0 | 183.0 | -12.4% |
| Commerce Department National Institute of Standards and Technology | 690.0 | 688.0 | 600.0 | -12.8% |
| Agriculture Department Research | 1,095.0 | 1,093.0 | 951.0 | -13.0% |