You have /5 articles left.
Sign up for a free account or log in.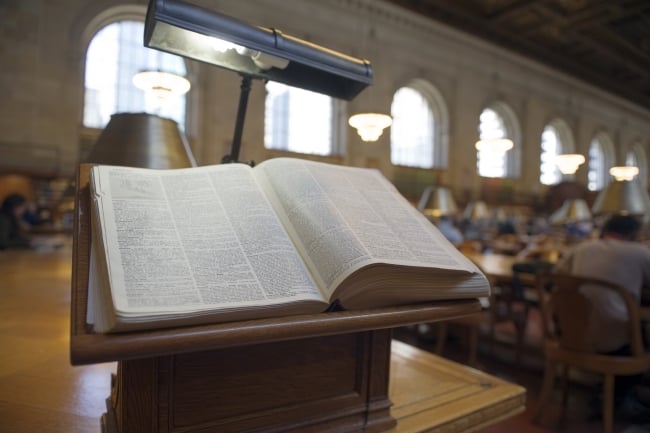 The number of bachelor's degrees in the humanities conferred in 2015 -- 212,512 -- was down 5 percent from the year before and nearly 10 percent from 2012, the high point for such degrees.
Those figures are from an analysis being published today by the American Academy of Arts & Sciences as part of the organization's Humanities Indicators project.
The trend is likely to alarm humanities professors and many others in academe. Many humanities departments have found themselves struggling to maintain tenure-track faculty lines and, in some cases, to continue departments. Humanities professors are quick to note that their departments play crucial roles in general education for students from a range of majors. But many colleges and universities have been allocating positions and deciding on departmental fates in large part based on numbers of majors.
The humanities also saw a decline in the share of all bachelor's degrees awarded, falling below 12 percent for the first time since data were available that compared degrees awarded by disciplines. The data come from the Education Department's Integrated Postsecondary Education Data System.
Compared to 10 years ago, only engineering, health and medical sciences, and the natural sciences have seen increases in the share of bachelor's degrees awarded.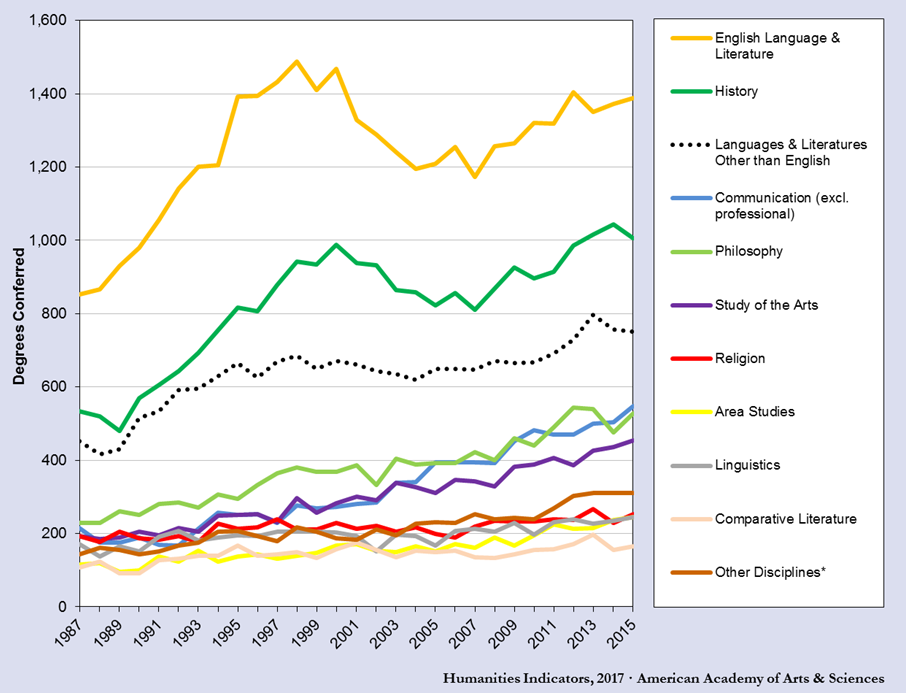 Humanities saw a decline in the proportion of degrees awarded of 20 percent, while business and management saw a decline of 13 percent and education saw the largest drop at 27 percent.
The humanities' share of all bachelor's degrees was the same at public and private institutions, according to another analysis released by the academy. This represents a shift over the last three decades. It used to be the case that a larger share of bachelor's degrees were awarded by private institutions -- a group that includes many liberal arts colleges -- than by public institutions.
Robert B. Townsend, director of the Washington office of the American Academy of Arts & Sciences, said that he began "hearing concerns from faculty eight or nine years ago about declining enrollments" and that he sees the new data as confirming these fears.
He said less is known on what is "shaping students' decisions." He said that he understood the "widespread speculation about a cultural environment that pushes students toward majors with obvious professional outcomes," but he noted that some vocational fields, such as business and education, are also seeing declines.
Among majors within the humanities, the largest declines were among English and history -- disciplines that are traditionally the most popular in the humanities. They saw a combined drop of 10 percent in 2015 and a 16 percent drop from 2012 to 2015.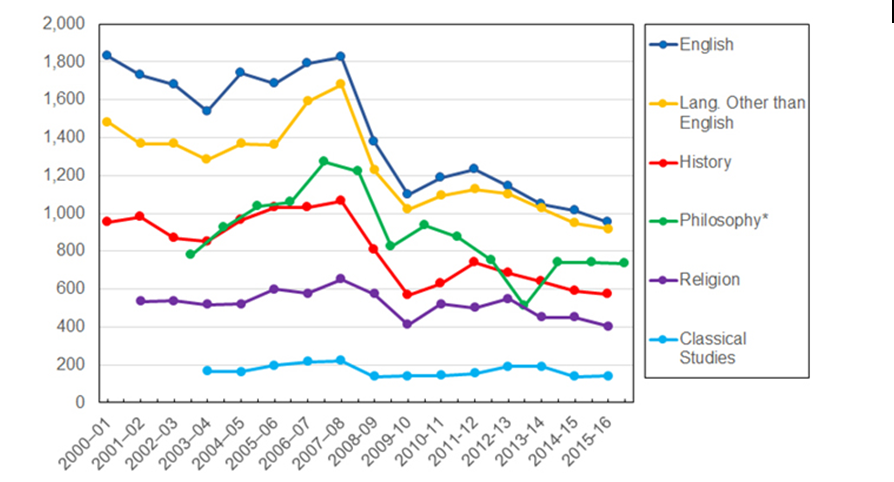 As the data above show, communication (a field some classify as a social science and not in the humanities, as the academy does) now has more majors than English or history.
Trevor Parry-Giles, director of academic and professional affairs at the National Communication Association, said that many in the discipline have long thought of it as "a hybrid" of the humanities and the social sciences, and that this may be a plus in attracting students.
"We live in a communication age," he said. "Our faculty and our scholars do a nice job of demonstrating the relevance of the major for prospective students."
Parry-Giles also reported that departments are reporting a shift in how people become communication majors. It used to be the case that many majors say communication as "an exit ramp for those who didn't want to finish a business major," but now more are starting off with a plan to major in communication.
Increasing Interest at Community Colleges
Most of the data released today will likely depress humanities professors. But those at community colleges may have reason to celebrate an analysis released on their institutions.
Much of the data about associate degrees at community colleges does not break out majors with the same granularity as can be found for bachelor's degrees. So the data that follow use a combination of degrees, including the popular liberal arts and liberal studies degrees, to track trends in the humanities at community colleges. Almost all of those programs involve substantial instruction in humanities disciplines.
Using that definition of humanities, the study found that 2015 saw a continuation of a trend in which associate degrees conferred in the humanities have increased in number every year since 1987, by an average of 4.3 percent per year.
As a result of that growth, the share of associate degrees awarded in the humanities grew from 25.7 percent to 41.8 percent from 1987 to 2015. Over the same period, the share of associate degrees awarded in vocational and professional fields fell from 55.9 percent to 33.2 percent. (One caveat about these data is that many community college students transfer to four-year institutions without having earned an associate degree.) These trends in associate degrees may be seen in the following graph.