You have /5 articles left.
Sign up for a free account or log in.

Textbooks from Cengage Learning and McGraw-Hill Education will this fall begin to feature a certification seal that, when scanned with a smartphone app, will help readers verify that the books came from the publishers and not from a counterfeiter.
The certification seal is the latest effort by textbook publishers to stanch losses in the print market. The textbook industry in general is contracting -- Cengage estimates it declined by 14 percent in 2016 -- and piracy is one of several reasons why. According to Cengage's numbers, piracy costs the company between $70 million and $100 million a year.
Michael E. Hansen, chief executive officer of Cengage, said in an interview that counterfeit books have become a much more widespread issue in the last two years.
"What changed is just the amount of counterfeits in the market has spiked over the last 18 to 24 months," Hansen said. "The more we started to dig in and do test purchases, the more we came across, in some cases, a staggering number of counterfeits in certain marketplaces."
Hansen declined to name specific marketplaces but described them as "not very heavily policed or regulated marketplaces" where anyone can buy or sell products. He compared the issue to the problems with counterfeit goods seen in the athletic and luxury apparel markets.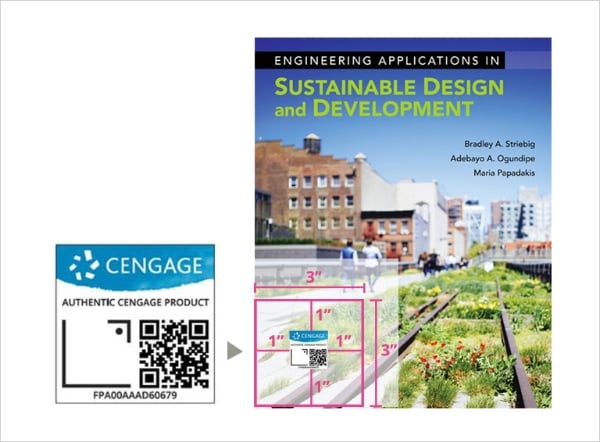 Cengage's certification seal (see thumbnail) will appear on the cover of all of Cengage's print books. Scanning the seal's QR code sends readers to an authentication website where, by matching the design of the book in their hands to Cengage's catalog, they can confirm that the book is legitimate. If the design doesn't match, readers can report the counterfeit.
McGraw-Hill Education is planning to introduce similar seals, called Prooftags, to all its future print titles as well, Tyler Reed, the company's director of communications, said in an email. He declined to say how much the company loses from piracy.
Publishers have every reason to fortify their physical textbook sales. Cengage, for example, has set a goal of becoming "90 percent digital" by 2020, but at the moment, the growth that its digital products are posting can't outweigh the decline it and other publishers are seeing in the print market.
According to Cengage's results for fiscal year 2017, activations and gross sales of digital courseware products grew by 14 percent and 7 percent, respectively, compared to the previous year. Over all, however, the company reported a 10 percent decline in adjusted revenue over the same time period.
"Even as the industry moves as rapidly as it can to fully digital solutions, the fact remains that print is a very big part of the business today and cannot be ignored," Joseph J. Esposito, a management consultant who works with publishing and software companies, said in an email. "Piracy is generally associated with digital products, but there have always been (and will always be) print pirates as well."
Attrition in the print market, which includes lost revenue from students opting for rental books, was the single largest driver of that decline, Cengage said. But other factors also played a role. Piracy shaved off another 3 percent in year-over-year revenue growth, making it as big an issue as higher education enrollment declines.
"The Cengage program is an attempt to create a bulwark around the company's print revenue," Esposito wrote. "This does not have to be wholly successful to be financially useful to Cengage, as every pirated copy stopped is potentially a Cengage sale earned."
Hansen said that in addition to hurting the company, which is unable to invest the revenue into the development of digital course materials, piracy also hurts authors, who don't earn royalties from sales of counterfeit books, and students, who are unable to access digital supplementary materials that are normally bundled with print books and accessed using a unique code.
The certification seal is a last-ditch effort to protect students, and Cengage hopes to identify counterfeit books before they are sold by working with its partners, Hansen said.
Cengage and McGraw-Hill Education, along with Elsevier and Pearson, previously formed the Education Publisher Enforcement Group to raise awareness about counterfeit books. As part of that initiative, the publishers in March jointly released a set of anti-counterfeit best practices on how textbook distributors can prevent the sale of counterfeit books.
In the cases where students end up buying counterfeit books, Cengage will work with them to ensure they obtain a legitimate copy, for example by offering them discounts to purchase the title directly from the publisher, Hansen said.
Other textbook publishers on Monday said they were committed to combating counterfeiting, though they did not mention specific plans to introduce certification seals.
"Pearson takes piracy and counterfeiting very seriously and is committed to ensuring students get authentic, high-quality course materials when they make a purchase," Scott Overland, director of media and communities at Pearson, said in a statement. "We are actively working to curb piracy, including developing unique identifier measures that simplify the process of authenticating textbooks."