You have /5 articles left.
Sign up for a free account or log in.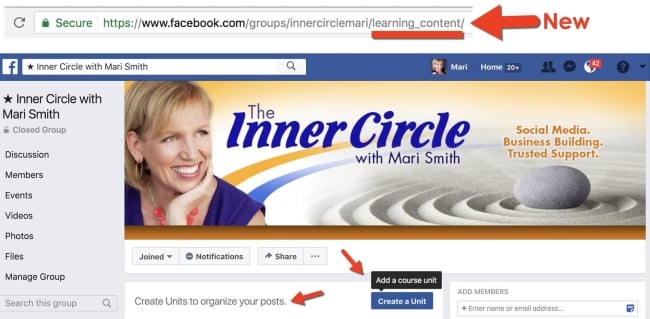 Facebook is testing new features in its developer community that, if rolled out across the platform, could let anyone on the social networking service teach online courses.
Moderators of some Facebook groups listed as school or class have recently noticed that they can add course units that link to one another. As members of the groups work their way through the units, their efforts are tracked by a progress bar.
The features are part of an initiative, known as Developers Circles, to connect local developers with one another that Facebook launched at this spring at its developers conference, F8. The company is working with online education provider Udacity to create training programs for developers who participate in the circles.
On its website, Facebook describes the circles and the new features as a way for developers to learn about artificial intelligence, internet-connected devices and other topics that the company is interested in. However, some Facebook users who aren't developers have begun noticing that they are now able to add course units to their groups as well, suggesting the features may be available more widely.
There are several missing features that may prevent instructors from testing Facebook as an online learning platform -- no grade book, for example. And beyond the feature set, some instructors may be wary about teaching on Facebook out of concern that information about them and their learners could be mined for valuable advertising data.
The company didn't have much to say about its interest in online learning. A Facebook spokesperson, speaking on background, said the features are "something we're testing" and that the company should have more information to share later this year.
Facebook is the latest tech giant to take an incremental approach to education. Apple has steadily added features to iTunes U, its learning platform, and its computers and tablets have long been popular in the classroom. While most universities have put content on iTunes U as one of several ways to offer free online lectures and courses, at least one -- Lynn University in Boca Raton, Fla. -- has gone as far as using the platform as its learning management system.
Google has used a similar strategy with its productivity suite for education, Google Classroom, which has gained some traction among educators, particularly in the K-12 space. The company's Chromebooks, a line of affordable laptops that run a beefed-up version of the web browser Chrome, have emerged as a popular alternative to Apple's products.
Facebook, while initially restricted to college students, hasn't for most of its history shown a serious interest in becoming an education platform. As Facebook has grown from a social media network to a massive tech company, however, the company has branched out. Some of its recent acquisitions or initiatives involve artificial intelligence, live sports streaming and virtual reality, to mention a few.
Facebook CEO Mark Zuckerberg has recently taken an interest in education. He and pediatrician Priscilla Chan, his wife, in 2015 founded the Chan Zuckerberg Initiative, which among many initiatives is exploring whether personalized learning can benefit students.
With nearly two billion active monthly users on the site, Facebook wouldn't need a large number of them to teach a course to become a major presence in the online education market. In comparison, Udemy, an online learning platform founded in 2010, says more than 15 million students and 20,000 instructors use the site.
David S. Janzen, professor of computer science at California Polytechnic State University at San Luis Obispo, is one of them. He has for years taught a Java coding course on Udemy, which his profile shows more than 6,500 learners have taken.
In an email, Janzen said he has no interest in teaching a course on Facebook.
"I am skeptical about Facebook entering online learning," Janzen said. "I expect they will have some success just based on their size, but I don't expect them to become the dominant player in online learning. There is a lot of healthy competition. Also, I'm nervous about a deep integration of social media and learning. The mix of constant interruption (social media) with a need to focus (learning) seems counterproductive."