You have /5 articles left.
Sign up for a free account or log in.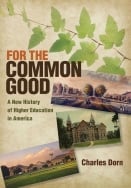 Many histories have been written of American higher education, but Charles Dorn has taken a new approach in For the Common Good: A New History of Higher Education in America (Cornell University Press). The book is in some senses chronological, telling the story of the founding of the early New England institutions and proceeding onward. But Dorn does not attempt to be comprehensive in all periods. Rather, for different periods of time he focuses on one sector or another, from the first institutions to the land grants to the teacher education colleges to women's colleges and historically black colleges. And he focuses on how different sectors aimed to promote visions of higher education "for the common good" -- even if some of those sectors were exclusionary for some of their history.
Dorn is professor of education and associate dean for academic affairs at Bowdoin College. He responded via email to questions about his book.
Q: There are many histories of American higher education. What made you think there was room for another? What led to your approach, focusing on different sectors at different times?
A: Yes, there are many higher education histories, and I've never been completely satisfied with what they offer. Most fall into one of three categories: 1) "house" histories written about particular institutions; 2) archival studies of particular institutional types, time periods or student cohorts; and 3) "synthetic" histories that are chronologically sweeping but mostly descriptive (and mainly synthesize previously published work). In contrast, For the Common Good is a comprehensive historical analysis of higher education that is both thesis driven and grounded in original archival research.
The method I employ investigates a wide range of institutional types established over the course of two centuries throughout the United States. From the community college to the elite research university -- in states from California to Maine -- I examine how colleges and universities have historically contributed to the common good.
This new approach captures the expansiveness of U.S. higher education, especially student and institutional diversity, without sacrificing important local and regional influences. The history of higher education during the early national period, for instance, has typically been told through the stories of New England colleges such as Harvard and Yale. South Carolina College (present-day University of South Carolina), however, was established in 1802 as the first state-sponsored higher education institution in the United States to receive ample political and financial support. How does that college's Southern history revise our understanding of higher education's development in America? For the Common Good engages exactly these kinds of questions.
Q: Your theme is that higher education evolved for the "common good," as your title says. But many of the sectors you discuss -- women's colleges, black colleges, Roman Catholic colleges -- came into being because establishment higher education excluded various groups. How do you reconcile your "common good" theme with that part of history?
A: Absolutely -- and that has been the most interesting element of my research for this book. Although the founders of America's earliest colleges consistently declared an institutional commitment to the public good, they often defined "the public" in narrow and exclusive terms. My research demonstrates how Americans responded by advocating for increased higher education access and affordability and also for greater curricular relevance. This advocacy frequently led to reform, with colleges and universities changing their practices over time. Critics, however, often judged the pace of these reforms as too slow and established entirely new kinds of institutions to advance what they understood as the common good. For instance, reactions against residential colleges that maintained proficiency in Latin and Greek as admissions criteria and offered a classical course of study resulted in the founding of "normal schools" (dedicated to teacher training) and colleges devoted to the study of agriculture, mechanics, mining and military training (later abbreviated as "A&M").
These "new" kinds of institutions (which were actually borrowed from European models) adopted less stringent, if not entirely different, admissions requirements, charged little to no tuition and offered "practical" courses of study. Similarly, historically black colleges and universities, women's colleges, junior and community colleges, and public urban universities were all founded in reaction to the kinds of institutions that came before. Still, they too declared an institutional commitment to advance the public good. Indeed, given the wide variety of colleges and universities established in the United States over the course of two hundred years, a long-standing dedication to promoting the common good comprises the core of a grand narrative of American higher education history.
Q: You mention for-profit higher education in your epilogue. Did you consider a chapter? Could the common good theme have worked with this sector?
A: Unlike diploma mills, which have been in existence since at least the early 19th century and charge a fee for illegitimate degrees, accredited for-profit colleges and universities claim to provide specific forms of educational (often career) training. They are relative newcomers to American higher education -- too new to warrant their own chapter in a two-century study of college and university history. Nevertheless, these businesses, if conducted responsibly, could meet student needs by providing occupational training in ways that are accessible, flexible and affordable.
Participation in the "knowledge economy" often requires employees to possess specific kinds of knowledge and skills applicable to their vocational pursuits. For-profit colleges could be well suited to facilitate the acquisition of this knowledge and these skills, especially through the use of innovative online platforms. Unfortunately, many of these businesses, such as the recently defunct Corinthian Colleges and ITT Technical Institutes, are less interested in educating students than in building wealth for investors by transferring billions of public dollars to private shareholders, an approach that has failed to guarantee either student success or corporate profitability.
Q: Having looked at the evolution of higher education through various sectors, are you concerned about the viability of particular sectors today?
A: Definitely. In 2003, just two U.S. colleges charged more than $40,000 a year for tuition, fees, room and board. Six years later, more than 200 did. The beginning of the Great Recession in 2008 catalyzed this spike in cost, driving down endowments and accelerating already-declining state support for higher education. One important ramification is that tuition at four-year public institutions, nationally, has come to provide a greater source of revenue than state appropriations. However, it's not simply the nation's economic climate that now dictates what colleges and universities charge, it's the adoption of a corporate approach to operations that has already proven remarkably expensive to implement and extremely difficult to reform because of its overwhelming preoccupation with status.
The experiences of institutions such as Virginia's Sweet Briar College reveal the risks associated with this model. Sweet Briar survived the maelstrom of the 20th century, including two world wars and an economic calamity, only to announce in 2015 that it was closing. Although the particular challenges confronting rural women's colleges played a role in the institution's financial decline, the combination of a corporate model of operation and the effects of the recession led to college officials' announcing that the institution would end operations following the close of the academic year. As Inside Higher Ed reported at the time, "There are some liberal arts colleges -- places such as Williams, Amherst, Bowdoin and Middlebury Colleges -- that have prestige to attract students and the financial means to promote both constant campus activities and plenty of opportunities for urban experiences." "But," claimed Sweet Briar President James F. Jones, "it is increasingly difficult for other colleges to compete." Ultimately, legal action combined with strong alumnae support saved Sweet Briar. Yet, Moody's Investor Service has estimated that the number of four-year public and private higher education institutions that will go out of business over the next few years could triple annually. Today, few sectors of higher education today are impervious to this risk. [Editor's note: Sweet Briar subsequently announced it would continue operations and has done so.]
Q: A recent poll by New America found many Americans doubt that higher education is about the common good, and that they perceive colleges as promoting the interests of colleges. Why do you think the public is cynical about higher education, especially in light of the idealism you highlight in the history of American higher education?
A: A social ethos of affluence has certainly come to characterize higher education in the 21st century, leading many to question colleges' and universities' dedication to the public good. In the same way that many students now report pursuing a college degree primarily in an effort to position themselves for an affluent future, colleges and universities regularly engage in decision making that maintains institutional affluence as its primary rationale. Yet, as I describe in the book, colleges and universities have always pursued wealth. That is to say, although the "search for gold" has taken on an unprecedented urgency in recent years, the search for donors and their dollars dates back to the nation's early history.
The predominance of a social ethos of affluence, however, has not eliminated competing commitments. Civic-mindedness, for instance, continues to matter in higher education. In 2013, when an Arizona community college enrolling over 40,000 students moved to tighten its admission standards in the face of community opposition, its regional accreditor, the Higher Learning Commission of the North Central Association of Colleges and Schools, penalized it for demonstrating "a lack of understanding of its role in serving the public good in its community." Similarly, two years ago, when Wisconsin Governor Scott Walker proposed replacing the Wisconsin Idea (characterized by the University of Wisconsin's commitment to public service) with the far narrower objective of meeting "the state's work force needs," popular backlash led him to abandon the idea.
From research that benefits the public welfare to the active recruitment of students from marginalized populations to sustained efforts to cultivate civic competence, colleges and universities continue to advance the public good in the 21st century. As the New America poll reveals, over 60 percent of respondents continue to believe that college is primarily a societal good rather than a private one, indicating that even today a majority of Americans maintain faith in colleges' and universities' commitment to the common good.