You have /5 articles left.
Sign up for a free account or log in.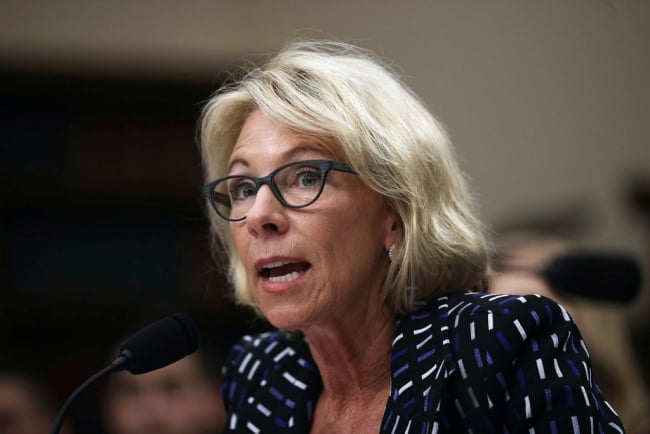 As the U.S. Department of Education readies for an arduous bureaucratic process to overhaul the rule allowing defrauded students to discharge their debt, advocates are wondering when thousands of borrowers who are seeking relief will get a resolution.
Betsy DeVos, the education secretary, earlier this month said she would delay implementation of the rule, known as borrower defense, and begin rewriting it and gainful-employment regulations for nondegree vocational programs. But she promised that the department would deliver on promises of loan relief it previously made to other students and would continue processing the 16,000 borrower-defense applications still awaiting a decision.
Organizations that advocate for students and work with borrowers are anxious to find out when that will happen. Many applicants have waited months or years for an answer on their applications while they remain on the hook for thousands of dollars in student debt. Since the Trump administration arrived, gradual work on those claims has appeared to slow to a complete halt. And an unfortunate aspect of the rule delay, advocates said, is that it will block a provision that would ban institutions from enforcing mandatory arbitration clauses. That means students who haven't gotten relief from the department can't seek help from the courts, either.
The Obama administration crafted the borrower-defense rule after the collapse of Corinthian Colleges in 2015 to clarify how to handle a flood of claims under the little-used previous version of the borrower statute. In its most recent update, the department said in January that it had approved borrower-defense claims for more than 28,000 Corinthian students. But few details have been forthcoming since.
Toby Merrill, director of the Project on Predatory Student Lending at Harvard University's law school, said the department still has the tools it needs to process those claims even after delaying the new rule.
"The department's processing of all borrower defenses has essentially stopped," she said. "While that's not an acceptable state of affairs, that's the state of affairs they're facing."
And by blocking the arbitration provision as part of the rule delay, Merrill said the department has prevented students from pursuing another avenue to have their loans discharged absent action from the administration.
Liz Hill, a department spokeswoman, said the process is relatively simple for most borrowers -- the department notifies servicers, who then move to discharge the loan and notify the borrower. Other claims are more complex, she said, such as for borrowers with multiple or nondirect loans.
She said no decision has been made about a shift in handling of claims and that the new chief operating officer of the department's office of Federal Student Aid would be consulted on changes. The department also didn't have an update on whether it would consider discharging loans for entire cohorts of students at an institution where the department determined fraud had occurred. The final borrower-defense rule would have made it easier for the department to provide loan discharge to groups of students -- even those who have not filed an application -- where common facts and claims exist that indicate fraud or misrepresentation occurred at a program.
The borrower-defense regulations were crafted with the for-profit college sector in mind, but they were opposed by a broad swath of higher ed institutions, notably including historically black colleges. The week of the delay, two HBCU groups urged DeVos in a letter to rewrite the regulation through another rule-making process.
In announcing the delay, the department cited pending litigation by a group of California for-profit colleges. Two former for-profit students intervened the next day as defendants in the lawsuit and said they had planned to sue their institution over misrepresentations after the ban on mandatory arbitration went into effect.
"The reason why arbitration is so critical and why this is a key part of the rule making in my view is we hoped for the courts to resolve disputes and address harms that are posed to victims even when regulators are unwilling or unable to act," said Joe Valenti, director of consumer finance at the Center for American Progress.
The inclusion of arbitration language in the vast majority of for-profit college contracts mean individual borrowers are not able to take their claims to court -- or band together in a class action lawsuit, he said. The Century Foundation has urged for-profits to not restrict students in contracts from going through to courts to pursue complaints. Two large for-profit chains, University of Phoenix and DeVry University (now Adtalem Global Education), said last year they would not enforce arbitration clauses in anticipation of new federal regulation.
When announcing the rule would be delayed, the department did say it would carry out provisions involving administrative forbearance for Federal Family Education Loan borrowers, provisions relating to documentation for discharges for death, consolidation of nursing student and nursing faculty loans, and some technical corrections. But Betsy Mayotte, director of consumer outreach and compliance for American Student Assistance, said over all the burden to receive relief under the existing rule is much higher than it would have been under the Obama regulation.
For one thing, the current rule is based on state laws that in many cases include a statute of limitations for borrower claims, she said. The new rule includes a six-year statute of limitations for payments already made by the borrower but no limitations for payments still owed but not paid.
"Now that the rule has been delayed, the FFEL borrowers are up the creek," said Mayotte.
Young Invincibles, a progressive advocacy group focused on millennial issues, called on the department to act quickly on existing claims and to be transparent about the progress it's making.
"The department's faltering commitment to providing these young people, who were taken advantage of in their pursuit of a higher education and a better financial future, the relief that they are entitled to, is alarming," said Reid Setzer, Young Invincibles' government affairs director, in a written statement. "We would like to see the department's recent promises to provide relief honored, old applications resolved, group discharges issued where justified and a thorough public accounting of just how many applications were processed, their outcomes and what schools were involved."