You have /5 articles left.
Sign up for a free account or log in.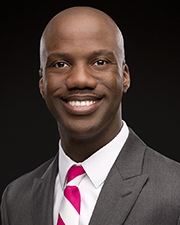 University of Pennsylvania
When Shaun Harper assumed the presidency of the Association for the Study of Higher Education in November 2016, the group had already started planning its 2017 annual conference, which was to be held in Houston. These things are planned out long in advance; ASHE's website already lists conference locations through 2019.
"We had not been to Texas before, so we were thinking this could be an exciting opportunity to take the ASHE annual meeting to a state where it had never been," said Harper, a professor at the University of Southern California.
Over the past couple of months, however, Harper's confidence in holding ASHE's conference in Texas has eroded. The board is currently "scrambling" trying to figure out if it's going to hold its conference, scheduled for Nov. 9-11, in Houston or not.
On Thursday, California banned all state-funded travel to Texas, citing recently enacted laws that allow discrimination against LGBT people. The move spells trouble for ASHE, as well as the American College Personnel Association -- College Student Educators International, which also has an upcoming conference scheduled in Texas, since public California institutions won't be able to pay for travel costs for their professors or administrators. The California travel ban also complicates athletic events scheduled between California teams and those in other states falling under the ban.
Last year, 12 percent of ASHE's membership at the conference was from California, Harper said, although members from private institutions wouldn't be affected. If Californians don't come, that's a huge financial hit for the conference, and that doesn't take into account any members who also agree to boycott the conference, standing in solidarity with California and LGBT individuals in Texas.
For Harper, who is gay and black, however, the moral implications of hosting the conference in Texas far outweigh the financial costs, and troubles in Houston have been brewing for months.
"It's a presidential nightmare," he said.
Travel Ban
California's travel ban -- which blocks state-funded travel to states that discriminate based on sexual orientation and gender identity -- became law on Jan. 1, but the attorney general can update destinations where state-funded travel is banned. On Thursday, Texas was added to the list, along with Alabama, Kentucky and South Dakota. Already on the list were Kansas, Mississippi, North Carolina and Tennessee.
"Our country has made great strides in dismantling prejudicial laws that have deprived too many of our fellow Americans of their precious rights. Sadly, that is not the case in all parts of our nation, even in the 21st century," California Attorney General Xavier Becerra said in a statement announcing the additional states to be included in the ban.
According to the California attorney general's office, Texas was added because of a recently enacted law that allows foster care agencies to discriminate based on the sexual orientation or gender identity of people wishing to adopt a child. Harper, in a March email to ASHE members, also spoke out against a restroom-access bill -- similar to the one enacted in North Carolina, which garnered widespread condemnation from LGBT groups and would bar transgender students from using bathrooms other than those that correspond with their legal gender assigned at birth -- which has been progressing through the Texas Legislature and could pass in a special session to be held in July.
"Deciding against going to a city or state for a few days is a privilege denied to people who must live their lives there every day. We have ASHE members who live and work in Texas. Some students and faculty members whom we study -- including those in large state and federal data sets -- do not have the luxury of opting out of living in Texas. Some are trans and gender nonconforming," Harper wrote to ASHE, fearing the bill could be passed before the November conference. "If SB 6 passes, they will be forced to reside and learn in dangerous contexts that deny their full humanity."
Harper said in the email that ASHE is working to make sure that its facilities have restrooms available for use by any and all attendees, regardless of their gender identity. At the time, he argued for hosting the conference in Houston as a way to protest anti-LGBT laws in Texas. Now, however, he's not sure what the best decision is.
"My own view on this is that Martin Luther King and other civil rights leaders didn't say, 'We're not going to Selma, because there's injustice in Selma,'" he said. "They stared injustice in its face."
Going to Texas, he said, would be an opportunity to use ASHE's "arsenal" of members and research to show politicians, and LGBT Texans, where the organizations stands. In response to the letter he sent in March, he said he received nearly 300 responses, estimating that about five of them were negative. In one instance, Harper said, a transgender high school student reached out to him after seeing the letter on Facebook, thanking him for "not abandoning us."
Now, however, Harper isn't sure whether keeping the conference in Texas or relocating to a different state is the right call. A boycott would send an economic message, but going to Texas could send a message of solidarity. At the same time, the lack of Californians -- and others who might boycott the conference -- would hurt the success of the conference, in addition to any negative financial issues that might arise.
The ASHE Board of Directors is currently talking to members and its attorneys about the best course of action.
"I still feel that way now," Harper said of his stance of going to where he sees injustice. "But I think I'm in this weird, very tough conundrum, where I'm trying to weigh my personal activist stance alongside the fiduciary responsibility to the association I was elected to lead."
ACPA -- College Student Educators International
As is the case with Harper and ASHE, California's travel decision wasn't the first time questions were raised about hosting conferences in Texas. Norm Pollard, dean of students at Alfred University in New York and a member of ACPA -- College Student Educators International, raised questions about hosting the group's annual conference in Texas, citing civil rights concerns raised by the American Civil Liberties Union when Texas passed an anti-sanctuary city law. He said the adoption law and pending bathroom bill further his belief that the organization should boycott the state.
"It troubled me when we as an organization chose to have our national conference in a state that discriminates against the members of our organization, as well as the students that we interact with everyday," Pollard said.
Pollard said he appreciated Harper's strategy of going to Texas and showing opposition to LGBT discrimination, but said he believed economic boycotts have the best chance of making lawmakers reconsider. Harper said members of ASHE have also expressed that view, which he is sympathetic toward.
"It may not make a huge economic impact, but [if] enough professional organizations do so, it can create change," Pollard said.
In a statement on its Facebook page, ACPA -- College Student Educators International said it was monitoring the situation.
"We are aware of the updated legislation in California prohibiting state employees from using state funds to travel to Texas. The #ACPA18 team will continue to monitor the situation and provide opportunities for ACPA members to engage with legislators in Texas," the statement read. Representatives from ACPA -- College Student Educators International were not immediately able to be reached for comment.
Athletics
On the sports side, the addition of Texas to California's travel ban complicates matters but is unlikely to actually change any of the scheduled matchups, since those contracts are often signed years in advance, and the travel ban only covers commitments made after it went into effect in January. For example, Fresno State University will still travel to play the University of Alabama in football, since that contract was inked in 2015, Al.com reported.
Postseason play, however, might cause scheduling problems, and there are other unanswered questions about sports-related travel. The 2018 NCAA men's basketball Final Four is scheduled to take place in San Antonio, which could pose problems if a team from a public California institution makes it that far in the tournament. However, the issues aren't clear-cut even then, because some colleges' athletic programs -- and in some cases, travel budgets -- don't use state funds, even if the coaches are state employees.
The California attorney general's office is currently considering whether the ban applies to college coaches, The Texas Tribune reported.
Moving Forward
Even if ASHE decided to pull out of Houston, Harper said, the prospect of finding a replacement for Texas, and venues for future events, isn't a simple process.
"Injustice exists everywhere. And the unfair treatment of people of color; of gay, lesbian and trans people; of Muslims; of people with disabilities, that happens everywhere across our nation, not just in Southern states, and not just in Texas," he said. "There is Islamophobia in California, in New York State, in places we tend to think of as much more liberal … There are -isms and phobias everywhere. I think that that's where I'm struggling."
He said that on some level, he would feel hypocritical pulling out of Texas and relocating to a more liberal state, such as Massachusetts, when "there is still transphobia" in parts of the state.
A decision from ASHE's Board of Directors on relocating or staying in Houston could come as soon as this week. As chairman of the board, Harper gets one vote.
"If our board were convening today for a conference call, I do not know how I would vote," he said. "And it has absolutely nothing to do with finances."