You have /5 articles left.
Sign up for a free account or log in.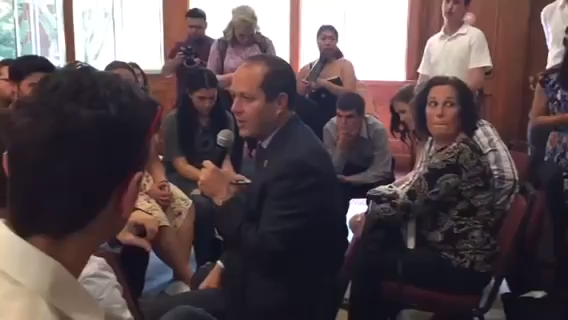 Jacob Mandel can remember the first time he heard the screams of the anti-Israel protesters three years ago.
The recent San Francisco State University graduate was celebrating Yom Ha'atzmaut, Israel's Independence Day, in May 2014 with other Jewish students. They had pinned up Israeli flags in Malcolm X Plaza, the central campus hub, and were dancing.
Mandel recalled the disruption -- supporters of Palestine were shouting over the festivities. They had unplugged the microphone during the remarks of the president of Hillel, the Jewish student organization.
What bothered him wasn't the groups favoring the Palestinian cause. Rather, it was that Jewish students organizing the event were disrupted and prevented from holding their event, with no one appearing to care.
"They were very hostile, and very angry," Mandel said in an interview, referring to members of the campus group known as the General Union of Palestine Students (GUPS). "I remember thinking 'maybe this isn't a good place for me to be.' I was definitely scared."
A few years later, nothing has bolstered the morale of the Jewish community at the public institution of 35,000 students. Though the university has long served as a battleground for students siding with either the Palestinians or the Israelis, past leadership of the university had soothed tensions between the two factions.
Not so in recent years, when relations between present administrators and Jewish students and faculty have collapsed, to the point that current and former students filed a federal lawsuit against university officials and the Board of Trustees overseeing the entire California State University System, claiming they perpetuated anti-Semitism and left Jewish students vulnerable because of their religion, in violation of federal civil rights statutes.
Mandel, a plaintiff in the suit, said he would find alternative routes around campus to dodge Palestinian students' events. He said he was threatened by them. One student once told Mandel he would kill him if witnesses weren't present. Mandel would text his friends: leave the letters of your Jewish fraternity at home. Tuck away your Star of David. Don't be identifiable.
The Lawfare Project, a pro-Israel legal nonprofit, is representing the plaintiffs, along with law firm Winston & Strawn.
The conflict has captured the attention of those far outside the campus boundaries, politicians in California's Legislature and Jewish supporters in San Francisco and beyond.
Critics in interviews largely lay blame on the university president, Leslie Wong, who was hired in 2012, but expressed frustration overall with a tepid response from officials to address anxieties and the wishes of Jewish students.
University representatives declined comment for this story and would not make Wong available for an interview.
Wong has issued statement after statement in response to continual disputes, affirming the university's commitment to its Jewish population -- but they ring hollow for many, and promises Wong has made, like hiring staffers to combat anti-Semitism, have gone unmet.
"The campus problems at San Francisco State won't go away because the administration's response is not authentic," said Fred Astren, chairman of the department of Jewish studies. "They don't seem to be aimed at building trust; they don't seem to be aimed at taking a meaningful position. They offer bureaucratic responses."
Shouted Down
A talk in April 2016 worsened the campus environment. Hillel, led by Mandel, had invited the mayor of Jerusalem, Nir Barkat, to speak. No more than six minutes into Barkat's speech, pro-Palestinian students, those aligned with the GUPS group, stood and began chanting. They repeated, among other lines, "If we don't get no justice, then you don't get no peace" and "Get the fuck off our campus."
At one point, they yelled through a megaphone, a violation of university policy.
GUPS did not respond to email request for comment.
Students who wanted to listen to the mayor tightened around him in a circle, though some later told an independent investigator of the incident that it was impossible to hear Barkat. Wong commissioned an outside firm to conduct an investigation of the incident shortly after the mayor's visit.
Despite the disruption, no student affairs officials stopped the protest, the investigator unearthed. University officials later told the investigator that they were unclear of their responsibilities. The dean of students concluded that indeed the protesters had infringed on university rules, but no one was ever disciplined. University offices ignored complaints filed by three students over the event, the investigator found.
Though the university's chief of police moved to halt the interruption, he was ignored. He was dressed in plain clothes, not a uniform, and students said they were unaware he was connected to the university.
The investigator also chided the university for shoddy planning. Mandel said in his interview that such difficulties with administrators -- uncertainty about the venue and poor or no communication -- were typical.
Wong apologized, penning a lengthy letter to a local weekly Jewish newspaper, J. The Jewish News of Northern California, saying he would invite Barkat back to campus.
"I have spent considerable time thinking about the event and what it means for the future of our university," Wong wrote in May 2016. "University campuses are not quiet spaces, and I would argue that they shouldn't be. But the noise should come from sessions where tough and difficult ideas are confronted in a spirit of learning and respect. Bullhorns don't do it, and the idea of silencing and preventing the marketplace of ideas is both sad and disturbing."
This year Barkat's return appearance, planned for April 6, was canceled. He accused the university of failing to advertise it adequately, though Wong refuted that in a statement, saying the mayor had not given the university enough notice.
"By failing to provide the necessary public forum and properly publicize my lecture, the university has contributed to the continuing marginalization and demonization of the Jewish state," Barkat said in the statement. "If I were a representative of any other country, no institution of higher learning would have allowed my speech to be drowned out by protesters inciting violence and then bring me back to campus in a limited, secluded way."
Indeed, the university's response does not match those of other institutions that have dealt with protesters stifling campus speakers.
Middlebury College was the center of national outrage after students' screams stopped a talk by controversial author Charles Murray in March. When he left, a professor with him was attacked and protesters -- whom the college believe were unaffiliated with the campus -- stomped on the car that had come to take him away.
The college punished at least 74 students for that incident.
Mandel said he felt as though university officials went out of their way to shield the disrupters of Barkat's appearance. "They went out of their way to protect their free speech rights … they weren't concerned about mine," he said.
Accusations
The university, in declining interviews, emailed a statement that had already been published to its website.
The statement condemns "all forms of hate and anti-Semitism" but said the university strongly disagrees with the legal complaint.
"Lawsuits seeking to force SF State to both protect free speech and assure diversity and inclusion are unnecessary and redundant. SF State remains committed to furthering free speech and defeating discrimination, including anti-Semitism. Rather than litigation, we welcome the plaintiffs, and any other organizations similarly committed to these ideals, to join us in pursuing that objective," the statement reads.
It does not address the specific accusations of the lawsuit, like Hillel's exclusion from a university fair in February. The Know Your Rights event was planned to help "vulnerable populations who may be feeling targeted in the new political climate in the country since the presidential election." The pro-Palestinian student group, GUPS, was one of the organizers.
It featured a speaker from the American Civil Liberties Union and workshops on self-defense and legal resources. A Hillel representative received an emailed invitation to the fair, which the organizers later rescinded -- he was told that the event was at capacity.
The lawsuit alleges that GUPS and other organizations changed the registration deadline to deliberately force Hillel out, and that university officials knew about it.
Again, Wong ordered an investigation, the results of which, one faculty member familiar with the inquiry told Inside Higher Ed, "will be damning."
The mayor's visits in particular have prompted repercussions with outside organizations, including donors.
The Koret Foundation, a Jewish philanthropic group in San Francisco, had initially promised $1.7 million to the institution, but expressed reluctance after the incident with the mayor. Wong requested Jewish faculty members join him in a meeting with Koret to reassure the donor, the lawsuit states -- this meeting was confirmed to Inside Higher Ed.
Professors were uncomfortable, the lawsuit states, as they did not wish to "whitewash" the situation on campus.
And Wong has not endeared himself to faculty, particularly in the Jewish studies department. In 2014, he, flanked by two other administrators, gathered together all the Jewish studies professors and threatened to take away their status as a department, claiming it was overstaffed and not raking in enough money. Professors assert that the department actually receives five-figure gifts annually from Jewish donors, and that Wong "ignored" $7 million in departmental endowments.
"While we should have been praised as the university's shining example of town-gown partnership, we were shamed as a group of professors who were not pulling their weight in a cash-strapped institution," Fred Astren, professor and chairman of the department, and Marc Dollinger, Richard and Rhoda Goldman Chairman in Jewish Studies and Social Responsibility, wrote in J.
In a separate interview, Astren said that since he arrived on campus in the fall of 1996, he has not observed such fear -- Jewish students have approached him to discuss their worries, he said.
History and Outside Response
San Francisco State has been grappling with campus clashes on the Israel-Palestine conflict for more than a decade.
In 2002, Hillel sponsored a pro-Israel rally at which the GUPS group launched a counterprotest. The two sides were separated by barricades for most of the event, but when it wrapped up, some pro-Palestine students confronted pro-Israel students, shouting at them and demanding they take down the Israeli flag they had hung.
The university received emails criticizing the pro-Palestine movement, prompting then President Robert Corrigan to release a statement and meet with Jewish students to hear their concerns.
Later that year, fliers advertising a Muslim Student Association event were passed out with the image of a baby and the caption "Palestinian Children Meat -- Slaughtered According to Jewish Rites Under American License."
Corrigan held meetings with the association, Hillel and GUPS, which was also listed on the flier, and later garnered an apology from the Muslim students. The president's response was applauded as strong and direct at the time.
Noa Raman, the Northern California campus coordinator for StandWithUs, a national Israel education organization, said in a statement she has witnessed a reluctance from administrators to take a stand when pro-Israel events are disrupted.
"Jewish students have exercised their voice in the past and feel they are not heard. Therefore, they are pursuing other avenues to improve the climate on campus," Raman said.
The Anti-Defamation League in a statement said the group was troubled by "serious and repeated episodes" of campus anti-Semitism.
"The league has outlined a series of actions and steps the SFSU administration should take to improve the situation for the Jewish community on campus. We continue to engage in dialogue with the university and urge the administration to take the necessary actions to ensure that all Jewish, Zionist and Israeli students are welcome," the statement says.
The current administration's apathy has also prompted some frustration from the Jewish Community Relations Council, which covers San Francisco, said its spokesman, Jeremy Russell. The council has met with administrators consistently but not been pleased with their lack of responsiveness, Russell said, pointing to delays in the investigation into the protests at the mayor's talk, and the Know Your Rights fair. The council currently has no meetings scheduled with administrators.
A university spokeswoman said that a number of initiatives have been completed or are underway. A task force to judge the campus climate will be convened in August, and the probe into the Know Your Rights event will be completed no later than July 13. A series of talks by professors to discuss campus issues, and adoption of a new statement against intolerance, will come in the fall.
Attempting to assuage concerns, Wong has also talked with community groups, J. reported -- per that article, Wong said that Hillel and other Jewish groups have received more of his time than any other student organization, creating the perception he favored Jewish students. Wong confirmed this conversation to the reporter.
Wong has also been attacked for a 2015 speech in which he lauded the GUPS group, saying that "they have helped me when I have to tell other community groups to mind their own business," which Jewish organizations took as a thinly veiled slight against them.
In June, Wong released another statement after anti-Semitic materials appeared on campus, his strongest yet.
"I want to be clear: anti-Semitic attacks are not just a crime against members of our Jewish community. They are an assault on our democratic values and an offense against everyone who stands for justice. Individual geopolitical or religious views do not establish a right to harass individuals on campus."
Russell said the council had urged a letter-writing campaign to Wong about the perceived animus toward Jewish students, which then was escalated to Timothy White, the chancellor of the California State University System. White in response declared full support for Wong.
Members of the Jewish caucus in the California Legislature met with both Wong and White two weeks ago, said State Senator Scott  . Wiener, who is Jewish, said he phoned Wong about a month ago to discuss the campus issues.
In May, the chairman of the Jewish caucus and six other legislators representing other caucuses wrote to White, telling him that the leaders of San Francisco State needed to unequivocally state that Jews, Israelis and Zionists are welcome and safe on the campus.
Wiener in his interview called for an outside review of the of the problems Jewish students face. He said current administrators are not objective enough to do such an evaluation.
Right now, no lawmakers have proposed legislative remedies, Wiener said. "I want to see the administration take a much more proactive and direct approach, including communication toward welcoming Jewish students on campus."
"We are very carefully watching what they're doing."