You have /5 articles left.
Sign up for a free account or log in.

Republicans have soured on higher education, with more than half now saying that colleges have a negative impact on the "way things are going" in the United States.
An annual survey by the Pew Research Center on Americans' views of national institutions, released this week, found a dramatic attitude shift on higher education among Republicans and people who lean Republican, with the change occurring across most demographic and ideological groups.
Two years ago, 54 percent of Republicans said colleges had a positive impact on the country's direction, with 37 percent rating higher education negatively. That ratio shifted to 43 percent positive and 45 percent negative last year.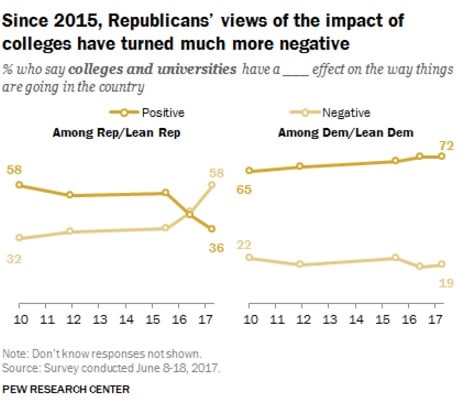 The latest version of the survey, conducted last month among 2,504 adults, for the first time found a majority (58 percent) of Republicans saying colleges have a negative effect, compared to 36 percent saying they have a positive effect.
A gradual increase in the number of Democrats and Democratic leaners who view higher education positively helped counterbalance the increasingly negative take by Republicans. In the latest version of the survey, 72 percent of Democrats viewed colleges positively (up from 65 percent in 2010) compared to a negative response from 19 percent this year.
Pew also found an increasing partisan divide on views about the national news media, although not as rapid a shift as Republicans' take on higher education.
The public's overall views on national institutions -- including churches, banks and labor unions -- did not change much in this latest installment. On higher education, 55 percent of all respondents had a positive view.
The partisan stratification is apparent even within the GOP. Nearly two-thirds of conservative Republicans (65 percent) said colleges have a negative impact, compared to 43 percent of moderate and liberal Republicans.
Viewers of right-leaning news media might not be surprised by Pew's findings. Virtually every day Fox News, Breitbart and other conservative outlets run critical articles about free speech disputes on college campuses, typically with coverage focused on the perceived liberal orthodoxy and political correctness in higher education.
For example, Breitbart on Monday riffed on a report from The New York Times about a 35 percent enrollment decline at the University of Missouri at Columbia in the two years since racially charged protests occurred at the flagship university.
Bogus right-wing outlets also often target higher education. A fictitious story about California college students cutting off their genitals to protest Trump's Mexican border wall plan recently made the rounds on purported news sites and social media.
In addition, Republican politicians in recent years have pushed back on the four-year degree, saying that not all jobs require the credential. Some also question the value of four-year degrees and criticize increasing college tuition levels.
Research has shown, however, that a healthy majority of faculty members and students in higher education skew liberal, particularly at four-year institutions. And debates over the value of college tend to revolve around four-year institutions.
Whatever the cause, a wide range of Republican voters are buying in to skepticism about higher education.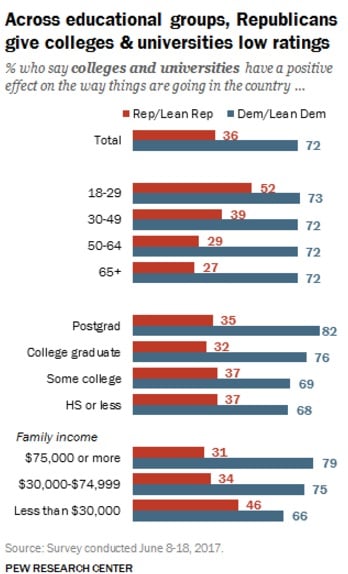 Younger Republicans tend to be much more positive, with 44 percent of 18- to 49-year-olds saying colleges have a positive effect on the way things are going in the country. And more than half (52 percent) of Republicans aged 18 to 29 view colleges positively.
Even so, the share of Republicans under 50 who have a positive view of higher education has fallen by a whopping 21 percentage points since 2015.
Likewise, positive views of colleges among Republicans who hold a college or graduate degree declined by 11 percentage points, from 44 percent to 33 percent, during the last two years. It dropped by 20 percentage points (from 57 percent to 37 percent) among Republicans who do not have a college degree.
Based on income levels, Republicans are less positive about higher education the more money they make. Just 31 percent of those who earn at least $75,000 a year in family income view colleges positively, compared to 34 percent in the $30,000 to $74,999 range. And 46 percent of Republicans making less than $30,000 gave higher education positive marks.
Democrats tend to view colleges positively, with the survey finding comparable majorities across age, education and income. However, Democrats have a different dynamic than Republicans when income is factored in, with wealthier respondents viewing higher education more positively than their lower-income peers.
The findings are both a wake-up call and an opportunity to ask better questions about conservatives' waning confidence in higher education, said Alison Kadlec, senior vice president and director of higher education and work force engagement for Public Agenda.
"Is the precipitous drop in conservative regard for postsecondary education reflecting a decline in confidence in higher education attainment as a sure path to socioeconomic mobility, or is this more about perceptions of 'liberal bias' in higher education among conservatives?" she said via email. "Are these attitudes more an expression of backlash against rising cost of college and student debt load, and the accompanying belief that colleges are businesses that care more about their bottom line than students (as we've found in our research), or is this about the rise of an emboldened anti-intellectualism in the wake of the last presidential election?"
Thomas Schaller, professor and chair of the political science department at the University of Maryland, Baltimore County, pointed to the role of news-media coverage as a driver of the shift in perceptions.
"It shows that Republicans echo the messages that conservative television and radio bombard them with daily, if not hourly -- in this case, that somehow the world's greatest public university system is a problem, when in fact it has helped produce the world's greatest work force and has attracted generations of people both domestically and from around the world to study on its campuses," he said in an email. "That these universities are state-based institutions in a federal system that Republicans mostly pretend to venerate only compounds their knee-jerk, reactionary attitudes."