You have /5 articles left.
Sign up for a free account or log in.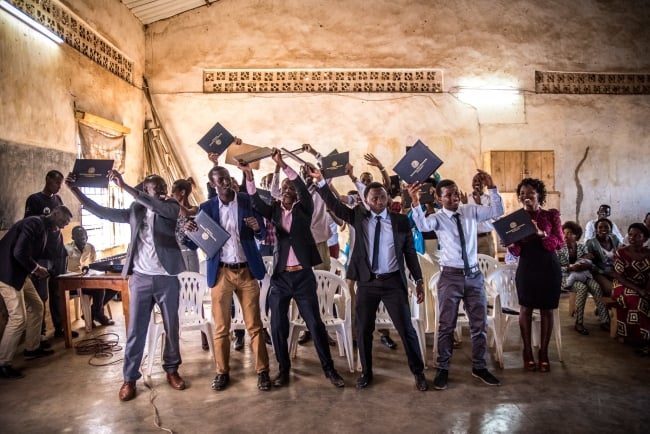 Southern New Hampshire University has received $10 million from anonymous donors to expand its refugee education initiative, which it has piloted in the Kiziba refugee camp in Rwanda.
The university, which is known for its online programs and its competency-based degrees, says the $10 million in funding will allow it to begin programming for refugees at four additional sites, including in Kenya, Lebanon and two additional locations to be determined. The university hopes ultimately to secure funding from the same group of donors to allow it to educate up to 50,000 refugees a year at 20 sites by 2022.
"The anonymous donors who are supporting this project have said to us, 'Let's do a phase one. Do this within two years and come back to us and show us the following: that you can have similar success as you've enjoyed in Rwanda in other places and that you can do it at greater scale than one camp,'" said Paul LeBlanc, Southern New Hampshire's president.
"Understanding the refugee context is very idiosyncratic," LeBlanc said. "It goes from camps like Kiziba, which is very remote and isolated, to someplace like Lebanon, where you don't really have camps -- you have integration of refugees in the millions in urban areas -- to places like northern Jordan, where you have enormous sprawling tent camps with real challenges in infrastructure. They want to see our ability to do this in various contexts."
At the Kiziba refugee camp, Southern New Hampshire just graduated its first group of 16 students with associate degrees. The university says all of the graduates work as interns outside the camp and are now pursuing their bachelor's degrees.
SNHU partners with a Rwandan nonprofit organization, Kepler, to deliver its programs at Kiziba via a blended delivery model mixing in-person and online instruction. As it expands to other locations, SNHU expects to form similar partnerships to provide support for students enrolled in its online College for America programs, which generally cost $3,000 per year but will be free for the refugees who enroll.
The needed supports may vary. At the Kiziba camp, which was started in 1996 to house refugees fleeing the civil war in the neighboring Democratic Republic of the Congo, the Ikea Foundation provided a grant to upgrade wireless connectivity. SNHU provided laptops.
"It's like Maslow's hierarchy of needs," LeBlanc said. "First we started with security. We needed a secure facility, a place that we could store the laptops and know that they would be there the next morning and make sure it was a good environment for our people to go in and out of."
The university also started a program to bring in food for its students after learning that they were selling their food rations. Academically speaking, LeBlanc said, "we had to get a handle on what level of readiness students were at, and we put in a series of summer bridge programs before they could join the program. And then we struggled with the question of gender. There's an expectation that to the extent that there's subsistence work that needs to get done every day-- getting water, cooking, cleaning the hut -- that that fell to the oldest girls, and the oldest girls were often the young women we were seeking for our program. We had to find ways to support them and their families."
The United Nations refugee agency estimates that just 1 percent of young refugees go to university. "We often say that this is an institution that often serves people for whom college is not a guarantee," LeBlanc said of Southern New Hampshire. "That guarantee is probably no more fragile than it is for the 65 million refugees in the world."
LeBlanc described Southern New Hampshire's plans as unique. "No institution has tried to go into refugee camps at scale to do a full-blown American degree at no cost to refugees," he said.
Other entities that have been involved in expanding access to online higher education to refugees in camps and elsewhere include Kiron Open Higher Education, a Berlin-based nonprofit that partners with universities and massive open online course providers to offer two-year online course modules, after which students can apply to transfer their credits to a partner university. Another initiative, the Jesuit Worldwide Learning: Higher Education at the Margins program (formerly known as Jesuit Commons), has enrolled more than 5,000 forcibly displaced people and other marginalized individuals in its programs since 2010, according to its website. The initiative, which has learning centers in about 10 countries, offers English-language and certificate-level courses as well as a 45-credit diploma program through its U.S. partner Regis University.
Arizona State University, which has a large online presence, has also recently entered this space, having announced in May a partnership with the Rwandan NGO Kepler to offer one of its online courses at the Kiziba camp to evaluate how its model works in that setting.
The University of the People, an online institution that offers tuition-free degrees, enrolls more than 1,000 refugees -- more than 10 percent of its 9,000-member student body -- including more than 500 from Syria, according to Shai Reshef, the university's president. Reshef said the university has another 1,000 Syrian students who are waiting for scholarships (though tuition is free, the university charges a $100 exam fee per course, which adds up to $4,000 over a four-year degree).
​Another initiative, Borderless Higher Education for Refugees, expects to graduate about 80 students with bachelor's degrees from one of three partner universities -- Kenya's Moi and Kenyatta Universities and Canada's York University -- next spring, according to Don Dippo, a co-lead for the BHER initiative and a professor of education at York. The program, which Dippo said is entering into its final year of funding from the Canadian government, started in Kenya's Dadaab refugee camp, which primarily houses Somali refugees, but has expanded its activities in another Kenyan camp, Kakuma, after the Kenyan government began threatening to close Dadaab for security reasons. Dippo said BHER has also entered into an agreement with a Somali university to help ease completion of the program by refugees who return home. Dippo said that students in the first graduating cohort have stayed in the program -- which is free for them to attend -- even as they've relocated to places as varied as Mogadishu and Minneapolis.