You have /5 articles left.
Sign up for a free account or log in.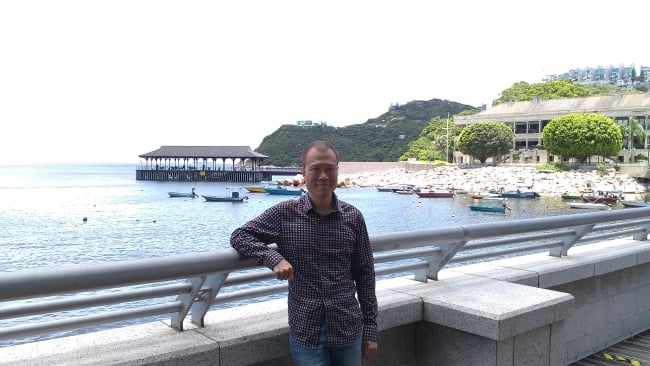 A former professor at the American University of Afghanistan who was wounded in last August's attack on the university has filed a claim against the institution with the U.S. Department of Labor seeking compensation for his injuries and coverage for his continued medical expenses.
Cecil Lui, a former associate professor of finance at AUAF, was teaching on the second floor of the Bayat building at the time suspected Taliban militants stormed the campus in an attack that killed 15 people -- seven students, one professor and four security personnel -- and wounded dozens more. Lui suffered a puncture wound from shrapnel to the left side of his neck and says he has injuries to his neck, chest, larynx, esophagus and left vocal cord, as well as emotional and psychological injuries. He jumped from a window of the second-story classroom and also sustained injuries to his left wrist and elbow in the fall.
Lui, whose contract for AUAF continued through the end of June, was unable to return to teaching after the university's reopening but was still paid his full salary by the university through March 20. AUAF made continued payment of his salary beyond that point through June contingent on him signing a confidentiality agreement and general release form releasing AUAF from liability. Lui declined to sign, and he says AUAF stopped paying his salary March 20.
Lui is seeking workers' compensation under the U.S. government's Defense Base Act program, which provides workers' compensation for civilian employees working overseas on military bases or on government-contracted public works projects. AUAF, a private university, signed a five-year, $40 million cooperating agreement with the U.S. Agency for International Development in 2013, a fact that Lui's lawyer, Scott Thaler, argues in a filing with DOL required the university to obtain Defense Base Act insurance coverage.
The results of an informal conference on Lui's claims held with a DOL adjudicator in early June found in his favor that a Defense Base Act claim was established. The adjudicator recommended that AUAF pay Lui slightly more than $1,000 per week in DBA benefits "until he has recovered from his injuries and/or has reached maximum medical improvement allowing him to return to work." The DOL adjudicator also recommended that AUAF authorize treatment with Lui's doctors of choice and reimburse or pay for all treatment associated with his injuries. The proposed recommendations from the informal conference were nonbinding: both parties had 14 days to accept or reject them, reach a settlement agreement among themselves, or request a formal hearing.
AUAF, which did not participate in the informal conference, saying it did not learn of Lui's claim until after the conference took place, is contesting Lui's claim for Defense Base Act compensation. In a filing with the Department of Labor, AUAF maintains that it was not required to obtain Defense Base Act insurance coverage.
The case will next go to a formal hearing.
"The entire university community has been deeply affected by the attacks and AUAF has been supporting all of its students, faculty and staff through the difficult recovery process," AUAF said in a statement issued through the university's lawyer, John Cella. "With respect to Professor Lui's claims, the university was only recently made aware of the Department of Labor proceeding and did not have the opportunity to participate in it, but is now studying the issues involved."
"AUAF absolutely has not been supporting Dr. Cecil Lui through the difficult recovery process," Lui said in a written response. He said that AUAF has been "deeply concerned only about Cecil's signing of the so-called confidentiality agreement. AUAF has abusively used the paychecks as leverage for the signing of the so-called confidentiality agreement, which has been AUAF's paramount focus."
A March email from then acting president David Sedney, included in the DOL filings as an exhibit, states that Lui's health insurance premiums would be paid through June and that the university has "offered to pay your salary through June, contingent upon your signing a standard separation agreement."
"Neither your contract nor other AUAF employment contracts provide for disability insurance," the email from Sedney states. "However, your contract, like other AUAF faculty contracts, provides for a 5 percent additional benefits payment, above your contracted salary. That amount is meant to enable the employee to purchase additional insurance or other benefits that AUAF is not able to provide. How you choose to spend the 5 percent benefit add-on is entirely at your discretion. Purchase of private disability insurance is one choice that was available to you."
In the same email Sedney -- who declined to comment for this article -- accused Lui of having "made a number of inaccurate and inappropriate statements about AUAF and AUAF personnel in emails to a range of individuals, in social media and in public media" that "contravene the AUAF Faculty Handbook policies on media and public statement." Sedney went on to write that university officials had been in "constant touch" with Lui throughout his hospitalization and medical treatment "working to facilitate payment and trying to help resolve medical insurance coverage issues" and had attempted to be responsive to his various concerns.
"Occasionally, AUAF staff have found your communications inaccurate, repetitive and even abusive. In such cases, each of your individual correspondences may not have been answered. However, we have answered and addressed all of your substantive concerns. Even though our answers may not have satisfied you, I can assure you we have tried our utmost to ensure responsiveness," Sedney wrote.
Lui said that AUAF administrators have been nonresponsive and have evaded their responsibility to him as a faculty member injured in an attack on campus. "You saw the email from David Sedney in March. He wants to cover up everything," he said in a phone interview. "He doesn't want me to talk and he doesn't want any news to be reported."
Some current and former AUAF faculty who spoke to Inside Higher Ed in the months following the August attack alleged that the university had not done enough to protect against the risk of attack and to respond to deteriorating security conditions. In a separate incident from the attack on the campus, two AUAF faculty members, one American and one Australian, were abducted in early August 2016 and remain missing. In June, the Taliban issued a video showing the two professors pleading with their governments to negotiate their release.
"My position is very simple," Lui said in a phone interview. "I need income, and I deserve income, and I'm entitled to have income." Though Lui does have access to the publicly funded health system in his native Hong Kong, where he is residing, "I need to queue up there for several months before I can get an appointment to see a doctor," he said. "I'm entitled to this consultation from the doctors of my choice."
"I should say I'm in stable condition now," Lui said. "My doctors say that I won't die because of the injuries, but I'm in a limbo. I have a lot of difficulties."
"I use the word 'better,' yes, better than before, but am I recovered? No. Am I in a difficult situation now? Yes."