You have /5 articles left.
Sign up for a free account or log in.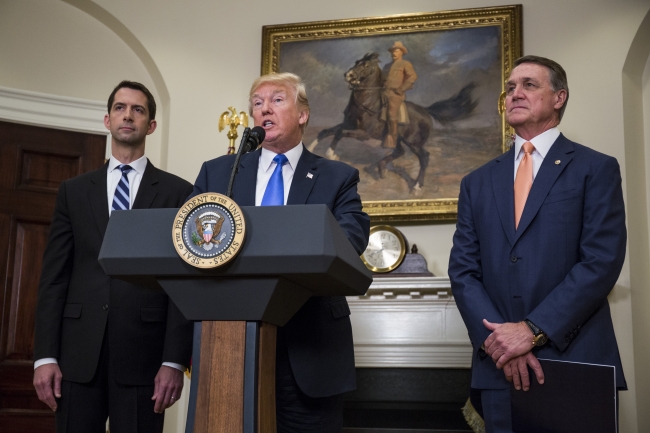 A bill backed by President Trump and announced Wednesday aims to reduce overall legal immigration by half while putting in place a new points-based system for applicants for employment-based green cards that would privilege graduates of American universities.
Some higher education groups say that while they want to see changes to America's immigration system, these aren't the changes they want to see.
The Reforming American Immigration for a Strong Economy, or RAISE, Act would drastically slash legal immigration by eliminating existing preferences for extended family members of U.S. residents, while keeping in place preferences for spouses and minor children; capping the number of refugees offered permanent residency at 50,000 per year; and ending the diversity visa lottery program. The bill would keep the number of employment-based green cards available the same -- at 140,000 -- but would change how they are awarded to give preference to applicants who have higher levels of educational attainment, higher scores on standardized English proficiency tests and higher-paying job offers, as well as to those who invest $1.35 million or more in an American business.
Applicants for employment-based visas would get different levels of points depending on whether they attended an American university or not. For example, an applicant with a bachelor's degree from a foreign university would get five points, while an applicant with a bachelor's degree from an American university would get six points. At the master's and Ph.D. levels, extra points would be awarded only to those with advanced degrees in science, technology, engineering and mathematics fields.
In remarks at the White House, Trump described the legislation as intended to help American workers by reducing the number of low-skilled immigrants who, he argued, put pressure on American workers, taxpayers and community resources. "The RAISE Act ends chain migration and replaces our low-skilled system with a new points-based system for receiving a green card," Trump said. "This competitive application process will favor applicants who can speak English, financially support themselves and their families, and demonstrate skills that will contribute to our economy."
Sen. David Perdue, a Republican from Georgia and one of the sponsors of the legislation, said the bill is modeled on Australia and Canada's immigration systems, both of which use points-based systems for admitting skilled immigrants. "It's pro-worker, pro-growth and it's been proven to work," Perdue said. "Both have been extremely successful in attracting highly skilled workers to those countries."
But while the act will increase the proportion of immigrants who come through the higher-skilled, employment-based system, it does so not by increasing the total number of people coming through that stream but rather by reducing the number who can come through other pathways. The bill, if passed, would lead to an overall reduction in legal immigrants of 41 percent in year one, and of 50 percent at the end of 10 years, according to projections provided by the bill's sponsors, Senators Perdue and Tom Cotton, a Republican from Arkansas.
"We recognize that it's long past time for Congress to address immigration reform, in particular to address our economically self-defeating practice of not providing sufficient opportunity for graduates of U.S. universities to remain in the United States after graduating and to contribute to our economy," said Craig Lindwarm, the director of congressional and governmental affairs at the Association of Public and Land-grant Universities. "Unfortunately, with this bill, although it seemingly aims to address some of that national need, it completely misses the target."
"While we need a focus on employment-based immigration, particularly one that looks at how we can do better at retaining the talent that graduates from our universities, this bill actually doesn't expand the number of employment-based green cards available, so it doesn't address that fundamental issue that there aren't enough green cards to retain the talent that we need," Lindwarm said.
Lindwarm added that while APLU's advocacy has focused on colleges' abilities to recruit international students and to bring in immigrants who can work for them as professors and researchers, "we also recognize that we are part of a broader immigration system and legislation that would cut or halve legal immigration to our country over a 10-year span is not in our country's interest. Immigrants make tremendous contributions to our country."
In a statement, Jill Welch, the deputy executive director for public policy at NAFSA: Association of International Educators, described the legislation as a step backward and as going "against our founding values as a welcoming nation, as it would close off America to the world."
Citing the "numerous ways" that immigrants contribute to the U.S., Welch said that "America is already at risk for losing these benefits given our antiquated immigration policies that do not provide enough opportunities for people to enter the country legally. Proposing legislation that restricts opportunities, limits access, forecloses the American dream and keeps immigrant families from living with their loved ones will only harm this great nation."
"There's little to celebrate here and in fact there are many questions to ask," said Fanta Aw, interim vice president of campus life at American University and a past president of NAFSA. Aw said that a points-based system "has merit," but applies to only one specific form of immigration -- employment based -- and needs to be considered as part of a comprehensive reform package. Aw said that the bill does nothing to address the needs of the agricultural industry for lower-skilled immigrant workers. And she was disturbed by the provision limiting the number of refugees who can gain permanent visas.
"I think for those of us who've been following immigration issues closely for decades and who understand the complexity of immigration issues, to in many ways lift up one aspect of the immigration system at the detriment of others is something we need to closely watch," Aw said.
The RAISE Act was endorsed by groups that support reducing immigration, such as the Federation for American Immigration Reform and Numbers USA. The latter group said in a statement that the bill "will do more than any other action to fulfill President Trump's promises as a candidate to create an immigration system that puts the interests of American workers first."
A statement from the National Immigration Law Center, on the other hand, described the bill as "cruel and un-American" and said that it would "devastate families, eliminating the traditional and long-accepted means by which family members such as grandparents, mothers, fathers and siblings are able to reunite with their families who have emigrated to the United States." FWD.us, an advocacy group focused on immigration created by leaders in the technology industry, also came out in opposition to the bill, saying it "would severely harm the economy and actually depress wages for Americans."
The Washington Post reported that the RAISE Act faces "dim prospects" In the Senate, where Republicans hold a narrow majority, and is expected to face fierce opposition from Democrats and immigrant-rights groups as well as from business leaders and some moderate Republicans in states with large immigrant populations.
Senator Lindsey Graham, a Republican from South Carolina, opposed the RAISE Act Wednesday, saying in a series of three tweets, "I've always supported merit-based immigration. I think we should always want to attract the best and brightest to the United States … Unfortunately other part of proposal reduces legal immigration by half inclding [sic] many immigrants who work legally in [agriculture], tourism, & service … SC #1 industry is Ag. Tourism #2 … If proposal were to become law … devastating to SC economy which relies on this immigrant work force."