You have /5 articles left.
Sign up for a free account or log in.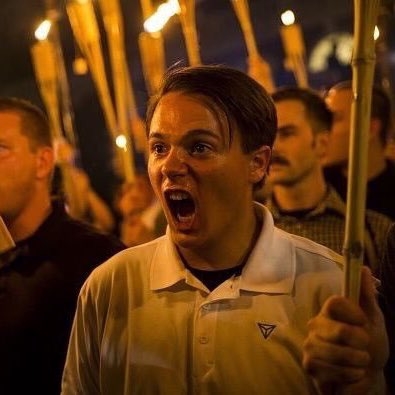 The "Unite the Right" rally held in Charlottesville, Va., over the weekend drew white nationalists, white supremacists, neo-Nazis and members of the so-called alt-right -- a radical far-right political movement that embraces white nationalism and racism. Some attendees were college students, and photos of them circulating the internet are raising questions on their home campuses.
"You will not replace us," the protesters shouted, a chant directed at racial minorities. "Jew will not replace us," the chants continued. "Blood and soil," a Nazi slogan, was also chanted. Other videos show racial slurs being hurled by white Unite the Right protesters. Richard Spencer, a white supremacist whose supporters have given him Nazi salutes, made an appearance as well. A woman was killed and more than a dozen people injured after a right-wing protester drove his car into a group of counterprotesters, according to Charlottesville police.
Many of those appalled by the rally and its participants have been circulating photographs of participants in an attempt to identify those who attended, calling on employers -- and, in some cases, universities -- to take action. While any disciplinary action is unlikely at public institutions, that doesn't mean issues related to race and free speech will go away.
James Allsup, a Washington State University student who attended the event and was, until Monday, a leader of the College Republicans at the university, will likely face no punishment from Washington State. As a student at a public institution, he's protected by the First Amendment.
Kirk H. Schulz, WSU's president, put out a statement on Twitter -- part of which Allsup retweeted -- denouncing "racism and Nazism of any kind," condemning the violence in Charlottesville. Spokesman Matthew Haugen said that he couldn't discuss Allsup's case specifically, citing the Family Educational Rights and Privacy Act, but said, broadly, public universities have to uphold free speech.
"Universities are places where controversial voices must be heard," he said. "Even if those are things that we as a community do not find appropriate. Honestly, WSU has been looking for answers about this for a long time."
Not everyone on social media agreed with that argument.
The American Civil Liberties Union, which fought for Unite the Right organizers' right to hold the protest, also condemned the violence and views expressed by the organizers.
"We condemn the voices of white supremacy heard in Charlottesville today, and all violence. Our hearts are with those killed and injured," the ACLU said in a string of tweets. "The First Amendment is a critical part of our democracy, and it protects vile, hateful and ignorant speech. For this reason, the ACLU of Virginia defended the white supremacists' right to march. But we will not be silent in the face of white supremacy."
In a statement, the College Republican National Committee -- which, as a private organization, is not bound to uphold First Amendment protections for its members -- condemned "in the strongest way possible the vile, racist and cowardly acts committed by white supremacists in Charlottesville."
The statement called for all leaders who "support or condone these events" to resign immediately. Whether that would actually have any impact on Allsup was not immediately clear, but he had resigned by Monday evening. He -- like many other far-right protesters -- has said that the rally is being misrepresented in the media, and that he didn't support all of the groups in attendance, although he also defended attending the event.
However, a video -- allegedly posted by Allsup and later taken down -- has been circulating, purportedly showing Allsup marching with right-wing protesters who are shouting racial slurs as Allsup laughs and continues to march with them. The video also allegedly shows Allsup cheering on Spencer when he makes an appearance.
"The university should not be in the business of disavowing what their students do, what their tuition-paying students do in their professional careers," Allsup told WSU's student newspaper in an article prior to his resignation.
Allsup, who told the student newspaper he denounced racism and Nazism, did not return multiple requests for comment, including one sent with a link to the video.
White Supremacy, Higher Ed and the First Amendment
Allsup isn't the only college student who has been identified as attending the Unite the Right rally. Peter Cvjetanovic, of the University of Nevada at Reno, has also been identified as attending the rally, and a petition has been circulating calling for his expulsion. A UNR spokeswoman confirmed he is a student.
The petition, signed by more than 18,000, states in part, "Your student and employee, Peter Cvjetanovic, is a white supremacist and poster boy for the terrible and violent 'alt-right' a.k.a. Nazi marches in Charlottesville … This was not a march for free speech. It was a march filled with hate speech and [that] promoted oppression of civil rights … Since launching this petition I have received numerous messages from your students who do not feel safe going to school and do not want to go to school with him around."
"Racism and white supremacist movements have a corrosive effect on our society," UNR President Marc A. Johnson said in a statement. "These movements do not represent our values as a university … As an institution, we remain firm in our commitment in denouncing all forms of bigotry and racism, which have no place in a free and equal society."
But Cvjetanovic will keep his job, and remain a student.
Johnson went on to say, "There have been numerous inquiries about Peter Cvjetanovic, a student at our university who participated in the white nationalist rally in Charlottesville. Based on discussion and investigation with law enforcement, our attorneys and our Office of Student Conduct, there is no constitutional or legal reason to expel him from our university … The First Amendment freedom of free speech requires us all to understand that sometimes support of this freedom can be uncomfortable. It is one of the most difficult freedoms we live with. It requires us to support the right of people to express views which we sometimes vehemently disagree."
Washington State and Nevada Reno's situations are nothing new. In 2012, Matthew Heimbach started a white student union at Towson University, a public institution in Maryland.
Heimbach, leader of the Traditionalist Workers Party -- a far-right, white nationalist group with neo-Nazi ties -- has found himself in court since leaving Towson. He was filmed shoving a black protester at a Donald Trump campaign rally, and later pleaded guilty to disorderly conduct, although he received no jail time.
Heimbach also attended the Unite the Right rally in Charlottesville, where he directed protesters to break through police barricades.
Last year Nathan Damigo, a student at California State University, Stanislaus, was posting white supremacist fliers at another California State campus. The posters, telling white students to "protect your heritage" and "serve your people," were the first wave of posters for Identity Evropa, a white nationalist group Damigo founded.
"I will continue to stand for promoting a warm, welcoming and respectful learning environment for everyone on our campus and in the community," Ellen Junn, the university's president, said in a statement at the time. "Though it may be difficult to hear disparate viewpoints, it is ever more vital to remember that Stanislaus State and the CSU have an obligation and commitment to the founding principles of our American democracy -- a democracy that upholds the First Amendment's protection of freedom of speech, even when that speech may be controversial or offensive to others. Sometimes speech that occurs on campus is inconsistent with Stanislaus State's core institutional values of inclusiveness, diversity and respect."
Like Heimbach, Damigo's actions as a student at a public college were protected by the First Amendment. And, like Heimbach, he would go on to find himself in trouble for violent actions.
In April Stanislaus officials launched an investigation into Damigo after he was filmed punching a woman during protester-counterprotester clashes in Berkeley. The encounter occurred during a "Patriots Day" rally, organized by Trump supporters and far-right groups, billed as a free speech event. 
"The University continues to closely review and coordinate with local law enforcement to assess the event that took place at Berkeley," spokeswoman Rosalee Rush said in an email. "As a public institution of higher education, we are committed to helping our students understand complex issues such as First Amendment free speech and how to cope with hate speech in a productive way." 
At the University of Wisconsin at Madison, a computer science student named Daniel Dropik abandoned his effort to start a campus chapter of the American Freedom Party, a white nationalist group. Dropik, who served time in federal prison after being convicted of arson for setting fires at two predominantly black churches in 2005, faced pressure from the administration and student leaders to do so, although the university could not force him to halt the project.
Reform Through Education?
If many are pushing universities to take action against white nationalist students, some would point to the value of higher education in fighting off those ideas. Derek Black, the son of the founder of the neo-Nazi website The Daily Stormer, found his white supremacist and white nationalist views reversed after attending the New College of Florida, a public institution.
The Washington Post documented Black's transition from a rising star in the white nationalist movement to someone who came to value diversity, which came through exposure to different students at the liberal arts college.
"I have resolved that it is in the best interests of everyone involved to be honest about my slow but steady disaffiliation from white nationalism. I can't support a movement that tells me I can't be a friend to whomever I wish or that other people's races require me to think of them in a certain way or be suspicious at their advancements," he wrote of his transformation. "The things I have said as well as my actions have been harmful to people of color, people of Jewish descent, activists striving for opportunity and fairness for all. I am sorry for the damage done."