You have /5 articles left.
Sign up for a free account or log in.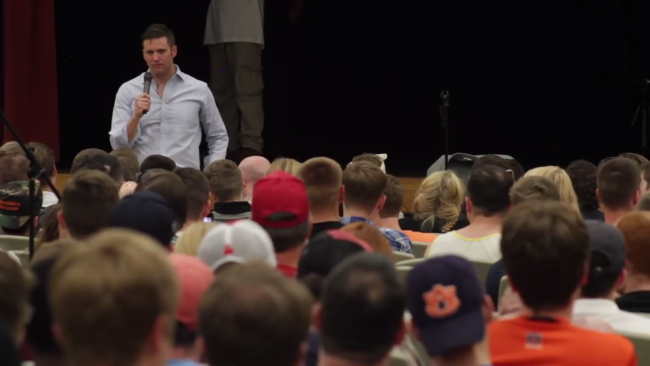 When Auburn University said it would block Richard Spencer from speaking on campus in April, the white nationalist sued -- and won.
A federal judge in Alabama rejected Auburn's argument that the speech would be unsafe, and it took place.
This precedent has not deterred the University of Florida or Texas A&M University, both of which this week have canceled plans for events where Spencer was slated to speak on their campuses, citing the violence at white supremacist events last weekend in Charlottesville, Va.
Legal experts say that though public institutions are obligated to preserve campus free expression, the tragedy that played out in Virginia over the weekend likely gives presidents more concrete grounds to bar Spencer and his affiliates -- at least in the short term. They warn, however, that the reasoning the institutions gave for canceling -- ensuring student and locals' safety -- should be applied as judiciously possible.
Auburn, a public institution, tried to halt Spencer's talk in April, but the man who rented out a university building on Spencer's behalf filed a lawsuit in U.S. district court, claiming the administration was squashing his First Amendment rights. A federal judge sided with the man, and Spencer was able to proceed with his speech, in which he suggested white people had lost their identities and black students on campus sexually abused white women -- just the kind of rhetoric his fans love and that many consider racist.
The University of Florida's President, W. Kent Fuchs, released a statement Wednesday calling Spencer's white nationalist message "repugnant." Social media threats had called for Gainesville to be the next site for violence after Charlottesville, leading to the decision, Fuchs said.
Both the University of Florida and Texas A&M stressed in their statements the potential for violence and that they were not acting based on the offensiveness of Spencer's views.
"The University of Florida remains unwaveringly dedicated to free speech and the spirit of public discourse. However, the First Amendment does not require a public institution to risk imminent violence to students and others. The likelihood of violence and potential injury -- not the words or ideas -- has caused us to take this action," Fuchs said in his statement.
The University of Florida's policy, similar to Auburn's, allows outsiders to rent campus space if they pay the required expenses, including for security, if necessary.
Auburn lost in court in part because it permits anyone to rent its spaces and so it could not tell Spencer no, Michael A. Olivas, the William B. Bates Distinguished Chair in Law at the University of Houston Law Center, said in a previous interview.
Texas A&M, meanwhile, forbids external campus lecturers from reserving a facility without the backing of a student group -- this is a change in practice from when Spencer spoke to students there last December. Spencer, with his group National Policy Institute, had announced he would target colleges, with Texas A&M as one of his first.
Given how recent the events of Charlottesville are, presidents could reasonably assume the violence could be replicated, Olivas said Wednesday.
Damaging the white supremacists' case for the right to speak was their public association of Charlottesville with the prospective events in September.
A press release advertising the now canceled "White Lives Matter" rally at Texas A&M was headlined "Today Charlottesville, Tomorrow Texas A&M." Similar language was used to promote the planned Florida speech.
"Linking the tragedy of Charlottesville with the Texas A&M event creates a major security risk on our campus. Additionally, the daylong event would provide disruption to our class schedules and to student, faculty and staff movement (both bus system and pedestrian)," the statement from Texas A&M reads.
The judge in Auburn's lawsuit found no imminent threat to that campus, which is "clearly" not the case now, said Robert M. O'Neil, a former president of the University of Virginia, where the white nationalists, bearing torches, marched on Friday. O'Neil is a First Amendment scholar who also serves as a senior fellow at the Association of Governing Boards of Colleges and Universities.
"If you look more closely at the Auburn situation, the judge did not find any evidence of incitement or the propensity for it on Spencer's part at that time," O'Neil said. "The situation is dramatically different today."
Olivas, in the interview Wednesday, said he believes the legal situation could change in a few months.
"If nothing like this happens again and no one is harmed seriously, the season will turn and they'll come in around Thanksgiving," he said. "It's very difficult to say no to them forever."
Canceling these sorts of events comes after a great deal of reflection and insider knowledge of prospective threats, said Peter McDonough, vice president and general counsel for the American Council on Education. He was formerly a lawyer for Princeton University.
"The other challenge is one is trying to predict what might happen, based on the activities of folks that you do not control," he said. "Trying to predict what others may or may not do, how various folks may or may not react, that's a tough job."
McDonough said he couldn't speculate whether a lawsuit was imminent for either institution.
Spencer hasn't publicly announced legal action, but he has taken to Twitter to praise Trump's response in Charlottesville and retweeted one user criticizing the University of Florida.
Ari Cohn, a representative of the Foundation for Individual Rights in Education, which generally criticizes institutions that it perceives to limit free speech, was much milder in his critiques of the University of Florida and Texas A&M.
Cohn, the director of FIRE's Individual Rights Defense Program, said that colleges should not as a first resort halt events simply because of a possible safety risk.
Administrators should disclose as many details as possible about potential threats without compromising the work of law enforcement, Cohn said. He said courts have ruled that "hyperbole" such as the kind displayed in the press release for "White Lives Matter" did not by itself constitute a reason for shutting down an event.
Threats need to reach a level of specificity, he said. Cohn cited a Supreme Court case, Hess v. Indiana, decided in 1973, involving a protester at Indiana University, Gregory Hess, who was initially convicted of disorderly conduct for lewd remarks before the court reversed the decision.
Hess had said something roughly like, "We'll take the fucking street later," but the court ruled that this was not concrete enough to be considered a real threat, which had an ambiguous time frame.
"If somewhere, someone else reacted violently, then we'd find ourselves pretty hamstrung when it comes to speaking," Cohn said.