You have /5 articles left.
Sign up for a free account or log in.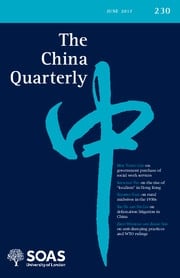 UPDATE: On Monday morning, The China Quarterly's editor posted to Twitter a statement saying Cambridge University Press officials had pledged to repost the articles that were removed. Anger over the removal of the articles is the subject of the article that follows. Inside Higher Ed will have additional coverage Tuesday morning. The following is the tweet from the journal's editor.
ORIGINAL ARTICLE
In a major concession to Chinese government censors, Cambridge University Press blocked access in China to more than 300 articles and reviews in the journal The China Quarterly, which Cambridge publishes. Many of the articles that were censored have titles that touch on sensitive issues in China, such as the massacre at Tiananmen Square and the pro-democracy movement, the Cultural Revolution, the restive Xinjiang region, Hong Kong, Taiwan and Tibet.
"We can confirm that we received an instruction from a Chinese import agency to block individual articles from The China Quarterly within China," Cambridge University Press said in a statement on Friday. "We complied with this initial request to remove individual articles, to ensure that other academic and educational materials we publish remain available to researchers and educators in this market."
The press's statement continues, "We are aware that other publishers have had entire collections of content blocked in China until they have enabled the import agencies to block access to individual articles. We do not, and will not, proactively censor our content and will only consider blocking individual items (when requested to do so) when the wider availability of content is at risk."
The press's statement also references "the recent increase in requests of this nature." A letter from the editor of The China Quarterly that was shared extensively on social media said the request regarding the journal followed a similar request involving more than 1,000 ebooks published by Cambridge.
Many China scholars criticized Cambridge University Press's decision to comply with the Chinese customs agency's censorship request, and faulted the press for prioritizing its continued access to the massive Chinese market ahead of academic freedom imperatives. CUP's most recent annual report describes having achieved "double-digit year-on-year growth in China for the last five years through close collaboration with Chinese publishers, large private education service providers, leading foreign language schools and new education technology companies." Cambridge University Press has many lines of business, and it is not clear whether the double-digit growth refers only to the company's English-language teaching business (the topic of the section of the report where the reference to growth appeared). 
"Clearly, they put their economic interests ahead of their principles," said James Leibold, an associate professor of Chinese politics at La Trobe University, in Melbourne, Australia. "Obviously with the rise of China, it has increasing weight both in terms of economic weight but also ideological weight in the world. We need to engage with China, but at the same time as we engage with it, we're confronted -- probably even on a daily basis -- with little decisions about how we engage with China. Do we make some compromises of our principles?"
"In this case the decision was to compromise what I think should be CUP's principle of academic freedom," said Leibold. He described the press's decision as "shameful."
"The press is participating in creating a sanitized partial history of China," said Greg Distelhorst, an assistant professor of global economics and management at the Massachusetts Institute of Technology.
Distelhorst co-authored a statement with Jessica C. Weiss, an associate professor of government at Cornell University, urging the press to reconsider its decision and arguing that the very prestige of The China Quarterly -- which they described as "pre-eminent in the field of China studies" -- is "precisely why publishing a censored edition in China will cause so much harm."
"Chinese students and scholars reading a censored version of The China Quarterly will encounter only historical facts and scholarly analyses approved by political authorities. Worse, Chinese readers will learn the sanitized history directly form the official website of Cambridge University Press," Distelhorst and Weiss's statement says.
In an open letter published on Medium, James A. Millward, a professor of history at Georgetown University, described CUP's decision as "a craven, shameful and destructive concession to the PRC's growing censorship regime. It is also needless."
"Cambridge University Press's current concession is akin to The New York Times or The Economist letting the Chinese Communist Party determine what articles go into their publications -- something they have never done," Millward wrote. "It would be unimaginable for these media to instead collaborate with PRC party censors to excise selected content from their daily or weekly editions. Rather, NYT and The Economist are banned in their entirety -- but they remain whole. There are not incomplete, scissored-up, CCP versions of The New York Times or The Economist online in China. In a similar fashion, Google chose to pull out of China rather than let its searches be CCP-screened and selectively blocked. Cambridge University Press, on the other hand, is agreeably donning the hospital gown, untied in the back, baring itself to the Chinese scalpel, and crying 'cut away!' But even this metaphor fails, since CUP is actually assisting, like a surgical nurse, in its own evisceration. The result is a misleading, neutered simulacrum of China Quarterly for the China market."
Another scholar offered an alternative view. "As an #academic & library liaison working in #China, I welcome @CUPAcademic's position to ensure majority of content still available," Mike Gow, a teaching fellow in humanities and social science at Xi'an Jiaotong-Liverpool University, said on Twitter.
"I share the concerns expressed by many about the implications of censorship," Gow said via email. "CUP are clearly in between a rock and a hard place on this issue, and I think it's a lose-lose situation for them. However, the alternative to compliance, where CUP would withdraw from the Chinese market, would seriously impact both research and teaching across the arts, humanities and STEM subjects in China. So from my own perspective, as an academic who works, teaches and researches in China, the CUP decision is the better decision: it doesn't restrict as much as it guarantees the availability of teaching and research materials. Apparently a catalog of [50,000] books and 380 academic journals would otherwise be unavailable."
The editor of The China Quarterly, Tim Pringle, said in a phone interview that members of the journal's editorial board weren't involved in the decision to block access to the content. "As you can see from the statement that CUP put out, they were instructed to remove 300 articles and book reviews or risk the entirety of their content. That was the decision they made. We weren't involved with that decision; we were informed of it afterwards," Pringle said.
Pringle said his next priorities are to gain a greater understanding of how the censorship order came about and at what level and in which agency of the Chinese government it originated. Cambridge press officials plan to meet with Chinese government officials at the Beijing Book Fair to discuss the censorship requests this week (a spokesperson for China's embassy in the U.S. did not respond to an emailed request from Inside Higher Ed for comment).
"Once we are completely aware of that process and who made the decision, then we will be in a stronger position of making a call of how we best promote academic freedom in China," said Pringle, who emphasized that The China Quarterly's selection and review process will not change at all.
"This does appear to be a reflection of a narrowing of the space for public engagement across Chinese society," said Pringle. "I think it fits with how academic freedoms have been narrowed in China over the past three, five years."
Others echoed that point.
"I think it is part of a broader pattern," said Kingsley Edney, a lecturer in politics and international relations of China at the University of Leeds, who studies China's management of information and propaganda in a global context. "This is the kind of issue faced by lots of companies or institutions that are dealing with China. Google had to deal with a similar situation where they were forced to choose between complying with the censorship rules or essentially being shut down, but as far as academic publications go, traditionally that's been, I wouldn't say a bastion of free speech, but it's certainly an area that has traditionally been left alone for the most part -- particularly foreign, English-language academic publications, because the audience for these articles is so small. It is very unusual to be taken quite so far."
"It's a very difficult situation because I think that ideally you take a stand there and you say these are the values of our company, this is the full offering of what we publish and take it or leave it -- but it's very difficult for a company to just leave," Edney continued. "Google decided that it wasn't worth it to continue censoring; they decided that the reputation costs to them were too great. I would hope that universities and university presses would similarly weigh out the reputational risks of complying as well as the direct financial costs."
"Cambridge University Press is damaging its reputation, and damaging its business to some extent in that way," he said.
H. Christoph Steinhardt, an assistant professor at the Chinese University of Hong Kong's Center for China Studies, suggested a number of possible or intended effects of the government's move to censor the articles.
"CQ is a specialist journal read inside China by a tiny circle of academics and policy researchers," Steinhardt said via email. "These people have the capacity to get around online blocks. They also have sophisticated opinions that are broadly aware of all the issues researched in CQ articles, but range from highly critical to highly supportive of the Chinese government. Thus, if the intended effect was to change the thinking of this group, it will certainly not work. Blocking access will neither change their ability to read these articles, nor make them more supportive of the state. By contrast, virtually all opinions by Chinese scholars I have read in various WeChat discussion groups and heard privately ranged from bewilderment to outrage."
That said, Steinhardt suggested this could send a message to Chinese scholars about what they themselves publish. "There has been a tacit understanding among scholars in China that certain research should not be discussed in public, but can to an extent be published in Chinese academic journals and internal publications/discussions (this space has been shrinking substantially recently)," he said. "Publications in English-language academic journals have been regarded as more or less unaffected by the boundaries of discourse within China. The policy now signals to Chinese scholars that English-language publications will be monitored more closely. It will most likely deter more Chinese scholars from researching the domains affected in this specific measure (Tiananmen, Mao era, Cultural Revolution, Xinjiang, Tibet, Hong Kong, etc.), and aiming for publication in English journals. If this is the intended effect, I suspect it will work."
"A similar potential intended signal is to let scholars outside of China know that touching these topics may invite negative consequences," Steinhardt added. "But again, this has already been well-known among such scholars and is unlikely to alter their research strategies."
In a blog post, Jonathan Sullivan, the director of the University of Nottingham's China Policy Institute and a member of The China Quarterly's executive board, wrote that his major concern is that the move against the journal and CUP "sets a precedent for further articles to be blocked or for other China studies journals to face similar restrictions … One fears that targeting CQ could be the precursor of a concerted effort to influence work published in the West on topics the Chinese government deems unpalatable."
"This is not the first time Beijing has leveraged the economic power of the Chinese market for political gains," Sullivan wrote. "The fear is that it won't be the last time that Western academia is the target. China's influence in Western academia has increased as a result of the economic power of overseas Chinese students and funding for academic institutions, including via the conduit of Confucius Institutes. This influence has been leveraged to prevent events on campuses by speakers like the Dalai Lama, who are persona non grata in China. Academic institutions in the West need to be vigilant about potential threats to academic freedom. If, for example, the Chinese authorities, through various means of influence, deter Western researchers from working on topics Beijing deems 'sensitive,' it would be enormously damaging for the integrity of Western academia. Numerous scholars have been refused visas to China because of their work, a symbolic threat that is particularly pernicious for junior scholars fearful of the effects of doing 'sensitive' research."
One prominent scholar who has been refused visas to return to China since the mid-'90s, Perry Link, said via email that, odd as it might seem, "this event can be seen as good news. The CCP's elite families have been moving for two decades, and accelerating in the last few years, to domesticate China's people through 1) censorship of information, 2) indoctrination instead of education and 3) intimidation. Abroad, their goal is to extend their power globally, largely through economic power but with military adventures, I'm afraid, only five or 10 years away. Their goal is be No. 1."
"The West just isn't getting it about this clear trend," said Link, a distinguished professor and the Chancellorial Chair for Teaching Across Disciplines at the University of California, Riverside. "Kim Jong-un is a small problem compared to what Beijing has in store for the world. For the Cambridge University Press to suppose that it can send some people to the Beijing Book Fair and talk anybody out of the long-term trend that the CCP elite has set is naïve in the extreme. It is also emblematic of what many people, including academics, in the West like to cling to."
"So why is the bald censorship good news?" he continued. "Because it might get at least a few more people to perceive what is really going on. For that, the sooner the better."