You have /5 articles left.
Sign up for a free account or log in.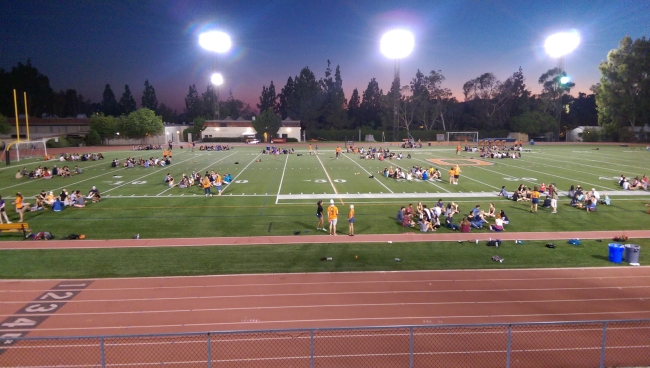 After the deadly protests in Charlottesville, Va., officials at Occidental College met and agreed -- the orientation activities for first-year students would be tweaked.
At Occidental, a small, private college in Los Angeles, diversity training was already mandatory for freshmen. They will now be asked their connections to and feelings on the events in Charlottesville that left three people dead and prompted national debate on white nationalism and supremacy.
The upperclassmen leading these discussions were concerned about how to talk about such controversial and touchy subjects with incoming students, some of whom may not share the progressive values embraced by many at the college and some of whom have limited knowledge of racism.
Every year, Occidental frames its diversity and inclusion ice breaker based on contemporary events or trends, said Amy Hill, associate director of student life, orientation and leadership development.
Last year, the first-year students were asked about their views on police brutality, Hill said in an interview.
Initially, the college had planned to pose questions about immigration and President Trump's travel ban on those from predominantly Muslim countries, Hill said -- but that shifted after Charlottesville.
"It's going be at the forefront of conversations, if not the students', then their families' mind," she said of the protests. "They're going to be dropping off their child and wondering if their student is going to be welcome and safe at our school, too."
The 600 or so Occidental freshmen will gather Saturday evening on the campus football field and eventually be split into groups of 20 students, in two concentric circles of 10 students each. The outer circle of students will line up with the inner one so they can discuss eight questions -- one referencing Charlottesville -- and then rotate so they will talk to eight different people.
After what the college calls "the wagon wheel," the students in clusters of 10 talk about the questions in more depth, also a time to dive into the nuances of the protests and the Occidental president's response to it, she said.
Jonathan Veitch, the president, released this statement: "In Charlottesville last weekend, we saw the ugly face of racism and hate, naked and unadorned. White supremacy in all of its manifestations is an assault on the fundamental values of Occidental, the community of scholars of which we are a part and the kind of country we want to be. Love of knowledge, intellectual rigor and mutual respect are essential in creating the kind of just, inclusive and loving community we all want to be a part of. As we welcome the Class of 2021 to campus next week, and throughout the coming months, let's embrace these values as we continue our effort to create such a community here at Oxy."
Some orientation leaders were nervous to handle such conversations, Hill said.
When the orientation leaders arrived, they and the student affairs representatives realized they couldn't be "typical and cheery" as they usually are -- they had to recognize the issues plaguing the country and how Charlottesville had stirred them up, Hill said.
"There were things simmering under the surface, and Charlottesville was something where people who haven't paid attention are paying attention. People are talking about things they kind of brushed off easily, and not as easily dismissing things built into our systems, our policies," she said.
Lily Goldfarb, one of the college's head orientation leaders, said she uses her time and community at Occidental to process events like Charlottesville. She said having conversations with other orientation leaders and sharing their feelings about it was "cathartic."
The metaphor being thrown around during training was that Charlottesville was a volcanic eruption of underlying problems persisting in the country, Goldfarb said.
Just two years ago, Occidental was the site of its own race-related tensions. More than 500 students staged a walkout in November 2015 with a list of demands that included Veitch's ouster. The college agreed to other requests -- promoting its chief diversity officer, creating a black studies minor and allocating more funding toward diversity initiatives and minority groups.
Making the changes to orientation around Charlottesville and discussing it were important to ensure everyone was comfortable and the issue wasn't skirted, said Tatiana Ramos-Gallardo, another head orientation leader.
August Barringer, a junior orientation leader, said the students talked about how the protests had spilled over onto the University of Virginia and how such an incident might not be isolated to just the state of Virginia.
"This is something that could happen at any place, anytime," she said.
Hill said ultimately the college doesn't expect students to radically shift their thinking, but to leave the orientation with more willingness to hear opposing viewpoints in a culture with increasingly polarized and vehement opinions.
"Everyone's going further and further into their corner, and digging their heels deeper and deeper," Hill said. "We want them leaving comfortable, having conversations that might be uncomfortable."