You have /5 articles left.
Sign up for a free account or log in.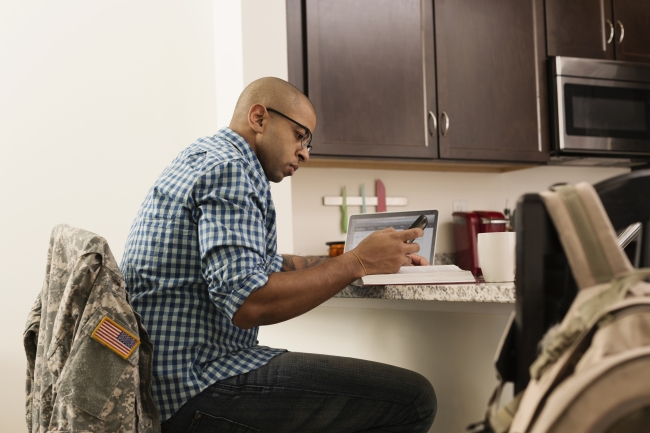 Last week President Trump signed into law a significant expansion of veterans' higher education benefits. The legislation, which has been dubbed the Forever GI Bill, received bipartisan support.
Though its primary goal is to help more veterans get college degrees by covering most of their tuition and fees, the law also includes a nod to the federal government's growing interest in encouraging noncollege education providers, with a five-year "high-technology" pilot program that will pay unaccredited providers to train veterans for careers in tech sectors. The pilot is scheduled to run for five years, with access to $15 million in federal funds per fiscal year -- a total of $75 million.
In many ways the program resembles and builds on a limited experiment the Obama administration created two years ago.
The Educational Quality Through Innovative Partnerships (EQUIP) program allows a handful of boot camps and online course providers to be eligible for federal financial aid through partnerships with accredited colleges. The experiment also is aimed at exploring alternatives to the traditional accrediting process, with the required participation of a "quality assurance entity" for each of the partnerships.
Experts said the new GI Bill's pilot will seek to help veterans hone or develop their technology skills to land jobs in a growth industry.
"The motivation for the bill is a push to increase the employability of veterans and encourage them to use their post-9/11 benefits," said John Aldrich, vice president of military, veterans and education partnerships at the American Public University System. While a lot of veterans do want to go back to school to study, not everyone needs to complete a four-year degree to get the job they want, he said.
For this reason, non-degree-level qualifications and training programs that are industry specific have become popular with veterans, particularly for those who want to enter high-tech fields like computer programming. The introduction of the high-technology pilot program, he said, means that vets will be able to use their GI Bill benefits toward credentials that were not previously eligible.
Only providers that are "an entity other than an institution of higher learning" will be able to take part in the pilot, which will be overseen by the U.S. Department of Veterans Affairs. To be awarded a contract for the pilot, providers must have been in operation for at least two years and must have successfully offered the specific program for at least one year. Currently, only providers that offer instruction in computer programming, computer software, media application, data processing or information services can participate.
Michael Abrams, executive director of the Center for Veteran Transition and Integration at Columbia University, said veterans have previously used their GI Bill benefits to cover skills-based certificate programs that lead to blue-collar jobs. But he welcomed the focus on high-tech careers. "My feeling is if nonaccredited, skills-based programs are valued by companies, and companies are hiring people with these skill sets who do not have a college degree, then I feel it is a meaningful program and it should be covered by GI Bill benefits," he said.
Quality Controls
Additional "approval criteria" for qualifying providers have yet to be decided, according to the legislation, but may be designed in consultation with state approving agencies.
However, to discourage what Aldrich describes as "nefarious behavior" from potential providers, it includes a unique payment system. Providers will be offered a 25 percent fee compensation when the veteran enrolls in the course, another 25 percent when they complete it and the remaining 50 percent when (and if) the veteran finds employment in the program's field.
The law also says preference should be given to providers that offer tuition reimbursement for students that fail to find relevant employment within six months. The VA will be required to track how long students stay in these jobs and report the figures to Congress as part of a wider assessment of the pilot.
Abrams, like Aldrich, praised the payment model. "Any program in which funding is based on results is a step in the right direction," he said.
Carrie Wofford, president of Veterans Education Success and a former Democratic congressional staff member, said her nonprofit organization had worked with both majority and minority staff from congressional veterans' committees to introduce tighter quality controls for the pilot. Committee staff and other veterans' organizations mutually agreed that "nobody wanted to see either taxpayer dollars or veterans' time wasted at dead-end programs," said Wofford.
"Unfortunately, there are always companies trying to make a quick buck off of veterans and the GI Bill," she said, "but we were grateful committee staff recognized the problem and added language to ensure accountability." Wofford said she was optimistic about the quality controls that were added.
Aldrich predicts that many companies will be interested in taking part in the pilot, which is tentatively scheduled to start in the spring of 2019. One such company is StormWind Studios, which offers online IT training courses.
"We receive calls on a daily basis from veterans asking how they can use their benefits to take StormWind Studios' training," said Karl Baum, enterprise account manager at StormWind Studios. Baum said that he had spoken to a lot of "very capable and technically qualified" candidates who want to transition out of military service into federal agency roles, but said that many find they don't have the necessary credentials to pass through basic job application filters on USAjobs.gov.
"If a potential goal of the legislation includes mitigating the Department of Defense unemployment compensation, a meaningful tangent of this high-technology pilot program hopefully leads to deeper discussion on more effective methods to translate the invaluable skills gained during military service to future employers," he said.
Helping Veterans Get Jobs
Helping veterans enter the work force quickly, rather than sending them to a traditional college, was a major motivation behind the pilot, which was spearheaded by U.S. Representative Kevin McCarthy, the California Republican who is the House majority leader.
Back in April, McCarthy introduced a proposal that contained many of the same ideas. At the time, McCarthy said he had been struck by the employment opportunities found by many who successfully complete technology programs offered by nontraditional providers. For example, he cited the experience of his son, who took an online course with the nanodegree provider Udacity shortly after graduating from college.
Shernaz Daver, Udacity's chief marketing officer, said the company is potentially interested in participating in the pilot. But, like StormWind Studios, Udacity is waiting to get more information.
"We're extremely pleased that this bill has now become law," said Daver. "There are 450,000 vets in the U.S. today who are unemployed, and half a million tech jobs, if not more, to be filled. It's perfect. It helps people, it helps the nation move forward and, at the end of the day, it helps the GDP."
Daver also said it was a significant development for alternative providers. "That the government is recognizing us and helping us to reach a large part of the population, who are capable of working but just lacking some skills, is huge."
Tom Ogletree is director of social impact at General Assembly, a large skills boot camp -- or an accelerated training provider. Ogletree's company also is following the pilot. He said General Assembly's 12-week immersive training programs could be a good fit.
"We've had a lot of success with public-private-sector partnerships in the past," he said. "There are success stories we can point to that suggest that federal support of initiatives like this can lead to really transformational change."
The Broader Impact
Russell Poulin, director of policy and analysis at the WICHE Cooperative for Educational Technologies, said traditional higher education should not ignore the latest move by the federal government to back unaccredited providers.
"Accreditation is slow and innovation is fast," he said. "We're starting to see political and business pressure to find alternatives."
Poulin predicts that more federal programs will follow the lead of EQUIP and the GI Bill pilot.
Judith Eaton, the president of the Council for Higher Education Accreditation, agreed. Eaton said she expects "more financial support being offered to students who take offerings from alternative providers," and added that "this is going to become a reality down the road."
More from Digital Teaching & Learning