You have /5 articles left.
Sign up for a free account or log in.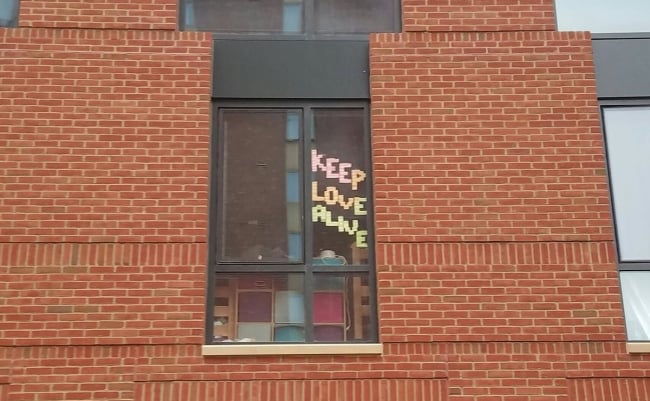 Ohio State University students have delighted in fashioning messages out of sticky notes to post in their dormitory windows -- political slogans, marriage proposals and especially displays supporting Harambe, the now famous gorilla killed at Cincinnati's zoo last year.
No longer -- the state's largest public institution has newly forbidden any kind of window decorations, a move that at other institutions has caused uproar and resulted in accusations that free speech was being squashed.
Dave Isaacs, a spokesman for Ohio State's Office of Student Life, offered no explanation for the change other than that the university reviews its residence life handbook annually and was modeling the rules on other institutions' similar policies.
"We have … benchmarked other schools' guidelines and have found this to be a common approach to windows and window coverings," Isaacs said via email. "The university maintains the discretion and right to determine use of windows, walls, doors and other university spaces."
Isaacs did not return a follow-up phone call or email.
On many other campuses, political displays, or those deemed offensive, such as the Confederate flag, have provoked debate.
The impetus for the policy shift is key here, said Frank LoMonte, director of the Brechner Center for Freedom of Information at the University of Florida.
If Ohio State had justified the ban with a safety reason, such as being able to see inside a building, or a maintenance-related one -- the adhesive from posters was damaging the windows -- then they would be legally protected from charges of squelching freedom of expression, LoMonte said.
But if officials are attempting to avoid or suppress controversial displays, then they would be open to a lawsuit, he said.
"If the university didn't want political messages in people's windows because it might offend passersby, that's a content-based reason, and that presents a huge constitutional problem," LoMonte said.
Ohio State isn't obligated to publicly announce its explanation, but should it be sued, the university's attorneys would need to develop a defense, LoMonte said. But the institution probably won't face a court case, because no one has been damaged by the "minor" policy -- should a student be punished and prove the university was trying to block free speech, that would be an "excellent potential challenge," LoMonte said.
The Foundation for Individual Rights in Education -- which normally condemns and has been involved in cases of window-art moratoriums at other colleges and universities -- is not yet concerned, said Laura Beltz, a policy reform program officer.
The change does appear to be a protection for the university, she said, but she noted that an across-the-board ban is legal.
Enforcement of the policy must be neutral, Beltz said. FIRE will continue to monitor the university, and Beltz invited any students who know of any abuse to alert her organization.
"Residence halls are a pretty big area of expression, and it does really cut out that whole option for students," Beltz said. "We would absolutely prefer on a normative level they would allow posting in the window."
A number of Twitter users expressed disappointment over the policy. One called Ohio State "party poopers."
Another, who identified himself on Twitter as a student and reporter at the Ohio State newspaper The Lantern, said the decision "seems absolutely ridiculous."
Efforts to regulate dormitory windows have been controversial in the past.
In 2011, an Auburn University student was told to remove a banner for former U.S. Representative Ron Paul's presidential campaign from his dormitory window. The student said that while he was forced to take down his banner, other signs were allowed to remain.
FIRE wrote to then Auburn President Jay Gogue and said the university's policy of not permitting window hangings was not being enforced evenly. Ainsley Carry, at the time vice president for student affairs, replied that Auburn addresses violations when it learns of them.
"Auburn University respects the First Amendment rights to freedom of speech and expression of all students, faculty and staff members," Carry said.
The University of Texas at Austin reversed its rule on window art in 2009. Initially the university threatened to punish two students who had hung campaign signs on their doors and window. After backlash, the president at the time, William Powers Jr., suspended the policy and then scrapped it entirely.
After he temporarily froze the policy, Powers wrote, "I believe that the free expression of ideas is crucial to our educational mission, and that our rules should foster civil discourse and debate. I conclude, therefore, that this rule should be carefully reviewed with the participation of all constituencies in the University of Texas at Austin community, including students."
Conservative media also wrote extensively about the University of New Mexico in 2015, when a student was made to remove an American flag from his window, per a similar policy to Ohio State's.