Higher Ed and the Floods of Houston
At University of Houston, some students are moved to avoid rising water, and social media helps identify who needs help.
Heavy rains continued to inundate the Houston area and its colleges and universities on Monday, with officials fearing that the damage brought by Tropical Storm Harvey, which originally hit Texas as a hurricane, could still get worse.
Caught in the storm was a group of about 200 Indian students at the University of Houston, who were trapped in an apartment building on Sunday, and evacuated Monday. University officials said over the weekend that about 2,000 of the institution's roughly 8,000 residential students were on campus, which had closed on Friday, and dining halls were still operational.
At large, at least five deaths have been attributed to the storm and the Federal Emergency Management Agency said that more than 450,000 people are likely to seek federal aid in the storm's aftermath. The National Weather Service has called the flooding catastrophic, and warned that rainfall could reach 50 inches. Other colleges in Houston closing down for some or all of this week include Houston Community College, Rice University and Texas Southern University.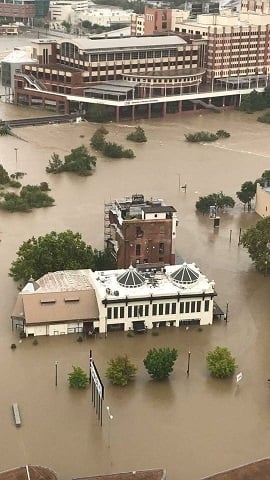 A photo, featured on the right, sent to Inside Higher Ed of the University of Houston-Downtown -- a separate institution within the Houston system -- showed the buildings with heavy flooding.
"This shows four major streets, completely inundated," said Michael A. Olivas, a professor at the University of Houston Law Center. "Unbelievable amount of flooding, with the worst to come."
The plight of the Indian students was documented by University of Houston Chancellor Renu Khator, who took to Twitter to reach out and engage with students on campus and in the area. The Indian consulate and ministry of external affairs were also involved.
Anupa Ray, the consul general for the Indian embassy in Houston, tweeted an email he received from students who alerted him to the situation, to which Khator replied with the University of Houston police chief's phone number.
"We have been trying to help as much as possible and doing our best. Is there anyway that we can deliver food or provide shelter to Stratford and Felix apartments," the email read. "Without boats it is impossible to provide any kind of food or help to them."
Later, Khator said in a tweet responding to India's Minister of External Affairs that the students had been reached by the police Sunday night, and evacuated on Monday morning.
Khator eventually caught up with the students.
The transfer of another group of students from one residence hall to another resulted in questions about dining halls, which Khator also had to address, saying those relocated could eat free.
Khator's other updates included sharing visits and lunches with students who remained on campus, and reaching out to ask how students were holding up.
"Went to check on students today ... in good spirit! Want to know how they can help the community!" Khator tweeted.
The university was originally scheduled remain closed until at least Wednesday, although some students were able to make light of their situation and ask for a little some academic leeway.
Although Khator didn't address the prospect of giving everyone an A, she did later announce that the closure had been extended until next week, and thanked the staff who were working through the weather.
"Thank you to our wonderful staff in residence halls, dining halls, emergency management … tireless dedication! We all appreciate you!" she said.
You may also be interested in...
Today's News from Inside Higher Ed
Inside Higher Ed's Quick Takes