You have /5 articles left.
Sign up for a free account or log in.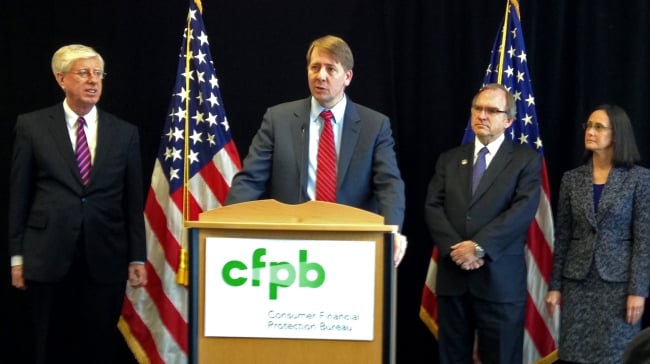 When Education Secretary Betsy DeVos touted her commitment to oversight of higher education this week, the fact that her department was cutting back involvement with one of the most active federal regulators went unmentioned.
In a letter rebuking the Consumer Financial Protection Bureau for overreaching and expanding its jurisdiction, the department said it would end two agreements between the agencies to share information for oversight of private actors involved in federal aid programs -- chief among them student loan servicers, the private entities that manage and collect payments on federal student loans. CFPB had failed, the letter said, to turn over complaints from student borrowers to the department within 10 days as specified in their deal and had intervened in those cases itself.
"Our goals are to ease the burden for borrowers and to enhance the efficiencies of our servicers -- not to complicate the federal student loan process with potentially inaccurate and inconsistent directives," wrote Kathleen Smith, acting assistant secretary for postsecondary education. "The department entered into the [memorandums of understanding] in reliance on the CFPB's commitment to helping each agency fulfill its respective duties. Instead, the CFPB is using the department's data to expand its jurisdiction into areas that Congress never envisioned."
DeVos earlier this week said in a statement announcing the hires of several new officials at the Office of Federal Student Aid that protecting students is a top priority. She emphasized that the department would continue coordinating oversight and enforcement with federal agencies, including the Federal Trade Commission and the Department of Justice. Absent from the statement was any mention of CFPB.
An independent agency with a presidentially appointed director, the bureau has been one of the most aggressive regulators of for-profit colleges and student loan servicing companies in recent years -- both on its own and in conjunction with the Department of Education and other federal agencies. But under the Trump administration, an interagency task force that coordinated oversight of for-profit colleges has gone inactive.
While other federal regulators have taken steps back from enforcement of the industries they oversee, the CFPB has redoubled its efforts under the Trump administration. Its efforts this year have included producing a new rule barring arbitration agreements that would essentially allow class action lawsuits against banks. Its activities have also included a monthly report on complaints from student loan borrowers. Its director, Richard Cordray, has meanwhile taken fire from Republicans in Congress who want to see the agency reined in or eliminated.
A spokesman for the CFPB did not respond to a request for comment on how the Department of Education's decision would affect enforcement efforts.
Clare McCann, a former Obama administration official and the deputy director for federal higher education policy at New America, said the CFPB supported much of the department's work in recent years to improve servicing of student loans and to hold servicers accountable when they fail.
"This is just another example of how that collaborative, interagency work has fallen apart under the new administration, and it's bad news for borrowers," she said.
McCann said DeVos's decision to scrap a recompete process for loan servicers who contract with the department delayed necessary improvements to borrowers' experience with servicers.
"Ending its formal relationship with the CFPB is proof that the department is working to systematically dismantle those planned protections for borrowers," she said.
Rohit Chopra, a senior fellow at the Consumer Federation of America who negotiated the agreements while at CFPB, said a major objective of both was to reduce paperwork burdens on companies subject to laws administered by both agencies.
"When companies have to respond to multiple agencies with similar information, this is bad for the market and for taxpayers," he said. "The agreement was specifically directed by Congress to ensure that borrowers could get help, regardless of whether they had a federal or private student loan."
But Representative Virginia Foxx, the North Carolina Republican who chairs the House education committee, said the department had shown that the partnership with CFPB was doing more harm than good by complicating oversight of student loan servicing.
"Congress bestowed the powers to oversee student loans and student loan servicing solely to the Department of Education, and it was a mistake for the Obama administration to have the Department of Education let the CFPB abuse its privilege on these matters," she said in a statement.