You have /5 articles left.
Sign up for a free account or log in.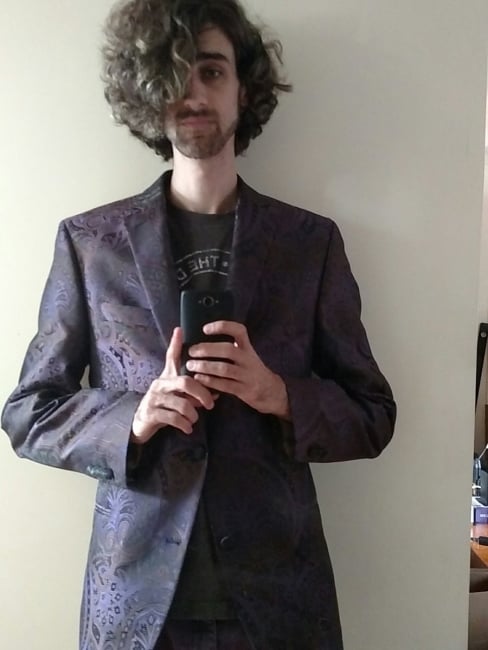 The tweet was a few weeks old by the time it was spotted by critics at the end of last week.
Michael Isaacson, an adjunct at John Jay College of City University of New York, is active in the "antifa" movement, and he was commenting on teaching economics at John Jay, known for its criminal justice programs, many of which educate current or future police officers. He tweeted that it was an honor to teach "future dead cops."
As word of the tweet spread, numerous groups -- especially police organizations and politicians -- demanded that Isaacson be fired. And Isaacson received threats, some of which he shared online.
Then on Friday night, John Jay's president, Karol Mason, released a statement announcing that Isaacson had been placed on leave.
The statement did not name Isaacson. But Mason said, "I want to state clearly that I was shocked by these statements. They are abhorrent. This adjunct expressed personal views that are not consistent with our college's well-known and firm values and principles and my own personal standards and principles. I am appalled that anyone associated with John Jay, with our proud history of supporting law enforcement authorities, would suggest that violence against police is ever acceptable."
Mason went on to express support for free expression.
"We recognize that the open exchange of diverse, even opposing ideas and perspectives gives strength to our institution and enriches the educational experience of our students," her statement said. "Indeed, to fulfill our mission, it is vital that we support our students, faculty and staff in engaging in robust, civil and vigorous debate about the issues of the day. While respecting free speech and academic freedom are deeply held values, expressions of hate or intimidation are not welcome in that civil discourse, nor is anything that can be perceived as an incitement to violence."
And then Mason cited safety issues to support the decision to place Isaacson on leave. "The safety of our students, faculty and staff is our top priority. Today, members of the John Jay faculty received threats, and our students expressed concerns for their safety in the classroom," Mason said. "Out of concern for the safety of our students, faculty and staff, we are immediately placing the adjunct on administrative leave as we continue to review this matter."
Early signs are that the leave will not satisfy police groups.
The New York City police union has reiterated its demand that Isaacson be fired.
And even liberal politicians, such as New York City's major, Bill DeBlasio, have suggested the same.
The faculty union at CUNY, the Professional Staff Congress, also condemned Isaacson's tweet. A statement from the union said the following.
"The Professional Staff Congress/CUNY rejects the statement by Michael Isaacson about imagining his students dead. Isaacson's statement in no way represents the position of the PSC as a union or the tens of thousands of CUNY faculty -- both full-time faculty and adjuncts -- who choose to work at CUNY because of a profound commitment to the diverse and largely working-class students we are privileged to teach. But the right of free speech protects even repugnant speech, and the PSC will vigorously defend the due-process rights of every CUNY employee -- both full-time and part-time -- we represent."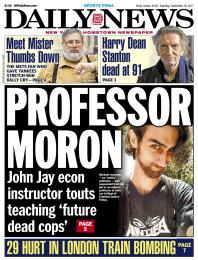 New York tabloids have also joined in the debate, highly critical of Isaacson.
Via email, Isaacson said that he was trying to teach his students and be honest with them -- and that his tweet reflected his approach.
"It is an undeniable fact that, by virtue of teaching at a college where a good chunk of the students intend to be cops, I am teaching future dead cops," Isaacson said. "Policing is an institution that operates in the interest of increasingly unrepresentative governments. Insofar as police enforce a regime that would serve the interests of prison and weapons lobbyists as well as governments increasingly reliant on criminalizing the public to balance their budget, I am against law enforcement. Being that police officers are put into this situation with largely no control over how they deploy enforcement (lest they be fired), I seek to teach my students the economic reality of policing as a system and their ultimate role should they choose to enter that field."
He said that there are legitimate security concerns facing John Jay College, given the threats against him.
Isaacson said that in terms of academic freedom, he is particularly concerned by DeBlasio's comments. He said the mayor had effectively called for "my termination" and that "such public remarks are, to my mind, no less than a threat to the administrative autonomy of John Jay College and CUNY and the academic freedom that comes with such autonomy."