You have /5 articles left.
Sign up for a free account or log in.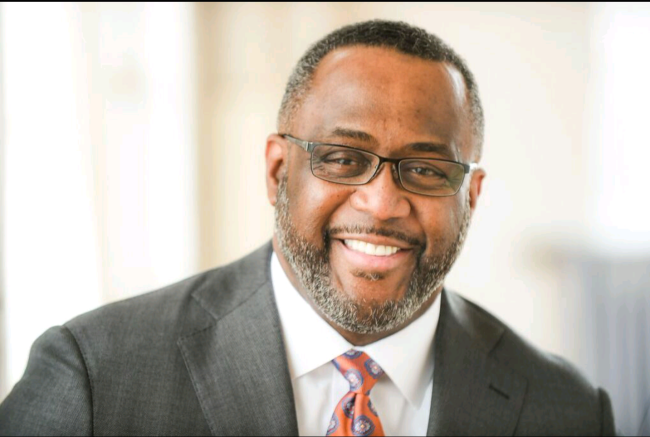 President Trump's pick to lead the White House Initiative on Historically Black Colleges and Universities fits the mold of many of the administration's key appointments.
Like many administration officials, Johnathan Holifield, a speaker and consultant named executive director of the HBCU Initiative Monday, has a track record in the private sector but practically no experience in government or with the institutions he'd be working to advance. Organizations representing historically black colleges offered tentative praise of the pick. But commentators on issues affecting minority institutions were quick to note Holifield's lack of experience working with HBCUs.
Holifield has spoken frequently on how to make innovative areas of the economy more inclusive. Speaking after his introduction at the White House Summit on Historically Black Colleges and Universities, he said HBCUs are "entrepreneurial institutions."
"I'm excited to contribute the whole of my being to this effort," he said.
Holifield's appointment ended months of waiting following Trump's signing of an executive order in February that moved the initiative from the Department of Education to the White House. Although Trump had promised historically black colleges would be "an absolute priority," no previous administration had made it to August without naming a leader of the initiative. Stakeholder groups offered muted praise for the pick.
In a statement, Johnny C. Taylor Jr., president and CEO of the Thurgood Marshall College Fund, applauded the decision to name an executive director. He also noted Holifield's 20 years of "multidisciplinary" experience in business and government.
"TMCF looks forward to continuing our productive working relationship with the White House," Taylor said.
Michael Lomax, president and CEO of the United Negro College Fund, said in a statement that the group looked forward to meeting with Holifield.
"As we have done since the start of the new administration, UNCF will seek every opportunity to present Mr. Holifield with our federal policy proposals and enlist his essential support of investments in HBCUs and, most importantly, our students," he said.
Holifield co-founded ScaleUp Partners, a consulting firm that has worked with businesses as well as colleges and universities. He's also held positions at economic development firms and served as CEO of the Urban League of Greater Cleveland. Outside of a stint as an assistant prosecutor, his work experience has been in the private and nonprofit sectors.
He has a master of education and a law degree from the University of Cincinnati, and he played football for West Virginia University and later the Cincinnati Bengals in the National Football League.
Skepticism About Appointment
Reactions among some observers of HBCU institutions verged on befuddlement.
Marybeth Gasman, director of the Penn Center for Minority Serving Institutions, said entrepreneurship and innovation are important objectives for institutions to pursue. But she also said it was important for anyone in the office to have a deep familiarity with historically black colleges and their needs.
Gasman said she was skeptical, however, that any executive director would accomplish much in this administration.
"I don't see Trump caring about HBCUs, as he has demonstrated this lack of care," she said. "I hope that Holifield does well, but I don't see anyone working with the Trump administration having autonomy or being able to make substantial important changes."
Julianne Malveaux, an author and former president of Bennett College in North Carolina, said Holifield has tremendous business acumen. But she noted that many other individuals with entrepreneurial experience have also been more engaged with historically black colleges.
"The 45th president has done little to earn the trust of the HBCU community; this appointment does not engender trust, but instead suggests a 'wait, see and hope for the best' attitude," Malveaux said.
Trump entered office with historically low approval ratings among African-Americans. His administration reached out quickly to historically black colleges, though, and consulted often with the Thurgood Marshall College Fund in particular. TMCF itself coordinated with congressional Republicans to arrange a summit of more than 100 HBCU leaders in February that culminated with the signing of the executive order -- and an oft-circulated Oval Office photo op with Trump.
But for months after that executive order, leaders of historically black institutions saw little follow-through from the administration on that early promise. And last month, negative attitudes toward the president were further enflamed by his reaction to a white supremacist rally in Charlottesville, Va. After a white nationalist drove his car into a crowd of antiracist protesters, killing one woman and injuring several others, Trump made comments suggesting "both sides" were to blame.
Groups including UNCF and TMCF last month called for a delay of the annual White House HBCU Week Conference, scheduled for this week, citing the administration's slow progress naming an executive director for the initiative or advancing any other priorities of black colleges. At the same time, some college presidents quietly indicated they wouldn't attend after Trump's comments on Charlottesville. The administration eventually agreed to a delay and turned the three-day conference into one day of meetings, including the announcement of Holifield's appointment.
The announcement did get the stamp of approval from a former leader of the HBCU initiative. Leonard Haynes, who filled that role under President George W. Bush, said Holifield has the skill set, temperament and competitive spirit to do the job well.
"We need an energetic, fresh approach," Haynes said. "His focus on economic competitiveness is basically what HBCUs need."
And while Holifield might not have significant experience working with historically black colleges, Haynes said, those institutions have sometimes hired nontraditional leaders themselves.
Representative Alma Adams, a North Carolina Democrat and co-chair of the Bipartisan HBCU Caucus, said the appointment was a "first step" in the administration's attempts to repair relationships with HBCU leaders and congressional lawmakers.
There is little measure of an executive director's success other than translating the president's support into tangible funding, said former Morehouse College President John S. Wilson, a leader of the HBCU initiative under President Obama.
"The new executive director has but one mission -- to fulfill his promise to essentially break all previous records in support of HBCUs," he said. "I wish Mr. Holifield the best in his work for HBCUs."