Campus Roiled After Fatal Shooting
A Georgia Tech police vehicle was torched and three were arrested during a protest this week.
After a Georgia Tech officer fatally shot a student Saturday, the campus has erupted over law enforcement's handling of the situation, with at least three arrested and a police cruiser set ablaze.
It was also revealed the officer who killed the student, Tyler Beck, had only served on duty for about a year and not undergone training necessary to deal with subjects with potential mental health issues.
Scout Schultz, 21, died on Sunday after being shot in the heart, family said. Schultz was the president of the student group representing lesbian, gay, bisexual, transgender and queer students and preferred "they" and "them" pronouns, having identified as nonbinary and intersex.
The Georgia Bureau of Investigation, which will review the incident, said this week that three suicide notes were found in Schultz's room. Schultz had attempted suicide before.
It also recently released audio of a 911 call in which Schultz claims someone, possibly inebriated, with a knife and gun was roaming the campus near one of the dormitories. Police confronted Schultz near that building Saturday. Schultz held what officials have called a knife but Schultz's family said was a multi-tool without any blade extended.
Multiple times officers attempt to speak with Schultz, who only responds with "shoot me," per video of the event posted online.
At one point, Schultz slowly moves toward a group of some of the officers present – someone directs Schultz to "drop it" – Schultz does not comply. Footage shows Schultz screaming and falling after a gunshot. Schultz was not carrying a gun.
Experts in previous interviews questioned why officers were not armed with Tasers. The university confirmed offices are only equipped with pepper spray.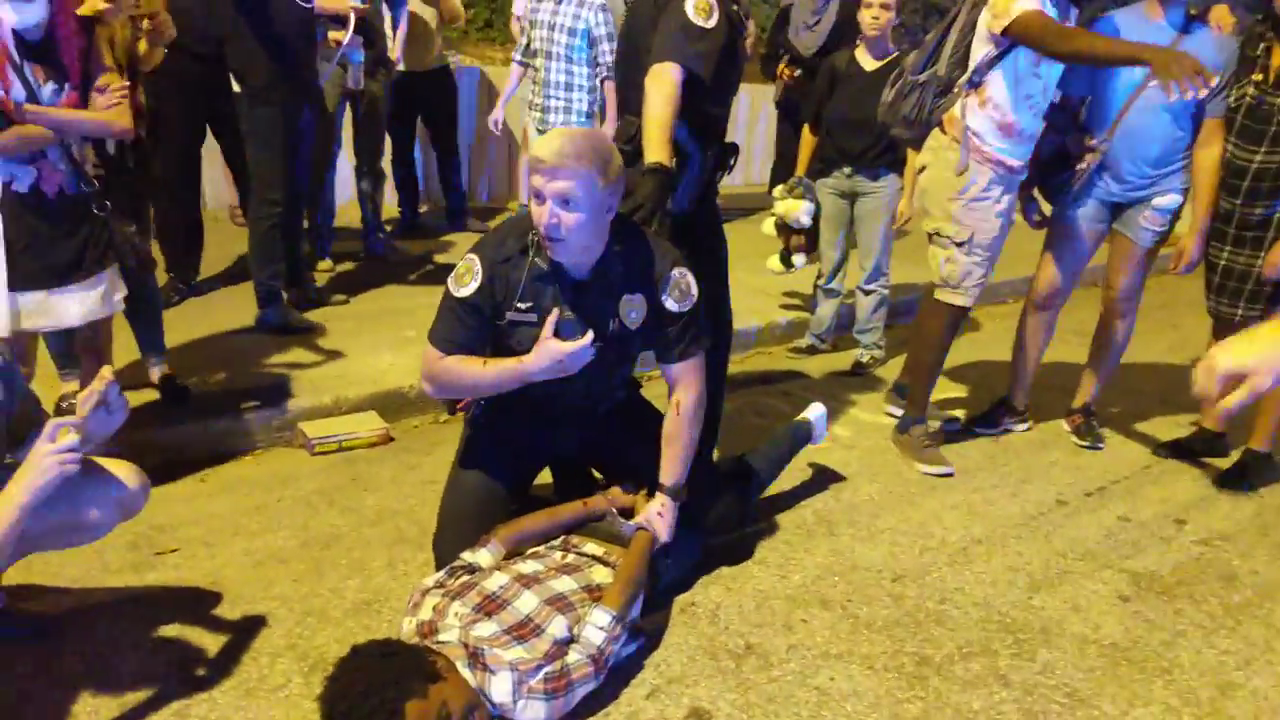 Beck has been placed on paid leave, according to the university. He served as an officer starting spring 2016. Though he participated in more than 550 hours of training in the past two years, none was in the crisis intervention preparation designed to deal with subjects with possible mental illness.
Following a candlelit vigil for Schultz on Monday, about 50 protesters marched to the Georgia Tech Police Department headquarters, according to the university. They carried a banner that read "protect LGBTQ" and were chanting.
A police car was set on fire and two officers suffered minor injuries, according to Georgia Tech. Three were arrested and charged with inciting and a riot and battery of an officer, the university said. One was a Georgia Tech student -- Cassandra Monden – the other two, Jacob Wilson and Vincent Castillenti, were not.
The Schultz family lawyer, L. Chris Stewart, published a statement to Twitter on the family's behalf, calling for peaceful protests.
"Our goal is to work diligently to make positive change at Georgia Techn in an effort to ensure a safer campus," the statement reads. "This is how we will truly honor Scout's life and legacy. Scout's family respects the rights of those who wish to voice their opposition to what they feel is an unnecessary use of force, but they ask that it be done respectfully."
Earlier, the family had said via the lawyer that Schultz's "cry for help … was met with a bullet."
Georgia Tech President G.P. "Bud" Peterson in a statement Tuesday urged the campus not to draw conclusions too quickly until the Georgia bureau concluded its investigation:
"For now, we are focusing on mourning the loss and remembering Scout's many contributions to the Georgia Tech community over the past four years. Last night's vigil at the Campanile that was coordinated by the Pride Alliance and the Progressive Student Alliance was attended by almost 500 community members including Scout's family. Unfortunately, they were also joined by several dozen others intent on creating a disturbance and inciting violence. We believe many of them were not part of our Georgia Tech community, but rather outside agitators intent on disrupting the event. They certainly did not honor Scout's memory nor represent our values by doing so."
Rest assured that our campus community is responding to these recent events in a positive and constructive manner, in spite of the many challenges they represent. I am grateful for our students, faculty, staff, campus leaders, and for our campus police. The response by our students to last night's events is particularly heartwarming – they were on Facebook and Twitter through the night trying to find ways to show support and to say this is not who we are."
Read more by
You may also be interested in...
Today's News from Inside Higher Ed
Inside Higher Ed's Quick Takes
What Others Are Reading
Past:
Day
Week
Month
Year