You have /5 articles left.
Sign up for a free account or log in.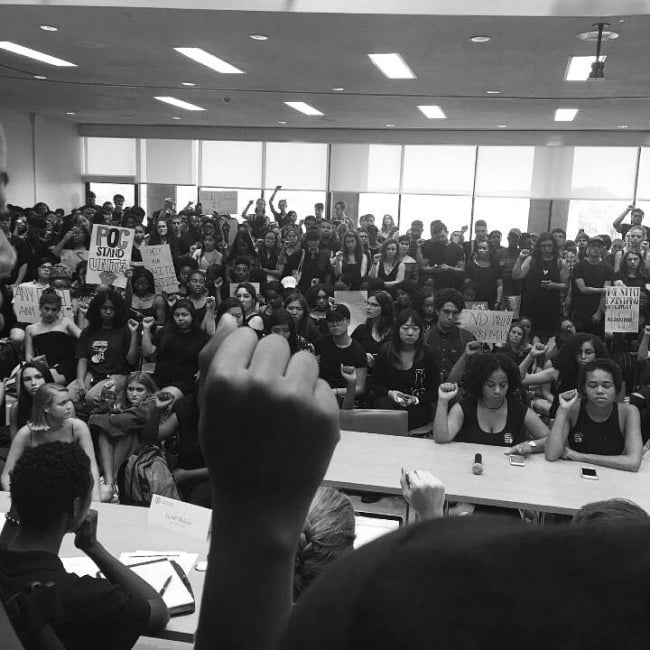 This article contains explicit and potentially offensive terms that are essential to reporting on this situation.
The attack that left a black Cornell University student bloodied last week may be the most severe racially charged incident on college campuses in the early weeks of the academic year, but it is far from the only one.
Experts say these apparently racially motivated events are nothing new in academe, though they've gained more visibility in recent years with the advent of social media, forcing administrators in an age of transparency to act more quickly and aggressively.
At Cornell, the Black Students United group occupied Willard Straight Hall for several hours Wednesday, harking back to another protest in the 1960s in which black students overran the student union, though in that instance they were armed with guns.
Black Students United were protesting the recent assault of a black student; the victim returned home to find a group of other students arguing with his housemate. When he tried to intervene, most of the students in the group began punching him and using a racial slur.
The university is investigating the Psi Upsilon fraternity's connection to the attack. It was suspended last year after its president was accused of sexual assault, but the university withdrew its recognition after the fraternity threw a party during the probationary period. Cornell announced this week that Psi Upsilon intended to close the chapter after the allegations.
One student, John Greenwood, 19, was arrested and charged with third-degree assault and second-degree aggravated harassment. He has apologized for using "unacceptable and inappropriate" language but denied any physical fighting.
A roundup of some of the other reported incidents within the last week or so:
Generally, the responses of universities have been to denounce these actions and begin police investigations. At Cornell, President Martha E. Pollack convened a task force to examine campus bigotry and directed campus Greek organizations to develop new trainings around diversity.
"For the vast majority of Cornellians who abhor these recent events, our community needs your help," Pollack said in a statement. "Please speak out against injustice, racism and bigotry and reach out to support one another. Ours must be a community grounded in mutual respect and kindness."
The Southern Poverty Law Center, which tracks hate crimes nationwide, documented a total of 1,863 hate-related incidents between Nov. 9 and March 31, of which 330 occurred on college campuses.
The center has previously reported that many instances of hate or bias involve fliers being hung on college campuses, and these primarily come from outside organizations, not students. These hate groups have targeted college campuses and run rampant on them, said Lecia Brooks, the center's outreach director.
White nationalist or alt-right speakers, such as Richard Spencer, who helped found the movement, have also pursued an extensive campaign of provocative speeches at colleges, many of which have inflamed campuses by drawing sizable and sometimes violent protests.
"When an alt-right personality is scheduled to speak on campus, the most effective course of action is to deprive the speaker of the thing he or she wants most -- spectacle," the center wrote in its guide on the alt-right at colleges. "Alt-right personalities know their cause is helped by news footage of large jeering crowds, heated confrontations and outright violence at their events. It allows them to play the victim and gives them a larger platform for their racist message."
Shaun R. Harper, executive director of the University of Southern California's Center on Race and Equity, has studied campus climate and race issues on campuses for a decade or so. He said his extensive interviews with students reveal that these issues have persisted for some time but have simply come to light because of the new ways society communicates.
Of the nearly 50 campuses he's visited, on only one did he not find a black student who had been called a "nigger" by some campus community member, sometimes even a professor, he said.
"The kind of things that we're reading online now and seeing in tweets and in Facebook posts are consistently the same kinds of things I've been hearing for a decade in focus group interviews and our climate studies," Harper said, adding that the election of President Trump does seem to have emboldened white supremacists.
Students, professors and staff are perhaps more aware of these incidents since the election and more likely to report them, said Brooks.
Harper expressed frustration that institutions have commissioned him and his groups in the past to assess the campus trends on race but the leaders have sometimes done little with the data he presents. Harper said that only a handful of universities have shared the full results of his investigations on their campuses, an act he called "responsible," but not courageous.
Sometimes, he said, these issues are addressed quietly, or administrators attempt to persuade students not to discuss them widely. Instead, campus leaders should take strong stances -- and not try to remove the element of race from racist incidents, Harper said.
He criticized University of Virginia President Teresa Sullivan for her early "raceless" response -- that did not mention by name the groups involved -- to plans by Spencer and other white supremacists to invade the campus in August. Those white nationalists marched at UVA and in the city of Charlottesville, Va., with bloody protests leaving one woman dead.
Following Charlottesville, anxiety abounded among colleges, Brooks said.
"College presidents hoping that this wouldn't happen on their campuses are quickly learning they need to be prepared and respond strongly," Brooks said, urging institutional leaders not to minimize the trauma that these incidents cause.
Harper called it unfair that the students who have previously endured this treatment have not had their stories shared as broadly.
"It's unfair to those students that what they were experiencing was somehow less racist, less impactful, less hazardous to their academic health and personal wellness," he said.
Brooks pointed out that the race-related protests on the University of Missouri campus, perhaps one of the most intense display of activism, resulted in enrollment drops for the institution and the exit of the president. Should colleges not prove that they have committed to solving these problems, they could end up like Mizzou, she said.
"Students have a choice -- they don't have to attend an institution where administrators are not supportive or don't take a strong enough stance," Brooks said. "Colleges and universities have everything to lose."