You have /5 articles left.
Sign up for a free account or log in.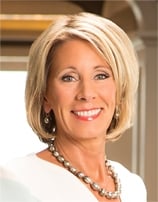 Education Secretary Betsy DeVos issued guidance Friday granting colleges new discretion in how they comply with requirements under federal Title IX law to resolve and adjudicate allegations of sexual misconduct on campus.
DeVos at the same time rescinded 2011 and 2014 guidelines issued by the Obama administration that survivor advocates say have been critical in pushing for new protections, including guarantees that victims of assault are not denied access to an education. The department's Office for Civil Rights will use the new guidance document to assess institutions' compliance with Title IX until a promised federal regulation dealing with campus sexual misconduct is finalized.
The new guidance from the department grants colleges the ability to set their own evidentiary standard for misconduct findings, to pursue informal resolutions such as mediation and to establish an appeals process for disciplinary sanctions. It also includes language dealing with protections for accused students.
"This interim guidance will help schools as they work to combat sexual misconduct and will treat all students fairly," DeVos said in a written statement. "Schools must continue to confront these horrific crimes and behaviors head-on. There will be no more sweeping them under the rug. But the process also must be fair and impartial, giving everyone more confidence in its outcomes."
The 2011 Obama administration guidance, frequently referred to as the Dear Colleague letter, became a focus of ongoing controversy over federal Title IX policy in recent years, even though it drew largely on already existing guidelines and federal law. Congressional Republicans as well as groups that advocated for more "due process" protections for accused students argued that the administration overreached and had issued new mandates through the guidance process without appropriate formal input.
Advocates for survivors of sexual assault called the document -- and the decision to rescind the Obama guidance -- a betrayal of protections long fought for on campuses. And they said language issued by the department tips the scales toward protecting the rights of accused students, rather than victims, noting that sexual misconduct only in recent years became recognized as a major issue to be addressed in higher education.
Some higher education organizations were receptive to the additional flexibility in resolving misconduct complaints, however. And longtime critics of the Dear Colleague letter praised the secretary's focus on fairness for accused students.
Colleges and universities are unlikely to undertake major changes to existing policies after the release of the new federal guidelines, at least immediately. A binding regulation should be finalized sometime in the next year to 18 months. But advocates said the document released Friday rolls back clear protections and removes clarification colleges themselves had asked for to better fulfill their responsibilities under Title IX.
"It sets up a system where schools can, with the consent of the department, stack the deck against us in a way that is just profoundly unfair," said Alyssa Peterson, a policy and advocacy coordinator with Know Your IX, a group that works to end sexual violence on campuses.
Among the notable changes from previous guidelines:
Colleges can apply either a preponderance of evidence standard or a clear and convincing evidence standard to reach findings about alleged misconduct. Previous guidance from the Obama administration stated clearly that institutions should use the preponderance standard, which sets a lower burden or proof for findings of misconduct.
The department says there is "no fixed time frame" under which a school must complete a Title IX investigation. The 2011 guidance stated that a "typical investigation" takes about 60 days after a complaint is made but said more complex cases could take longer.
Campuses may opt to set an appeals process policy that allows appeals by both parties or by accused students only.
Where colleges determine it is appropriate, the new guidelines say they may facilitate an "informal resolution" such as mediation.
Reactions to the New Guidance
The guidance released Friday said campus administrators have an obligation to respond when they know or should reasonably know of incidents of sexual misconduct, whether or not a student files a complaint. And it clarifies that existing voluntary resolution agreements reached between the Office for Civil Rights and institutions remain in effect.
"When the government sprang its 2011 letter on colleges and students without warning, it made it impossible for campuses to serve the needs of victims while also respecting the rights of the accused," Robert Shibley, executive director of the Foundation for Individual Rights in Education, a group that's been highly critical of Obama administration policies on Title IX, said in a written statement. "With the end of this destructive policy, we finally have the opportunity to get it right."
While the 2011 Dear Colleague letter didn't go through a formal comment process, it was preceded by discussions and meetings with students, parents and administrators, including multiple visits to campuses. (Survivor advocates have noted no such public engagement preceded the rescinding of the DCL or the release of the new guidance Friday.) It also drew heavily on 2001 guidance on Title IX that did go through a formal notice and comment period, advocates say.
DeVos initially offered no comment on the 2011 letter when discussing federal Title IX policy this summer, even as she said current federal policy should be improved. In a one-day Title IX summit in July that included a meeting with university presidents and campus lawyers, no higher education institutions called for the department to rescind the letter. But in a speech earlier this month, the secretary blasted Obama administration policies and said the guidance had created a "failed system" that encouraged violations of students' rights. Proponents of the Obama-era guidance noted that it made clear that both parties involved in campus proceedings should get equal treatment.
And they say language in the interim guidance issued by DeVos could make the process less equitable for victims of sexual misconduct. Survivor advocates, for example, point to the directions regarding appeals as allowing a system less fair to victims. They say a mention of cross examination doesn't clarify how it would be handled appropriately and would potentially open the possibility of campuses allowing victims to be questioned directly by their alleged assailants and worry that administrators could push victims into mediation when it's not in their best interest. And although colleges rarely completed investigations within the 60 day timeframe suggested in previous guidance, advocates say the Q&A includes no benchmark to push schools to act more quickly to resolve complaints of misconduct. 
"This is all a roll back," Peterson said. "There's nothing they did that affirmatively advanced our rights." 
Naomi Shatz, a lawyer with the firm Zalkind Duncan and Bernstein, who represents students in campus disciplinary proceedings, said the new instructions from the department do make meaningful clarifications spelling out that both parties are entitled to see and respond to investigative findings before a decision is reached on alleged misconduct. However, she said she didn't expect major changes to campus policies in response to the guidance document.
"They're not going to turn on a dime and revamp everything based on nonbinding recommendations, especially when they know there are going to be binding regulations coming out," Shatz said.
Higher education groups made similar comments Friday, even as they said colleges would have serious work to do to determine the effects of the new guidance document. Terry Hartle, senior vice president for government and public affairs at the American Council on Education, said the new guidelines provide some additional flexibility to schools that were not there before. But the department's decision to rescind Obama administration guidance wouldn't affect the commitment of colleges to address sexual assault, he said.
"There are some things where institutions will have to take a careful look at their own practices relative to what the new guidance requires," he said. "The default setting on this for most institutions will continue to be to do what we have been doing."
Campus administrators handling Title IX investigations said they do not anticipate altering their processes following the new directive.
"It won't change our response to sexual misconduct; we're not going to change our current policy in any way and we're going to await formal guidance from the department," said Howard Kallem, Duke University's director for Title IX compliance. "We're focused on making sure Duke continues to have a fair and balanced and transparent process, and we think we do."
Crystal C. Coombes, the senior deputy Title IX coordinator at the University of South Florida, said she was pleasantly surprised by the department's action.
This changes little for her institution, Coombes said, and seems to hark back instead to Title IX guidance issued in 2001. She said some colleges were not abiding by the rules the 2001 guidance established, and that the 2011 Dear Colleague letter served as a "stronger fist" for some of those older requirements. Most institutions operate far beyond the minimum standards required by the 2011 guidance, she said.
Coombes complimented the removal of the 60-day window for investigations, saying it was "very, very rare" that the entire process could be wrapped up in two months.
While the new information does allow colleges to choose between two standards of evidence, Coombes said the preponderance standard is preferred because "clear and convincing" comes too close to a judicial model that does not fit in a university setting.
Eric Butler, the Title IX coordinator at the University of Denver, agreed on the evidentiary standard, saying that preponderance should remain.
"This is not a criminal proceeding, even though people like to compare it to criminal proceedings," Butler said. "The government should have to hop through every possible hoop to send someone to jail. Part of this is controlling its community; a student has to agree to certain standards of conduct, and sexual misconduct is one of them."
The department's communications seemed to emphasize only the rights of the accused, said Butler, highlighting that universities can pick whether to extend appeal rights to both parties -- or just the accused.
Amy Foerster, general counsel at Bucknell University, said there is a perception among some that the steps taken by DeVos were necessitated by the fact that colleges and universities have been getting Title IX wrong.
"I simply don't think that's the case as a general rule," she said. "Colleges and universities have been working really hard over the last several years to ensure that they have processes that provide a level of fundamental fairness for all students involved in these really difficult cases."
Proponents of the Obama guidelines say many institutions have made progress in recent years, while others still have significant work to do. Alexandra Brodsky, a lawyer and fellow at the National Women's Law Center, said many colleges will read DeVos's actions as a signal to slow down their efforts to improve protections for students.
"I also worry about schools that have been and continue to be hostile, and have really chafed at the department's calls to respect students' rights," she said. "I think the overwhelming thing we have heard from schools is that they wanted guidance, they wanted help, they wanted clarity."
DeVos's decision will make the work of those colleges harder, Brodsky said.
Catherine Lhamon, the assistant secretary for civil rights at the department during the Obama administration, said DeVos's action showed that the federal government is no longer looking out for students.
"The Trump administration's new guidance is dangerously silent on critical parts of Title IX. This backward step invites colleges to once again sweep sexual violence under the rug," she said in a written statement. "Students deserve better, the law demands better, our college and university community must continue to commit to better, and we as a country must demand more from the U.S. Department of Education."
-- Jeremy Bauer-Wolf contributed to this article.