You have /5 articles left.
Sign up for a free account or log in.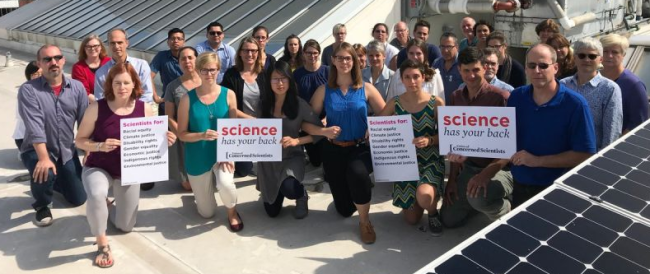 It's unclear if college football players this Saturday will follow the lead of players across the National Football League who protested by kneeling or locking arms during the national anthem before games Sunday and Monday. But this week has already seen multiple instances of students, faculty and staff taking a knee in an effort to replicate former San Francisco 49ers quarterback Colin Kaepernick's original protest, which started last year and is aimed at protesting racism and police brutality.
While those involved in college athletics might face obstacles -- logistical or otherwise -- if they're seeking to protest, students, faculty and staff members have taken the protest off the field since Kaepernick's original protest caught on among NFL players and other professional athletes. Though other NFL players, as well as members of the WNBA's Indiana Fever and Phoenix Mercury, joined Kaepernick last year, the protests did not previously occur on the wide scale seen Sunday, after Trump on Twitter demanded that players who protested during the anthem be fired.
Sunday's protests were one of the inspirations for Dana Greene Jr., a graduate student at Michigan, to take a knee in front of an American flag on campus from 7 a.m. Monday until 3:30 a.m. Tuesday, in a protest that drew hundreds of others throughout the day who knelt in solidarity with him.
"My knees feel like crap, my body hurts," he told Inside Higher Ed Tuesday afternoon. "You would think I'd be dead exhausted, and I was, but I also feel energized."
Greene said he was protesting against specific instances of racist graffiti and anti-Muslim rhetoric on campus, but also against injustice against people from marginalized or minority groups.
Greene said he felt supported on campus, though not everyone agreed with him. He noted a conversation he had while kneeling with a student who thought his protest was disrespectful since it was in front of the flag. Although they didn't come to a consensus, Greene said he was happy they could talk about it respectfully, and that the student wanted to learn why he was protesting.
"The idea of America is a great one, and I believe in it, but in our current state of affairs, we're not living up to it," Greene said. "For the first time in my life, I feel like we're taking a step back. We can do better."
The controversy around protesting by taking a knee in front of the American flag or during the national anthem, Greene said, needs to be unpacked as well.
"If we're more upset about how people are protesting and not why they're protesting, then that's part of the problem," he said.
As Greene woke up Tuesday, scientists and researchers at Michigan and across the country were taking a knee as part of a separate but similar protest. The hashtag #ScientistsTakeAKnee circulated on social media as scientists posted pictures of themselves and their colleagues protesting and kneeling in solidarity with people of color.
Users on Twitter took the opportunity to speak out not only against racism and police brutality, but also racial disparities in STEM fields.
Another Kaepernick-inspired protest is scheduled today, this time at Cornell University. At 12:30 p.m., professors are planning to kneel on one of the campus quads while holding a moment of silence that is as long as the typical playing of the national anthem.
"It was very galvanizing and encouraging to see the solidarity [of NFL players Sunday] emerge at a time when a lot of these black athletes have paid heavily for their free speech," said Tracy McNulty, a French and comparative literature professor who is helping organize the protest along with the Cornell Coalition for Inclusive Democracy, a faculty group originally set up after the election to lobby and protest for the protection of undocumented students.
"They had really been risking their careers for a long time to make a statement that should be a value for everyone," she said. "But what struck me as a professor … was that what Kaepernick was really insisting on all along was not racist treatment that he had personally experienced, but rather institutional and systemic racism."
McNulty said that the Cornell protest, which will also feature a few speakers before the moment of silence, hopes to show solidarity with the student group Black Students United, which has advocated for universitywide diversity requirements and support for black students and other students of color.
"One concern that has been raised is, 'Is this just going to be kind of an easy, symbolic gesture? Or is it really going to be attached to some effort to create change here?'" she said. "That's obviously a real concern. We still feel there is a benefit to be gained from taking a moment where people are talking about these national events, and directing that energy."
On the Field
Though students and faculty have taken a knee on campuses across the country over the past few days, the reason college sports teams haven't taken up the protest widely often comes down to logistics.
Many college teams remain in the locker room during the national anthem, which they have done for many seasons. (The NFL itself didn't mandate players to be on the field for the anthem until 2009, before which players were often in the locker room. The teams from Pittsburgh, Seattle and Tennessee opted to stay off the field during "The Star-Spangled Banner" Sunday.)
But even some of the college teams who do have their teams on the field while the band plays the anthem haven't seen any demonstrations, this year or last year.
"I visited with a few players and listened to the pulse of the team," Ohio State University head coach Urban Meyer said at his most recent press conference. "If it needs to be addressed, it will."
Meyer said that the team, which hasn't seen any notable protests during the anthem over the last two seasons, has done a good job of fostering respect regarding players' sometimes opposite views on the matter.
Rutgers University hasn't been the site of any noted protests, either, though head coach Chris Ash said that players could, in theory, protest during the national anthem if they so chose.
"We are a team that goes and takes the field for the national anthem. The college has that choice," Ash said during a press conference Monday. "We have not had any issues in regards to demonstrating, so to speak, during the national anthem. Don't anticipate any. Again … we have talked about it -- it's not something that we mandate, [that] if you're going to be on this team, this is the way it's going to be. Because we do value everyone's differences and everyone's beliefs."
An athletics spokesman at Boston College, which also has football players on the field for the national anthem but has yet to have any protests, conveyed a sentiment similar to Ash's.
"We set up our football timeline to include teams on the field, and we are out for the anthem," spokesman Jason Baum said via email. "There are no rules about protesting during the anthem."
That isn't to say there haven't been any examples of protests in the past. Last year the University of Michigan and Michigan State University made news when, during the same weekend, some football players raised their fists during the anthem before respective home games.
"To me, your patriotism, your faith are sort of the same -- that's your choice. And it's influenced by what you've experienced in this world. So whether somebody salutes or puts a hand over their heart, everybody has a choice to make," Michigan State head coach Mark Dantonio said at the time.
On the other hand, East Carolina University mandated last year that marching band members had to stand during the playing of the national anthem. The order came after some members took a knee on the field while performing.
Colorado Christian University, a private institution in Lakewood, Colo., reiterated its stance against protests during the anthem Tuesday, underscoring the partisan divide that surrounds Kaepernick and his actions.
"The racial issues facing this country are serious and racial reconciliation should be a priority for all Americans. Unfortunately, refusing to stand during the national anthem dilutes the message of the protesters and portrays disrespect towards our country, all who are serving it and our veterans," Jeff Hunt, director of the campus's conservative-leaning think tank, said in a statement. "I am proud that Colorado Christian University will not take part in these disrespectful protests."