You have /5 articles left.
Sign up for a free account or log in.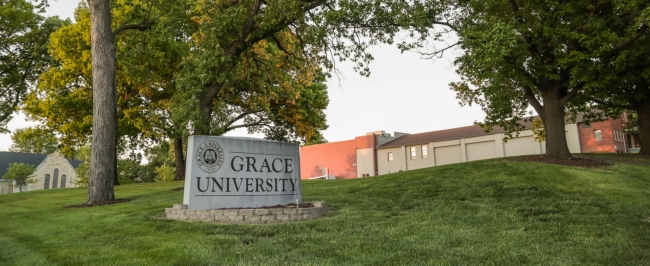 Grace University, in Omaha, Neb., will close at the end of the current academic year, it said Tuesday, shortly after a small incoming freshman class forced it to re-evaluate plans to sell its campus and relocate about 30 miles away.
Leaders at the nondenominational Christian university, which enrolls fewer than 300 students, said they had exhausted options for addressing persistent financial challenges. By deciding on a closure plan now, they hope to give students and faculty and staff members enough time to plan for the transition and complete the current academic year successfully.
"The economic difficulties Grace has encountered over the past several years were due mainly to declining enrollment while initiatives to grow enrollment were unsuccessful," wrote Carlon Tschetter, chair of the Grace Board of Trustees, in an announcement of the closure decision. "The financial impact of those issues reached a level whereby the amount of cash required to continue operations beyond the current year could not be reasonably attained without putting the university at significant risk."
Grace had been running substantial deficits in recent years. During the fiscal year ending in June 2015, it lost nearly $2.1 million on revenue of $11.4 million, according to its most recent publicly available federal tax form. The previous year, it lost almost $1.1 million on revenue of $12.3 million. In June 2016 it attempted to close deficits by slashing salaries by 10 percent while increasing tuition by 7 percent, cutting some scholarships for students and eliminating the baseball and softball teams.
The college eked out a small operating surplus in 2016-17, according to William L. Bauhard, its chief executive officer. But this fall, the freshman class numbered 33 students. Coupled with a large graduating class last spring, the small freshman class dropped overall enrollment to 293, including undergraduates, graduate students and students enrolled in adult degree-completion programs. That's about 100 fewer students than last year.
"It really was the freshman class this year, but also last year's freshman class," Bauhard said. "Last year's freshman class was 52. This year's was 33. That's 85 in the two years, and as you well know, it takes four years for a freshman class to make their way through."
Bauhard modeled different financial scenarios before the decision to close was made.
"I ran several different what-ifs," he said. "We would have needed 100 or 120 new students each of the next three years to get to the point where break-even would have occurred in year four."
Leaders decided the university did not have the resources remaining to survive. Its endowment is valued at about $2.4 million.
Grace's decision to close comes as many small, tuition-dependent colleges and universities struggle in the face of persistent financial and enrollment headwinds. Several other small institutions have been re-evaluating their futures recently. In August, Marygrove College in Detroit announced it will shut down undergraduate programs and only offer master's degree programs as of January. Later that month talks to have Wheelock College merge into Boston University were revealed.
The market of prospective Grace students is declining, Bauhard said. The university's strongest programs include teacher education and psychology but not many of the programs currently most in demand with students.
"We have no science, technology, engineering or math," Bauhard said. "That, again, was a factor in why students would tell us they were not coming here."
Nonetheless, Grace had been attempting to chart a path forward by leveraging its land assets. The university's property values had jumped significantly in recent years, Bauhard wrote in January. With the university facing significant deferred maintenance on its buildings and the city of Omaha planning to develop the area around campus, trustees decided to sell Grace's buildings and land. They reached a deal to sell land to the Omaha Public Schools that would allow the university to use its existing campus until the end of May 2018. Leaders then planned to relocate the university to property in Blair, Neb., that was previously home to the defunct Dana College.
Property sales would have provided bridge funding allowing the university to pay down debt and try to revamp itself in a new location, where it would lease space. Grace had about $7.5 million in debt before property sales took place, according to Bauhard.
The property sales are still under way. The university's main campus consists of four parcels being sold -- one to the Omaha Public Schools and three others to different buyers and developers. Two of the parcels have already been sold. In total, the sales are expected to be worth about $9.5 million.
"It turned out that even with the bridge, the time it would take to get to where we needed to be, it was too risky for the university," Bauhard said. "The thing we wanted to avoid is an emergency shutdown."
The university is preparing a teach-out plan for students and will release additional details after it is approved by the Higher Learning Commission and other regulators. HLC placed Grace on probation this summer, labeling it as being in a position of financial distress.
About 20 full-time faculty members, nearly 60 adjuncts and almost 40 staff members work for the university. No severance plan is in place at this time. Any severance will depend on how much cash is available at the end of the fiscal year, Bauhard said.
Commenters on social media expressed sadness at the university's pending closure.
"So thankful for my time here, for the life change I experienced here, [the] healing I experienced here," one wrote on Facebook. "So blessed especially to learn under the amazing professors who always gave above and beyond. So much time spent in these walls for my master's and undergrad …sad my kids will never even have the chance to attend this school."
Others noted the affects will be felt outside Omaha.
"And the old buildings at Dana College in Blair draw a heavy sigh," wrote another commenter.