You have /5 articles left.
Sign up for a free account or log in.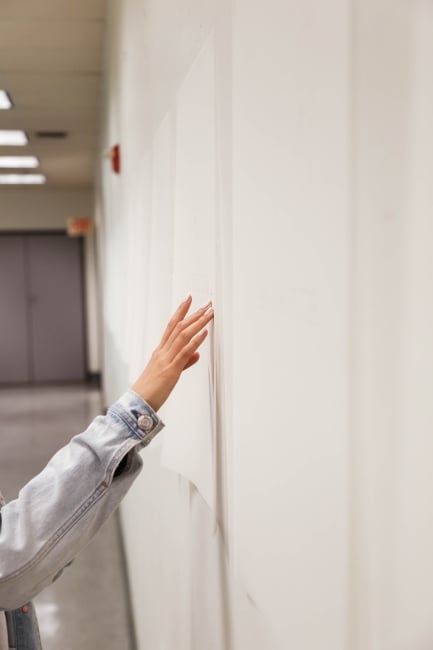 A student's art exhibit at University of Pennsylvania has stirred the campus after some accused her of exploiting suicide for the project.
Complicating matters is Penn's history with student suicide -- the university has dealt with a series of high-profile cases in the last couple of years, and one suicide was Aug. 31, leaving some students raw and sensitive to the subject.
In a hallway of the university's Charles Addams Fine Arts Hall hang posters with barely discernible names etched onto the sheets of Mylar. Only when they're raised, lifted by hand or with the breeze of passersby do the sheets cast a shadow of the name on the wall underneath -- 14 Penn students who ended their lives over the last five or so years.
Senior Kate Jeon wrote in a statement accompanying her work for an advanced typography class that the art serves as a metaphor for the invisible battle of depression. Jeon couldn't be reached for further comment, but wrote, "With each passing, are we taking time to consider how to prevent such a tragedy from occurring again? Every day, we ask each other, 'How are you?' and are content with the mindless answer, 'I'm good.' Are we asking that question out of habit or from a genuine curiosity to see how the other person is doing?"
Jeon wanted to set up her project outdoors but was denied permission to do so by university officials, said her instructor, David Comberg, a senior lecturer. He said the rejection by the institution to install it outside becomes part of the backstory of the project -- he lets students negotiate such details. He said the officials were "professional" to deal with, though they made it clear they wouldn't support Jeon's initial plans.
Administrators did not respond to repeated requests for comment, but Comberg said the nature of Jeon's work concerned and offended some on campus.
Comberg said that although some criticized it for manipulating the campus's grief, he still supports Jeon's work.
"That somehow she was careless in using in the names the way she did, well, I still stand by her project, despite that it is offensive to some people. And we're mindful of the fact it might trigger somebody, but this is important, this is an art project, a design project," he said. "We felt that it was an expression, quite touching and sensitive, not unlike the names listed at memorial sites, like at the Sept. 11 museum."
Comberg has assigned this project for four years. Students pick some sort of issue -- the perpetual speediness at which society moves, rape, sexuality in media -- and illustrate it. This is the first time a piece has received such great criticism.
At one point, someone printed out responses to the exhibit on sheets of paper and placed them right under the posters -- in big, bold capitals, one read, "DO NOT APPROPRIATE COLLECTIVE GRIEF FOR YOUR ART CLASS."
Jeon wrote in a comment on the student-run news website, The Daily Pennsylvanian, "So cool to see people engaging with it."
As demonstrated in the exhibit, Penn has seen a number of students die by suicide in recent years.
Nicholas Moya, a former president of the Sigma Alpha Mu fraternity, took his life on Aug. 31. His fraternity wrote on Facebook that he "embodied the main [tenets] of our brotherhood." The Moya family requested donations to the Kyle Ambrogi Foundation, a group focused on promoting awareness of depression and suicide prevention and that provides scholarships to young athletes.
Another student, Madison Holleran, died in 2014 -- the track athlete was the subject of a book, What Made Maddy Run: The Secret Struggles and Tragic Death of an All-American Teen, by an ESPN columnist that explored the pressures of attending an elite institution such as Penn.
Such displays can walk a line between honoring suicide victims and glorifying the practice, said Lisa Adams Somerlot, the director of counseling at the University of West Georgia and the president of the American College Counseling Association.
Adams Somerlot said she personally found little issue with the project as it was described to her -- she likened it to the campaign in which empty backpacks are placed in well-trafficked area of campus to represent student lives lost to suicide, an exhibition endorsed by many suicide-awareness groups, she said.
Penn could have embraced Jeon's display and used it to open up a conversation and programming around suicide -- a committee of student affairs representatives, administrators and her professor could have benefited the artist. She did note there are potential privacy issues with an institution publicly discussing late students who may have had mental-health problems.
She acknowledged that a fear is the contagion phenomenon -- studies have shown publicizing details of suicide can increase their number -- but that clamming up about the problem also can't be a solution.
"I don't know what's worse -- is contagion worse, or is it worse to not talk about it?" Adams Somerlot said. "This project may be a way to get at that. Shoving the project away in a back hallway is maybe not the way to do it."
The National Suicide Prevention Lifeline is a free, confidential 24-7 service that can provide people in suicidal crisis or emotional distress, or those around them, with support, information and local resources. 1-800-273-TALK (8255).