You have /5 articles left.
Sign up for a free account or log in.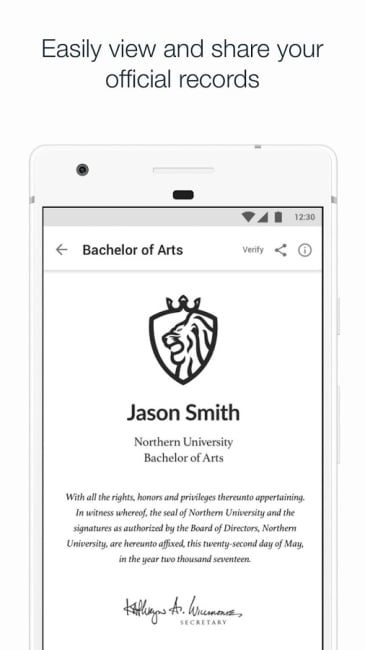 The Massachusetts Institute of Technology is offering some students the option to be awarded tamper-free digital degree certificates when they graduate, in partnership with Learning Machine. Selected students can now choose to download a digital version of their degree certificate to their smartphones when they graduate, in addition to receiving a paper diploma.
Using a free, open-source app called Blockcerts Wallet, students can quickly access a digital diploma that can be shared on social media and verified by employers to ensure its authenticity. The digital credential is protected using block-chain technology. The block chain is a public ledger that offers a secure way of making and recording transactions, and is best known as the underlying technology of digital currency Bitcoin.
A news release Tuesday described how MIT has been thinking about using block-chain technology to secure digital credentials for the past two years. In 2015 Philipp Schmidt, the director of learning innovation at the MIT media lab, began issuing nonacademic digital credentials to his team, but he did not have a good way of managing these credentials digitally.
In collaboration with Learning Machine, Schmidt and his team began to develop an open-source tool kit, called Blockcerts, that any college can use to issue credentials using block-chain technology. With the addition of the Blockcerts Wallet app, this information can be encrypted, and students can prove ownership of their diploma through the generation of a unique numerical identifier.
The technology means that students can quickly share their virtual certificates with potential employers without involving an intermediary. Third parties can verify the legitimacy of the diploma by pasting the URL of the certificate into an MIT-hosted portal. This portal can instantly verify the legitimacy of the certificate, negating the notarization step often required in the verification of paper certificates.
Chris Jagers, CEO of Learning Machine, said that many of today's students expect to be able to just send digital copies of their academic credentials to employers and institutions, but that until now there wasn't good technology to support this. "We heard of students trying to Snapchat their grades to admissions; they didn't understand why they couldn't just text a picture," said Jagers. "It should be that easy to share records, and this generation of digital natives expects that. But before this technology came along, this wasn't possible."
Mary Callahan, university registrar and senior associate dean at MIT, said that a key motivation behind the pilot was to "empower" students to take greater ownership of their academic qualifications. She said the technology enables students to share their achievements with whomever they wish in a way that is secure, verifiable and efficient. "I think it's got real potential," said Callahan. "We wanted to lead the way, and we expect others to follow."
The first cohort of 111 students who were able to take part in the pilot graduated this summer, with 43 choosing to take part. Callahan said that potentially all students graduating in February 2018 would be given the digital diploma option. Asked whether she thought this could one day replace paper, Callahan did not rule it out but said that the change would take time.
Aside from convenience for students, the technology also tackles another issue facing universities -- fake degrees. "There are a lot of people who pretend to graduate from MIT with fake diplomas," said Jagers. "This provides a format that people can't fake."
Callahan confirmed that verifying authenticity was an important aspect of the technology for the university, which she said "definitely gets its fair share" of fraudsters.
While some students may struggle to understand the technology behind the app, understanding how the block chain works is not necessary to use it, said Jagers. He noted that there has been strong interest in the technology from dozens of academic institutions, as well as companies and governments. The University of Melbourne is already piloting digital diplomas with the app.
Though some companies are looking to sell their block chain-based products, Jagers said that keeping the Blockcerts app and tool kit free and open source is important. "If everyone is doing this in a proprietary way, then the records won't be universally verifiable. The whole point is to create records that don't have any dependence on an issuer or vendor."
While MIT may be among the first institutions in the U.S. to use block-chain technology to award digital degree certificates, Thomas Black, assistant vice provost and university registrar at Johns Hopkins University, said that other institutions are experimenting. He noted that his institution was also looking to use block-chain technology to award degrees, but he would be taking a different approach than MIT.
Instead of working with third parties, Johns Hopkins is building its own system and creating a private ledger -- rather than using Bitcoin's public one, like MIT. "Universities are very protective of their authority to certify learning. I don't know that we need to have this public ledger approach," he said. "You can use block-chain technology very nicely by establishing a private ledger."
Black noted that many institutions already use digital signing services to verify the authenticity of their PDF documents through Adobe. Companies such as Parchment and Paradigm also offer verified digital versions of diplomas, said Black. "The concept of digital signatures is nothing new," he said. "But perhaps universities could start to replace Adobe and others in these roles."