You have /5 articles left.
Sign up for a free account or log in.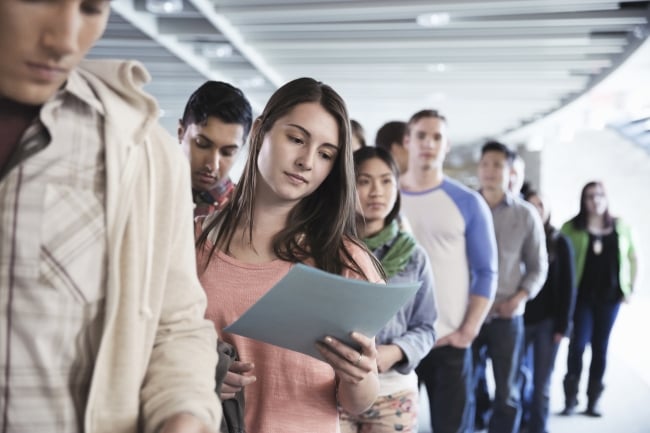 Student borrowers have filed tens of thousands of additional applications for discharge of student debt since the Trump administration last updated Congress over the summer.
But the Department of Education has yet to issue any new resolutions of those claims, known as borrower-defense applications. And while borrowers wait for a ruling on their claims, there is an ongoing debate within the department over whether it could grant partial relief to some applicants -- and on what basis it would determine the proper amount of relief for those borrowers.
Borrowers are allowed to seek discharge of their federal student loans if they were misled by their college or university, or if the institution violated certain state laws. The option was little used before the collapse of the for-profit Corinthian Colleges chain in 2015 and ITT Tech in 2016.
A flood of applications followed from former students of those and other for-profit institutions. Tens of thousands of those claims were still pending review by the department when the transition in administrations took place in January. And to the consternation of student advocates, the backlog of claims has only grown.
The Washington Post first reported that partial relief was on the table this week; a person with knowledge of those discussions confirmed to Inside Higher Ed that they had taken place.
Liz Hill, a spokeswoman for the department, said she could not address whether partial relief for defrauded borrowers was on the table.
"We're working on a process for adjudicating all pending claims," she said. "There's still a lot of internal discussion going on about the best way forward."
The department told Democratic lawmakers in July that as of that month, more than 65,000 borrower-defense claims were pending review. The Post reported that that number is now as high as 87,000 claims; sources at the department indicated the total was even higher.
About 10,000 claims are ready to go out the door -- to notify borrowers that their claims were either approved or denied. But further movement has stalled. Meanwhile, debate is taking place within the department over whether and how to issue partial relief.
Granting partial relief would hinge on the actual harm suffered by borrowers. For example, the department could compare the earnings of a borrower working in their field of study who made a claim of fraud by an institution to the average earnings of someone in that profession. But discussion is ongoing internally over how to measure harm. The department would likely have to use earnings for a group of borrowers who attended a particular program in making such calculations -- borrower-defense forms issued by the department didn't ask for individual applicants' earnings information after leaving their college or university.
Debbie Cochrane, vice president of the Institute for College Access and Success, said the idea that defrauded borrowers would see only partial relief of their student loan debt was alarming.
"The notion that a full federal loan discharge is truly even making borrowers whole is just not accurate," she said. "In addition to taking out federal student loans, these students have spent their time and their own money to enroll, and they won't get that back."
And granting partial relief to applicants working in their field of study basically penalizes students who manage to do well despite being defrauded, Cochrane said.
Education Secretary Betsy DeVos in June blocked a borrower-defense regulation crafted by the Obama administration from going into effect. That rule would have clarified -- and expanded -- the eligibility of borrowers seeking discharge of their student loans after being misled or defrauded by their college. But it also included language about partial relief that was heavily opposed by advocacy groups like TICAS.
While the scenarios it imagined were fairly straightforward, partial relief would have been entirely permissible under the regulation, said Clare McCann, the deputy director for federal higher education policy at New America and a former Obama official who worked on the rule.
"Many who applied for borrower defense likely do deserve full relief," McCann said. "It's also reasonable to say some of the people got value out of their education and, therefore, the amount of relief [the department is] going to provide is not going to be the same as for someone who got a totally valueless education."
Michael Goldstein, a lawyer at Cooley LLP, said that before the Corinthian debacle, there was essentially no use of the existing borrower-defense provision. How the secretary uses her discretion is an open matter, he said.
"Fairness, equal treatment, etc., are all issues, but the basic authority seems to already be there," he said in an email.
Some student advocates see internal discussions over granting relief as a sign that borrowers who have waited as long as two years for a resolution on their claims could remain in limbo for the foreseeable future.
"The more precise you want to be about the damages done to borrowers, the less efficiently you'll be able to move these claims through," said Justin Draeger, president and CEO of the National Association of Student Financial Aid Administrators. "I'd lean toward moving these claims forward."